Oates
is creating Pixel Art and Video Games
Select a membership level
About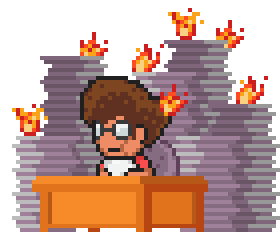 I'm Oates, and I'm a game developer and pixel artist.


I make pixel art and indie games with the occasional splash of freeware on the side. I've been working in independent game development for the better part of 5 years and I decided to start this campaign to help with the development of current and future projects.
Previous Projects

No Delivery is a procedurally generated CRPG, pizzeria simulator where you are the newest in a long line of employees for a local decrepit pizza parlor.
Find it on itch.io!
I often spend most of my time in game development whenever I'm not at work or into the wee hours, but I'd like to dedicate more time to this medium as much as I can. It's great to make these games for you all to enjoy and I'm a big believer in sharing developer knowledge whenever possible. Time permitting, I'd also like to expand my development logs into something bigger and give beginning game developers something to reference when getting started; these include things like project management and technical info, especially when first starting out, can be incredibly invaluable. Hopefully sharing my experiences can give some insight to that.
Thanks for your time!
Feel free to hit me up on the other outlets!

Reaching this number or something close to it means I can begin to dedicate more time toward development and design.
Other benefits I'd have time for would be starting a Discord Server or other outlets of communication!

1 of 1
By becoming a patron, you'll instantly unlock access to 11 exclusive posts
By becoming a patron, you'll instantly unlock access to 11 exclusive posts