Oblakoder magazine
is creating Online magazine
Select a membership level
New supporters
If you donate 15$ to our cause we will send you an email expressing our gratitude for contributing to the future of our magazine!
Enthousiasts
If you donate 50$ to our cause we will send you an email expressing our gratitude for contributing to the future of our magazine!
Honorable mentions
If you donate 100$ to our cause we will send you an email expressing our gratitude for contributing to the future of our magazine! Also, we will put your name or Alias as an honorable mention at our website!
About Oblakoder magazine
Oblakoder magazine is a Serbian magazine made by young journalists for young people with a goal to empower and inspire them and their achievements, that are not visible in society. Oblakoder has a goal to give a voice to a new generation and to change the gloomy perspective of youth employment in Serbia.
Who are we?
Oblakoder was founded on the 25th of May 2018. by a group of five young journalists and a young designer. The original idea was to change the presentation of young people in the media in Serbia and to empower young journalists and give them a platform for their unique ideas.
Oblakoder is a magazine focused on culture and society, and one of the most important features of Oblakoder is mentoring young journalists so they can be a part of Oblakoder. Over the past year, more than 50 young people have been a part of Oblakoder.
Oblakoder has a team of four young editors assisted by a designer and all of them are women, which puts them in a very specific position in Serbian society, because of two things:
- women are unequal in society and seen as less capable of running a business,
- resources for media are very low in Serbia, and being a journalist is a very unpaid position;
This is why, Oblakoder needs to survive in order to give young journalists in Serbia hope for a new, inspired future.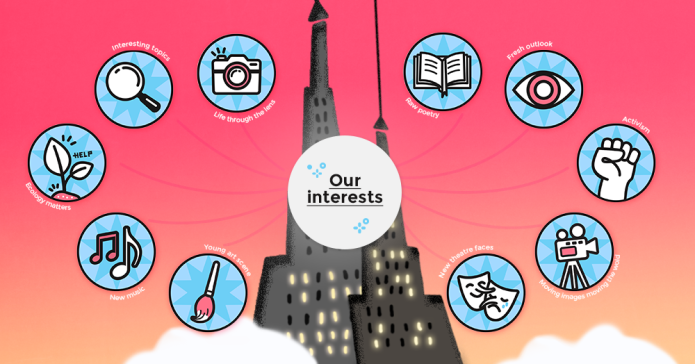 What we've done?
Oblakoder has published more than 500 articles over the course of more than a year of work. Apart from that, we have launched a podcast named Digitalni kasetofon (eng. Digital cassette recorder), that became part of RadioAparat, an independent online radio.
As mentioned, we have mentored and educated more than 50 journalists and reviewed their work.
We have organized 7 cultural events in independent art spaces in Belgrade, as well as concerts, jam sessions, and parties for young people.
Most importantly, we have built our whole website and social media presence from zero, and with zero budget by the help of our friends, and by learning new skills.
In order for us to present our work more clearly, you can check out our website:
https://www.oblakoder.org.rs/
What do we need?
We've already started the process, tested the needs of young people in Serbia and created our branding, on which we have worked on for more than a year and a half. We have built a website, and have registered our company in the state of Serbia, set up an accounting system, established our banking and registered as a National media registry of Serbia.
But, starting a business is difficult and although we've done a lot already, we need your help to get it off the ground and start working seriously. Because of the lack of funding, we are forced to work more than 2 jobs per person in order for Oblakoder to live. This a very difficult position and we want to change it for the better.
In order for us to improve the work of Oblakoder magazine we need to cover some basic monthly expenses which include:
Technical Equipment: Camera, three microphones, and a Go-Pro Camera
A space for work that we do not have and could rent for a year (Studio Lease(
Utilities
Insurance
Software
Internet
Misc. Bills
If we reach our goal, we will be covered for a full year of business and achieve our new goals for this year, and these are to:
Make video content, a show about local artists that we would publish monthly and that would have an English subtitle
Make our platform user-friendly worldwide by making an English version of the Website
Make an Android App for the Magazine in order for it to be more user-friendly and approachable
Write more about important topics for our society
Start a YouTube show about young people
If we do not earn the needed money, we will use the money to rent a space for work and buy a camera. Even this will significantly improve the work of our magazine.
What do you get?
If you decide to support our project, we have some perks waiting for you!
Although you will have our eternal gratitude we have a list of actual gifts that you can check out!
The Impact of Oblakoder Magazine
Serbia is a small country in the Western Balkans in Europe that is still going through a transition to a market economy but in a very confusing, disorganized and unregulated way.
This is why there is a big difference in salaries and job values.
Journalism is one of the most underpaid business fields, and male journalists are better paid than women.
Young people are leaving the country more and more because of the economic situation.
In addition, traditional media do not represent the interests and achievements of young people in Serbia. When they do they present them in a bad manner, through the eyes od "the adults", often presenting them as hooligans or lazy and unambitious.
On the contrary, Serbia is full of driven, passionate and ambitious young people who are waiting for a chance to take part in society, or, even worse, who are working and being important part of the development (especially cultural) of the society and are unpaid or underpaid, and their ideas are not valued.
This is why we are trying to create a Magazine that could fulfill the needs of young people, provide them with information important for them, be a platform for their presentation and also that could help and employ young journalists. We are trying to bridge the transition gap in the economy and build a world of our own and tailor our own luck and futures!
Risks & Challenges
The biggest obstacles concerning administration we have already tackled - and we are a nationally registered media website!
However, building a media website in Serbia is both a risk and a challenge, to begin with, because you need to search constantly for fundings, with no help, no guidelines, and not many parties interested in culture and supporting projects for youth development!
We also need to find a space for our work, because we keep meeting in cafes and have meetings several times a week that last several hours. In order for us to work more on our idea, we need a place - a room or a studio that we could call our office!
We plan on overcoming these difficulties with your support, so we can have more time to work on our magazine and make it better!
Other Ways You Can Help
You can also help our idea by:
Spreading the word about our campaign and our magazine,
Sharing our campaign by using Indiegogo sharing tools!
Thank you for your time and support!
Love,
Oblakoder magazine team.
With this amount of money, we would hire a professional IT specialist to make our websites' mobile app which we need!
1 of 6