Oh.
is creating Music & Videos
Select a membership level
Epitheatron
Though high up on the hill in the amphitheater of Oh., you can still hear the words spoken far below - you will receive all the news and stream all the music, before it is released to the public.
You will have access to my "Patron Only" stream


Theatron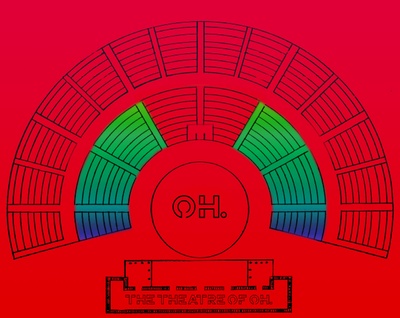 Prime seating in the amphitheater of Oh.
1. You will have access to my "Patron Only" stream
2. You will receive a digital download of any album you want. And free downloads of every new release

Prohedria
Center row in the amphitheater of Oh.
1. You will have access to my "Patron Only" stream
2. You will receive a digital download of ALL my albums and singles and any future albums and singles


About

Welcome to the Amphitheater of Oh.

Here on Patreon you may choose your seating in the amphitheater of Oh.
All that will be performed, whether a new song, EP, album or video will be presented here first and according to your seating you will receive your gifts.
As in ancient Greek theater, this place and these performances whether through music, video, art or written word are made with the intent not only to entertain you, but to spark transformation. So, here you will find more than just a showcase of my works but a place where you can share with me your own experience reflected with song and image.
With tremendous gratitude I thank you all for attending the theater of Oh. and for being a cherished patron of the arts.
You can read more about who I am on my
website
. View my
discography
, read
reviews
and
articles
I write from time to time about the music business, studio techniques and my journey as an independent progressive rock and metal musician.
How do you become a patron in the theater of Oh.?
Up on the top left, put any amount you want to pledge per song or video (I most likely will come out with a new piece every four to  eight weeks - either a video or song). So if you put $1, you will be charged $1 every time I post a complete new song (for download) or video.
If there is more than one piece of content per month (which won't be often), you can set a max amount after you click the "Continue to Confirmation" button, so no matter how many songs or videos I come out with a month you will only be charged the amount you pledged (for example $1). You can also cancel at any time - so you'll never have to worry.
Take a look at what's coming up:
Metallia – EP – Release Date: July 27, 2018
A new progressive metal EP, coming out in Spring, called "Metallia". There are six powerful songs on the EP: Red Lion, Bee, Dragon Kiss, Androgyny, Resurrection and Triumph!
The album explores some deep metaphysical themes, with intense guitar solos and epic symphonic orchestrations. I'll tell you more about in the Fall.
Prog Unshaven EP – Release Date: Spring 2018
A purely Prog album, full of vocals and instrumentals.
"If you put Kate Bush, Auf Der Maur, Ayreon, Chiasmata, Igorrr, old White Zombie and Amogh Symphony in a blender with several metronomes running different time signatures, add a healthy dash of thrash riffs to the proggy mix and baked the resulting mixture for several hours you probably wouldn't even come close to the sound." – Lee Davidson – Prog Metal Madness

It's still a mystery to me, how a young lady like Olivia can invent, perform, and produce such a gorgeous piece of musical art. I suppose she got somehow a blessing from the forgotten gods of Olympus… No, really. It's a wonderfully creative and inventive EP which sounds much more substantial and thought-provoking than many recordings from well-known grandees of modern instrumental Prog-Metal. -Igor Gorely – R.A.I.G. Records (Progarchives)

'Metallia' is what it is, not music for fragile souls but an evanescent storm of instrumental music (the voice being used not for words, but as sound) that will suit the enthusiast of powerful, progressive and experimental music." – Rinco Ennema ~ Rock Affairs

"Do you get bored quickly by the standard prog metal music offer? that will not happen to you with 'Metallia'! – Herman Beunk – Xymphonia

"Oh wow! What the bloody hell's going on here then? Freshness. Uniqueness. Boldness. An outlier! Call it what you like, but this is anything but your typical run of the mill, bog standard, meat and potatoes, vanilla-like metal." – K-MaNriffs- Blessed Altar Zine

"Chaos becomes order, the mind blowing 'Metallia' by Oh. – Martin Hutchinson ~ Progradar

"Cacophonous, complex, illustrative, dense, awash in radiance, terrifying, challenging- all of it driven by the taut, ferocious guitar work and instrumental mastery demonstrated by Ms. H. Waves of feminine choral sounds weave in and out of the tapestry, washes of intensity rarely relenting, leading me to recall why at one point in my younger days I was strongly drawn to consider using psychedelic drugs. Mind expansion, spirit expansion. Transcendence. Enlightenment. ~ Stephen Conrad – Progressive Rock Fanatics–Progarchives

After some interrogations the EP grows on you, which gives us music in a little different vintage, so for the curious, just release the handbrake and discover! ~ Conny Myrberg – Artrock.se

Metallia has already drawn the attention of progressive circles, but they have yet to analyze the enigmatic, versatile, bold, suspiciously attractive style of its music.This is one of those circumstances where you think you have heard something similar before, but you can not parallel it with something recognizable. Her material sounds "metallized", adventurous, and has a cinematic affinity. Above all, however, the sound is disruptive, the vocal injections arouse this impact. Clearly interesting, in a sense, it could be co-production of Shrapnel and 4AD. Check it out. ~ George Politopoulos – Flight of Pegasus

Olivia Hadjiioannou is always up for a surprise… After the quite heavy "Synemotion" album, she released a couple of distinctly art rock oriented singles. However, her latest EP is quite different from everything we have heard of her before: It's a tour de force into high-grade prog metal realms with shredding guitars, sinister vocal layers, and unexpectedly transforming rhythm patterns. All music composed by Oh. All instruments played by Oh. An overwhelming one-woman show! Favorite track: Androgyny. ~ Sven B. Schreiber

This girl isn't afraid to sound unique with this gorgeous, mind expanding instrumental feast of experimental prog metal gifted with shredding riffs, eastern vibes, ethereal interludes and dramatic shifts in pace and complexity. There's no empty virtuosity here though, since everything flows together into one sonic experience that never ceases to sound warm, emotional and organic. An ambitious and compelling endeavour. Favorite track: Androgyny. ~Sauro Fabi

Listening to Metallia, expect to be unexpected. Nothing is obvious here, nothing sounds as you would expect, and surprise is surprising. ~ Artur Chachlowski of MLWZ

Neither guitar hero nor singer metal, OH. invents a progressive rock art metal where Olivia's guitar is queen, sometimes supplanted by her war cries sung like a second guitar. An extraordinary musical experience, extreme for canterbury fans, so to discover absolutely. ~ Jean-Christophe – Neoprog

What Oh. screams out of her guitar is not for the faint-hearted, by the constant stream of trash riffs this is a dirty Steve Vai or a vicious Joe Satriani but with balls or better said without balls or at least as well. It is unsettling in the metal scene when a longhaired guitarist turns out to be a woman in the end…Her voice meanders from mood to emotion. From fear to love. The songs do not have a standard structure but are textures like the wandering Etesian winds that so often thrash the Aegean Sea. ~Jos Driessen – Progwereld

An excellent example of how instrumental guitar albums can still sound inspired and interesting. ~ Jupiter Variation

Only after a few passages does the open music lover begin to discover that the pieces are multi-layered and rich in detail and that the electric guitar is only used as one means of expression among many. Besides the parts for the guitars and drums, one discovers the ethnically coloured percussion, the creative rhythms and breaks and the polyphonic, mostly very wild vocals as well as the more extreme and unusual sounds that one can elicit from the human vocal cords. Now and then symphonic keyboard chords shimmer through and seem to suggest recognizable structures in the often shamanic songs. In such moments the voice of Oh. may remind of some well-known singers, most probably Kate Bush.

"Thus, in parts the music reveals a rather experimental character. Like "Bee", for example, which begins with solos for the acoustic guitar and then develops into an almost apocalyptic-appearing, sometimes industrial-influenced moods, which give an idea of the considerable depth that seems to have been created for the spatial mixing." ~ Siggy Zielinski – Babyblauen Seiten

"Time to tell you about this stratospheric lady who comes from nowhere or from another planet, that of metal-prog-fusion-trash-dream-haunting and not only!" ~ Alain Massard – Profil Prog

"The whole thing is realized through multi-layered vocals, frenetic but harmonious guitar solos, ecstatic pounding riffs, imaginative violins, rhythmic basses and wild drums. It should Metallia hijack the listener in a wondrous acoustic landscape, which should make him forget everything around him." ~ Joan Degener – Betreutes Proggen

A symphonic approach for "Dragon's Kiss", in truth a melodic melting pot to better blur the tracks, Olivia wanders according to her inspirations and goes from a nostalgic rock to a screaming and fusion metal, revealing an amazing skillfulness. The last "Triumph" track, which is a real slaughter, exudes a great freshness of inspiration and shows, if necessary, the imperial mastery of the lady.Impregnated with a heavy atmosphere, an eclectic and electric music with a fast tempo, this "Métallia" is a very beautiful album where the lovers of Olivia Hadjiioannou and the others will find what they are looking for! ~ Gabriel Badelier – Progcritique

"Time signatures change, bombastic elements come in and out, and it really feels like the listener is being swept along in a maelstrom, or being put inside a washing machine when it is at full pelt." ~ Kev Rowland – Firebrand radio – Framemusic

"Truly mindblowing. And speaking of mindblowing, here we have a musician that seems to excel at everything she does. Fluent in drumming, bass, guitars, piano and violin!" ~ Peter Cox – Your Music Blog

"Olivia Hadjiioannou shows us the female side of progressive metal, muscular and aggressive like that of her male colleagues, but the Greek musician is also attracted by the contrasts between primordial chaos and latent tension that this can produce….The music does not stop at progressive metal with a symphonic touch but inside there emerge inflections that point towards Middle Eastern, operatic and Hellenic stylistic elements, all fundamentals that contribute to increase the melodramatic depth of the work. It must not have been easy to design the complex stratifications that make up the pieces in solitude." ~ Lorenzo Barbagli – Open Magazine

"This is not a garrulous display of technique. There is inspiration, delineations, intense vision, to the point of fever pitch chaos, which will delight the "metal" senses and is altogether a monumental showcase. The girl seems to have more riff in her, than half the Greek heavy metal scene of the past 10 years. - Pan Pap ~ Rocktime.gr


$172 of $1,500
per song or video
Release the new album, "Prog Unshaven" on CD or vinyl.

1 of 1
Become a patron to
Unlock 12 exclusive posts
Connect via private message