Lillian Karabaic
accessible, adorable purrsonal finance education.
Select a membership level
Purrsonal Finance Society Member
MEOW! At $1.25 per show, you are directly contributing to our coffee budget. 
You are invited to biweekly live video chats where I will answer listener questions (these will start when we hit $444/month overall.) You'll also have access to the replays!
Some behind the scenes cat pictures.
You're MEOW-NIFICENT! At $2 per show, you're officially a Fiscal Meownager in the Purrsonal Finance Society. This makes you sound cool to strangers, but you don't have to do any work. How cool. 
Plus:
A sheet of purrsonal finance stickers for you or a friend!
You get an opportunity to have me answer your questions on the biweekly live money chats (these start when we hit $444/month overall.)
You get special Oh My Dollar! discounts on merch from the shop.
Behind the scenes cat pictures.
Kitty Starbudget Board of Directors
You're PURRFECT! At $5 per show, you're on the Kitty Starbudget board of directors. This makes you sound cool, but you don't have to do any work.

At this level, you'll be able to vote and preview future episodes of the show + youtube videos - and get to vote on what we cover next.
The opportunity to have me answer your money questions on the biweekly live money chats (these start when we hit $444/month overall).
Discounts on Oh My Dollar! merch from the shop.
Behind the scene cat pictures.
About Lillian Karabaic
Hi! I'm Lillian. You probably know me from 
Oh My Dollar! a personal finance radio show & podcast,
or from 
Get Your Money Together - that book that used cats to explain purrsonal finance
. Or from the videos of me explaining 
401Ks while covered in kittens
. Or maybe you've just seen that I 
dress up like David Bowie a lot.
I'm coming to Patreon because I want to spend a LOT more time on creating great content for y'all, but I need your help to buy the time back from the several other jobs I work. Oh My Dollar! makes some money (see below) but not quite enough to cover my expenses of ~$1,400 per month. I've been self-funding that gap for the past couple years from my own savings and from stringing together several part-time jobs. 
Also, if it's not in your budget, please don't worry about it.
I'm going to keep producing this free weekly content as long as I can make it work
and still put tacos on my breakfast plate. We're a financial show - I don't want anyone to not meet other financial goals in order to give me $2.50 a month.
But if Oh My Dollar! or Get Your Money Together has helped you with your money at all, please consider chipping in.
Even a little bit adds up. If every single person who listened to the show gave $2.50 a month, Oh My Dollar! could afford to hire 8 people full-time! 
Because I am a former (current?) non-profit fundraiser, I am used to submitting 40-page grant applications with 10 different attachments when I ask for any amount of money. So... that explains all the explanation below. Feel free to look through zero of it or all of it.
Thank You Perks
Once we hit $444 per month (overall), I'll start doing
a biweekly live video chat
answering money questions each week.  All patreons, at all levels, will have access to the live video chat and replays, and patreons at the $4 and above tiers will be able to submit questions to be answered.
This allows you to get answers to your questions faster than waiting for the listener question shows to air. Patreons at higher tiers will be guaranteed to get their questions covered during live chats.
Plus, of course, tiers include cat stickers, discounts on Oh My Dollar! merch and courses, and more.
How much money does the podcast make?
The podcast loses approximately $80 per month after all incidentals (hosting; audio storage; software; licensing fees.) The radio show makes a small amount of money - about $8 every time a radio station other than our home station (KXRY) airs the show.  
The way that Oh My Dollar! makes money is when I speak on college campuses, at companies, and at conferences about financial planning, by 
selling purrsonal finance books and stickers
, and through my in-depth online money bootcamp. We've made about $12,480 this year, before expenses. Below illustrates 2017's income breakdown ($27,000 gross):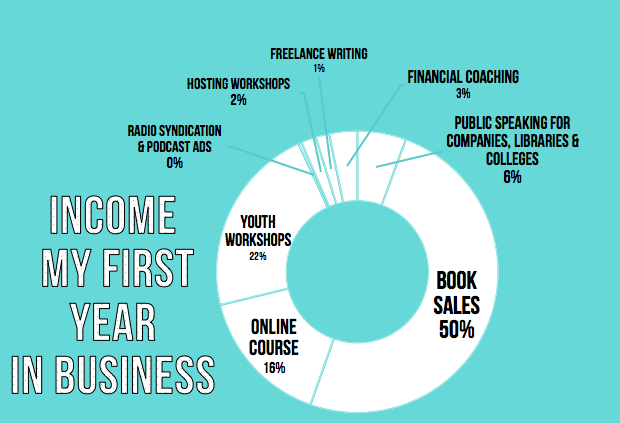 In the long-term, I want Oh My Dollar! to be a company that employs other people creating great content about money for people not served by traditional financial education (I'd love to get more diverse perspectives on my team than just me). I want Oh My Dollar! to go national helping people host accessible, feminist, queer-friendly student loan, investing, and budgeting workshops for their chosen family. I want our curriculum to be in high school GSAs and coworking spaces and cat cafes all over the US. I want to adapt the content to cover Halal investing, Canadian RRSPs and Australian Supers. 
But at 21 months into this experiment, we're not quite there yet. Being a team of one (with many helpers), there's only so much I can do! Which is why I'm asking for your help. The more you support this work, the more time I have to spend on Oh My Dollar!, and the more I can do to realize that dream.
Why don't you just get sponsors? I would rather listen to some ads than pay you.
As you may have noticed in recent episodes, we're working on getting sponsors. But total, we've made about $300 in sponsor money, which means we have made about
42 cents per hour of work
put into the podcast from sponsor money. Not really paying the bills.
As of July 2018, the show gets downloaded about 10,000 times per episode. That puts us on the very low end of attractive to advertisers, unfortunately - many potential advertisers and networks won't talk to you until you reach 15,000 downloads per episode.
I also have rules about advertising - I don't want to advertise anything that I would perceive as scammy, homophobic, or any predatory financial products. If I was willing to have every dudebro with a cryptocurrency app or payday lender advertise on the show, I'd be making like $2 per hour, not 42 cents.
How money will be used
Transcripts - I want the show to be accessible to folks that are hearing impaired or Deaf, have auditory processing disorders, or simply prefer to read. But that costs money, unfortunately. Robots have made transcripts cheaper, but humans still need to help check for accuracy!

It costs between $20-100 per episode (depending on length) to get a transcript, and eventually I'd like to transcribe the entire back catalog of Oh My Dollar! For now we'll pick the most downloaded shows.

Having written versions of the show also help the show be more Google-friendly, helping other people find the financial information they need - which, in turn, helps grow the show.

Hosting - Currently we self-host the show, which costs a few hundred dollars a year. The more successful the show, the bigger the internet tubes need to be, and the more expensive it gets to host.
Email Service - Similar to web hosting, I have to pay to send emails to y'all. As more people sign up to hear from me, the more expensive it gets (about $800 per year.)
Paying Me - Oh My Dollar! is totally dependent on me right now (there would be no show or book without me) but as of right now, I get paid last after everything and everyone else gets paid. For every hour I can spend not working another job cleaning toilets or cleaning data, I can spend more time producing podcasts, videos, courses, and books about money! You can always see my personal income and expenses in my monthly budget reports.
Paying our Lovely Editor - Our editor and co-host Will, manages talk radio for our home non-profit station (XRAY.fm) who pays him for some of the engineering work he does for Oh My Dollar! But he does the podcast edit of the show out of the goodness of his heart. Ideally, I could pay him for the time spent cutting tape!
Why doesn't Oh My Dollar! become a 501c3 nonprofit and get grants instead of asking for money on Patreon?
Most of my professional experience in is non-profits so I'm no stranger to that world.  Currently I'm partnering with a few organizations (including SMYRC, New Avenues for Youth, and College Possible) to provide free financial education and books to low-income youth (mostly queer youth experiencing homelessness). So a lot of the work we do is non-profit-y in nature, but there's a couple reasons why I'm not currently doing this:
It would be a ton more work. I'd have to find a volunteer board of directors, feed them hummus, organize meetings for them regularly, create by-laws and minutes, file quarterly taxes, apply for grants - and all that would literally take up all the capacity I have to actually produce content for y'all!
Right now, Oh My Dollar! is me and I'm Oh My Dollar! - the intellectual property is owned by one and the same. If Oh My Dollar! was a non-profit, I wouldn't necessarily have rights to the book I wrote or the shows I create or the course I created. I couldn't sell them off in 20 years to retire into the feline-filled sunset.
What's more, I'd lose control of the company long-term. I'd be getting myself a bunch of volunteer bosses. If a board of directors didn't like how I was doing things, they could fire me from my own project and I wouldn't have recourse and I'd have to go find some kitten fur to sob into.
Being a 501(c)3 costs a lot more in taxes. Right now, as an LLC, I don't have to pay payroll or transit excise taxes (just self-employment taxes). As a non-profit, we'd be paying higher incorporation, bookkeeping fees, and payroll taxes. And we'd still have to pay taxes on inventory and for-profit activities, like selling books and cat stickers. (Here's an Oh My Dollar! episode about incorporation structures and taxes that explains it better - look at the kind of content I have time to produce when I'm not running a non-profit!)
Grants also don't just fall out of the sky. Even as a seasoned grant writer, finding foundations that want to fund a 1-person organization to make cat finance videos and podcasts is pretty hard. That being said, if you have a family trust or foundation and would like to give me gobs of tax-advantaged money to make queer-friendly accessible financial education, please talk to me, we can work with a 501c3 fiscal sponsor to facilitate that.
At this level, I will start making a finance video every month.  Patreon backers will able to pick each month's topics!
3 of 4
By becoming a patron, you'll instantly unlock access to 371 exclusive posts
By becoming a patron, you'll instantly unlock access to 371 exclusive posts
Recent posts by Lillian Karabaic