Okuna
is creating an ethical social network for a brighter tomorrow.
Select a membership level
Okuna Patreon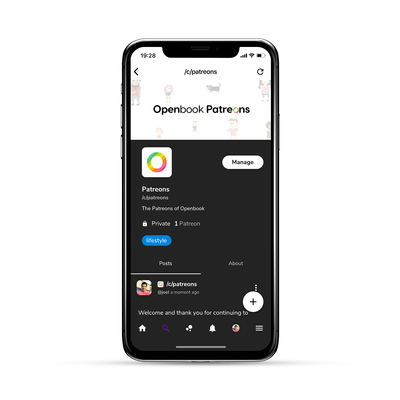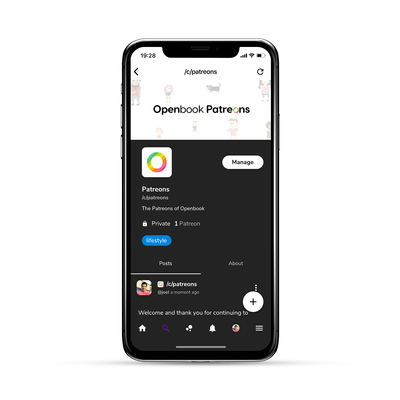 You're helping with the continued development of the platform!

You'll also get

* 🏡 An invite to the /c/Patrons community!
* 💬 An invite to #patrons slack channel!
* 💳 Once our swag/merch shop is live, a 10% discount on everything!
About Okuna
🥚 The preface: Our crowd-funding campaign
🐣 The now: Hooray, Okuna (formerly Openbook) is live!
Thanks to you and 2,000+ amazing individuals from all around the world, we brought Okuna to life and with just 3 weeks of existence we're now
6000+ members, 1900+ communities, 100,000+ posts and 21,000+ people waiting for access!
While development has remained quick and steady, we're feeling a bit under-resourced to build all the awesome things you've been asking for (
230 feature requests
😱) while still delivering our initial goals, the biggest one being our web version.
We could use some extra hands.
And while having our Okuna Gold subscription available right away to fund this would be great, until then we're turning to Patreon to make things happen.
Most of the development on Okuna so far has been done by 2.5 people, imagine what we could do with a full blown team of developers!
🤔 How will we use the funds?
We will
Pay for...

Server costs ~ 800 € p/m

Perhaps even better servers/databases!

Development & Design tools licenses ~ 150 € p/m
Co-working office space ~ 500 € p/m
Coffee ~ 90 € p/m
Sometimes very late night pizza delivery at the office ~ 40€ p/m
Shantanu's travel costs (He travels every day from Amsterdam to The Hague 😱) ~300€ p/m

If there's enough funds...

Hire an extra mobile developer with native iOS/Android experience

This will help us build features outside the scope of Flutter and into iOS and Android such as photo sharing/downloading and accessibility controls.

Hire a devops/backend engineer

This will allow us to speed those timelines up and make sure we can scale to 10,000 people and beyond!

Hire an extra web developer

This will help us make sure whatever awesome things we build for the mobile version, never get left out of the web version
Fun fact: We have existing members and contributors on Okuna ready to jump in and fill in these roles if we can get them a bare-minimum income :-)
🌯 That's a wrap!
Even with our current limited resources, we will keep working hard, day and night to make Okuna a great place and community to be a part of.
But if the Okuna community has proven something, it is that when we work together we can make great things happen together. Like that time when we all funded our Kickstarter re-launch campaign in 6 hours working all together across-timezones, from Tokyo to Amsterdam, from Berlin to New Zealand.
Let's keep on making great things happen, together.
🤔 F.A.Q.
Was your name Openbook before?
Yes, due to legal complications with Facebook's ownership of the word book, we were obliged to change it.
I'm not yet on Okuna, how do I get access?
The best way to get access still is by backing us
on our IndieGogo page
. We send new invites everyday!
Is a one-time payment possible?
Patreon is really meant for subscriptions unfortunately. You can 
back us on IndieGogo
or cancel your Patreon subscription right away after the first contribution.
Is 10$the maximum amount ?
Nope, after selecting the tier, you can change the value in the "Choose What You Pay" field.
Will there be more Patreon tiers?
Most likely. We're thinking about a T-shirt, limited edition stickers and of course, a Patreon badge!
Once we release those, if you are already backing us above a tiers amount, (for example stickers 15€), we'll send you a survey with information on it's fulfillment.
P.S. We're also considering adding a sombrero on top of Patreon's profile photos. Visible on the timeline too and of course can be disabled if users wish so.
$1,042.88 of $1,500
per month
Working space costs paid!
2 of 5
How it works
Get started in 2 minutes