Theo Szczepanski
is creating Comics and illustrations.
Select a membership level
MADEIRA / WOOD
Madeira para manter o fogo queimando
Envio mensal de música, ilustração e/ou tira e/ou HQ em formato digital de alta qualidade.
Wood to keep the fir burning
Monthly high quality digital format music, illustration and/or cartoon and/or comic strip.

METAL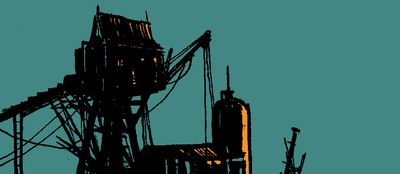 Metal para proteção e ataque
Acesso ao desenvolvimento de EUROPA e UGO SEROTONINI, versões em alta qualidade de capítulos das duas HQs na medida em que são terminados, além de outras ilustrações e/ou tiras. Inclui os benefícios de MADEIRA.
Metal to protect and attack
Access to the development of EUROPA and UGO SEROTONINI, high quality files from sketches and other related or not related drawings and/or comic strips. High quality file of chapters from both comics when completed. Plus WOOD benefits.

FOGO / FIRE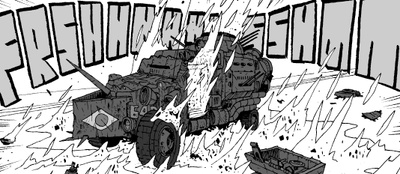 Fogo queima tudo
Acesso à produção de FONTES MURMURANTES, arquivos em alta qualidade dos capítulos da HQ na medida em que são terminados, além de ilustrações e/ou tiras e/ou outras HQs. Inclui benefícios de MADEIRA e METAL.
Fire burns everything
Access to the development of MURMURANT FOUNTAINS, to high quality files for the chapters as they are done, more sketches and/or illustrations and/or comic strip and/or other comics. Includes WOOD and METAL benefits.

About
Meu nome é
Theo Szczepanski
e sou um ilustrador e quadrinista de Curitiba, Brasil, morando em Cagliari, Itália. Trabalho com ilustração para jornais, revistas, livros e material didático e também produzo HQs autorais. Após publicar algumas tiras e HQs curtas em jornais, coletâneas e blogs pessoais, em 2015 publiquei minha primeira HQ mais longa, a primeira parte de
A Grande Cruzada
, em uma parceria com a Editora Devaneio e uma campanha de financiamento coletivo via Catarse. Iniciei esse projeto no Patreon para continuar a produzir quadrinhos e desenhos autorais, disponibilizando esse conteúdo diretamente a apoiadores. E, sendo um ilustrador freelancer, aceito encomendas!
My name is Theo Szczepanski and I am an illustrator and comics artist from Curitiba, Brazil, now living in Cagliari, Italy. I work with illustration for newspapers, magazines, books and school books and I also have an authorial comics production. After publishing some strips and short comics in newspapers or with other authors and in personal blogs, in 2015 I published my first long comic book, the first part of A Grande Cruzada (The Great Crusade), a partnership with Editora Devaneio and a crowdfunding campaign via Catarse. I started this project at Patreon to continue producing authorial comics and illustrations, making this content available directly to supporters. And, being a freelance illustrator, I take commissions!
https://www.instagram.com/theoszczepanski/
https://www.behance.net/theoszczepanski
https://cargocollective.com/opustheo

https://www.facebook.com/opustheo/
Atualmente estou trabalhando na segunda parte de
A Grande Cruzada
, que inicialmente estava incluída nesse projeto, mas tive de remover por bons motivos (que não posso revelar no momento). Além de versões digitais em alta qualidade de ilustrações, tiras, HQs,
músicas e barulhos
que produzo, envio a apoiadores os seguintes quadrinhos que estou fazendo no momento:
I am currently working on the second part of The Great Crusade, which was initially included in this project, but I had to remove it for good reasons (which I cannot reveal at the moment). In addition to high-quality digital versions of illustrations, strips, comics,
music and noises
that I produce, I send to supporters the following comics I'm doing at the moment:


FONTES MURMURANTES
HQ retrofuturísta que tem Curitiba como cenário, com elementos da história antiga e recente do Brasil.
Fontes Murmurantes
é um thriller de espionagem com ingredientes políticos, satíricos, burocráticos, absurdos e cômicos, uma ficção científica de baixo orçamento, anacrônica e decadente, inspirada pelo filme Brazil, de Terry Gilliam, e quadrinhos na linha da Métal Hurlant - Moebius, Bilal, Druillet - e Ranxerox, de Tamburini e Liberatore. A idéia é ter 100-150 páginas.
FONTES MURMURANTES (Murmuring Fountains)
Retrofuturist comic set in the town of Curitiba, Brazil, with elements from past and recent events in Brazil's history. Murmuring Founts is a kind of spy thriller with political, satyrical, bureaucratic, absurd and comical ingredients, an anachronistic and decadent low budget sci-fi inspired by the movie Brazil, by Terry Gilliam, and in comics in the tradition of Métal Hurlant - Moebius, Bilal, Druillet - and Ranxerox, by Tamburini and Liberatore. It is intended to have 100-150 pages.
UGO SEROTONINI
Jornalista turístico investigativo e para-antropólogo,
Ugo Serotonini
é nosso guia nos mais bizarros e exóticos lugares da Terra. Um intrépido documentarista, ele não mede esforços para descobrir os lugares e povos mais inóspitos. Culturas absurdas, países que não estão no mapa e ecologia surreal são os temas dessa HQ que ninguém sabe onde vai parar. Uma série com capítulos curtos/médios, cada episódio dedicado a um país.
UGO SEROTONINI
A tourist investigative journalist and para-anthropologist, Ugo Serotonini travels to the most bizarre and exotic places on Earth. A fearless documentary filmmaker, he does not measure efforts to discover the most inhospitable lands and peoples. Absurd cultures, countries off the map and surreal ecology are the themes of this comic that none knows where it goes next. A series of short/medium comics, each episode dedicated for a country.
EUROPA
Vagando por uma paisagem desolada, um vazio espacial e mental, duas anciãs não sabem de onde vieram e nem para onde vão. Uma jornada interna através de uma consciência que é uma zona militarizada, um panorama definido por resíduos pós-históricos. Essa HQ deve ter 60-80 páginas.
EUROPA
Wandering through a desolate landscape, a spatial and mental void, two old ladies don't know where they came from nor where to go. An internal journey through a consciousness that is a militariazed zone, a panorama defined by post-historic debris. This comic is intended to have 60-80 pages.
Become a patron to
Unlock 78 exclusive posts
Connect via private message
Recent posts by Theo Szczepanski
How it works
Get started in 2 minutes