Theo Szczepanski
is creating Comics and illustrations.
Select a membership level
WOOD to keep the fire burning.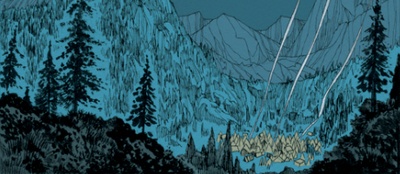 Monthly high quality illustration, cartoon or comic strip.
METAL to protection and attack.
Mailing list with whereabouts for the 2 short/medium comics, EUROPA and UGO SEROTONINI, high quality files from sketches and other related or not related drawings. High quality file (pdf, jpg) of both comics when completed. Plus WOOD benefits.
FIRE burns everything.
Mailing list with info about the production of the 2 long comics, THE GREAT CRUSADE and MURMURING FOUNTS, high quality art from both projects, video showing production. High quality file (pdf, jpg) of the comics when completed. Plus WOOD and METAL benefits.
About
My name is Theo Szczepanski and I am an illustrator and comics artist from Brazil.
I had to leave my country because a living as freelancer that was already difficult has become nearly impossible, as one can see if aware of recent events in Brazil.
For more than 20 years I have been working on comics and illustrations for literature and teaching books. Now both areas, Culture and Education, are no longer essential parts of a civilized society, but targets to be destroyed by the ruling power.
At the beginning of 2019 I moved to Italy with my wife, Desi - she is italian and a wonderful teacher. Now we are restarting from zero in Cagliari, I don't have a computer and my hard drives still packed in bubble wrap, waiting to be brought to light with my drawings, comics, music.
That's why I'm here on Patreon, to restart the engines, to work hard and to fight with my weapons: drawing, creativity, humour, criticism, weirdness.
Here are my projects on Patreon, all of them to be in portuguese and english versions:
THE GREAT CRUSADE

Inspired by the Children Crusade, an unproven event from the XIII century, The Great Crusade is a comic book that uses its theme and setting, the Middle Ages, in a way similar to how italian directors or Alejandro Jodorowsky worked with the Western genre: expanding its borders and using its elements to create a metaphysical and existential artifact.
The first volume was published as a 80 pages edition in Brazil by Editora Devaneio plus a crowdfunding campaign. Since the beginning planned as a 160-200 pages comic book, The Great Crusade resumes its march here at Patreon, to make possible its production, distribution to supporters in its final high resolution version and maybe even a physical version in one single volume.
MURMURING FOUNTS

Retrofuturist comic set in the town of Curitiba, Brazil, in a undetermined future with elements from past and recent events in Brazil's history. Murmuring Founts is a kind of spy thriller with political, satyrical, bureaucratic, absurd and comical ingredients, an anachronistic, poor and decadent sci-fi with roots in the movie Brazil, by Terry Gilliam, and in comics in the tradition of Métal Hurlant - Moebius, Bilal, Druillet - and Ranxerox, by Tamburini and Liberatore. It is intended to have 100-150 pages.
UGO SEROTONINI

A highrisk professional tourist and para-anthropologist, Ugo Serotonini travels to the most bizarre places on Earth. A fearless documentary warrior, he does not measure efforts to discover the most inhospitable lands and peoples. Absurd cultures, non existent countries and surreal ecology are the themes of this comic that none knows where it goes next. Intended to be a series of short/medium comics with less than16 pages each chapter.
EUROPA

Wandering in a desolate land, a spatial and mental void, two old ladies don't know where they came from nor where to go. An internal journey through a consciousness that is a militariazed zone, a panorama pointed by post-historic debris. This comic is intended to have 60-80 pages.
Become a patron to
Unlock 55 exclusive posts
Connect via private message
Recent posts by Theo Szczepanski