Anna Helene Keppen
is creating "Our Heartbeat is One" International Medicine Music Album
Select a membership level
Monkey Songs
 You guys are collecting the fire wood for the fire, to get this album going! 
You will get:
-Access to Patreon- all songs and videos.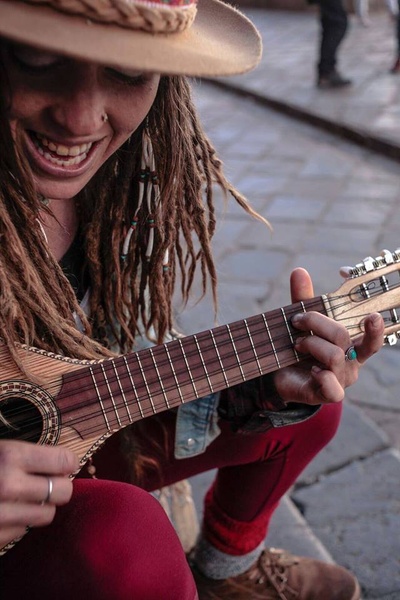 Honey Bee's
 You guys are fueling the fire to get this album going! 
You will get:
-Access to Patreon-only songs, videos and completed album mailed to your home in 2020!
Medicine Makers
You guys are watering the seeds to get this album going and access to all the underground stories and teachings! 
You will get:
-Access to Patreon- songs and videos, the completed album in 2020, and complete writings with the teachings! 
About Anna Helene Keppen
Welcome to my world!
Joining my Patreon is a wonderful way to get to know me, support my vision, and make the movement expand! This is going to be a international medicine music album, ALL proceeds from the sales of the album to go back to the indigenous communities who help create this album.
For those of you who don't know me, I have dedicated my life to a spiritual path, which is focused on guiding others to find healing, as I have. I currently live in Peru, half of the time in the Andean Mountains, and the other half in the Amazon. I work and apprentice with plant medicine to heal the whole-being. My passion and healings come from helping people in group settings and creating musical stories to reach people worldwide.
Often times when I leave the jungle retreat participants ask, "How can I support your work?" Well- this is how! Currently my income goes back into my studies and travel for work. I have launched this fundraiser to provide resources to further my passion of creating this album and supporting my life's work! 
I was 21 when I was in the Amazon jungle for the first time,and I had an vision of how I could share my life experiences and teachings. Since this life changing experience in 2014, I have been silently working on this project to bring this vision to fruition. I have been blessed to travel and study with many different cultures around the world. From far Eastern Asia, to the Amazon and Andes of Peru, I was taught old cultures and songs. From sleeping on bamboo floors, to jungle huts; I have had my ear to the ground and heart to the sky- listening. My vision is to create an album to bridge these sacred cultures while celebrating their diversity through my music. With the help of my friends and teachers from these areas, I will record an album of original music that also contains their culturally relevant stories; weaving a web that shows how, 'Our Heartbeat Is One'.
One of my first teachings about the soul of music came from a man of the Wasco Nation, Warm Springs Tribe of Central Oregon. He said the drumbeat is the heartbeat of mother earth; the same beat we all share. These words struck me and helped me realize we all had the same heartbeat, no matter who or where we are in the world. From the Karuk of Northern California, the Shipibo of the Amazon and the high mountain cultures of the Andes, it is apparent we are of One Heartbeat. These amazing teachers and cultures have shaped me and empowered this album through support and community. Patreon offers a way for you to support me in giving back to these friends and in creating soulful music of togetherness. In return for your monthly support, I will post new music and updates of this world album. Each new song will include the teachings and story behind the song.
By October 2020, there will be 12 songs and hopefully enough funding to professionally record and produce my album by the end of 2020. By becoming my Patreon you can support my musical dream and all the people involved in creating this living album! To say thank you and support the families who help share this story, all proceeds from album sales will go back to their communities.
Please join me on this musical adventure to develop my album "Our Heart Beat Is One!"

For further information about Anna's work check out
www.flyingbirdmedicine.com
www.ayahealingretreats.com


It takes a village, my vision can not be done alone.
This is not a ME project, but a WE.  My goal is to create a connection of cultures, celebrate diversity and share sacred music and stories. 
1 of 1
Recent posts by Anna Helene Keppen
By becoming a patron, you'll instantly unlock access to 5 exclusive posts
By becoming a patron, you'll instantly unlock access to 5 exclusive posts