Outpouring of Trust - Monica Skrzypczak
is creating Sacred Art
Select a membership level
Tip Jar
When you support at $2 or more per month you
Support my art!
Help keep the free content free (social media, YouTube, etc)
 
Thank you so much for your support!
Full Access
When you support at $5 or more per month, you unlock
 
Exclusive access to the Litany of Loretto Marian Paintings Series.
Sketches, inspiration, research, early studies.
Thoughts/tips on how I've been tackling this 49+ series of paintings the past 3 years and how I'll continue!
First look at finished pieces (as the project continues!)
 
Thank you so much for your support!
Behind-the-scenes content

Work-in-progress updates (digital)
Super Supporter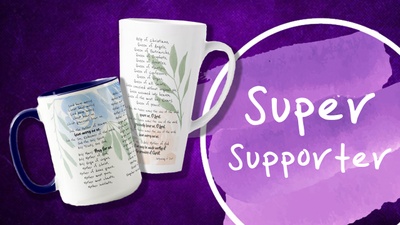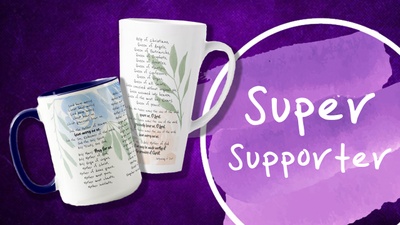 When you support at $18 or more per month, you receive
all the rewards of the previous tiers
as well as 
The exclusive Patreon Litany of Loretto Mug (15oz or 17oz options)
 
Physical reward becomes available after three (3) months as a patron.
About Outpouring of Trust - Monica Skrzypczak
The Litany of Loretto - Ad Jesum Per Mariam
It seems it will be the culmination of my life's work, 25 though I may be. A final thesis. It began as a steady and incessant call in prayer, a fire that is lit in my heart: to honor Mary through painting the Litany of Loretto (aka the Litany of the Blessed Virgin Mary) - 49 titles (7 times 7 titles, a number Biblically significant) focusing on various attributes and virtues of the Queen of Heaven.
This call is mysterious to me. Usually an inspiration this large fades away given a few months. What sounded like a cool idea loses its charm as I find new and more inspiring things to work on.
But not this one.
This one keeps coming back. I don't know if it's because, by in large, I have barely scratched the surface 3 years in, so there are many exciting things to still try; or because it really is a Divinely inspired project. The proof of this will come with time; all I can continue to do is take the next step forward.
This next step being launching this Patreon! There is a lot of behind the scenes content already with more to come before I'm ready to share on social media; sketch ideas, compositions, reflections on the titles, color studies, practice, drapery, and all sorts of fun that happens before going to that final canvas. And I wanted to share that journey with any who are interested!
But the reason it is Patreon - a subscription platform - and not a blog is because this project cannot come to fruition without your support. Art supplies, fabric for draping and costuming, props, and justifying taking time from the main business, etc, all cost. Sometimes a lot. I'm happy to invest my own money into the project (lol I do all the time), but the support you give will help this project happen faster and with higher quality. And as a patron, you get priority access!
So what has already happened, and what will be next?
A few months after opening Outpouring of Trust, I was praying in the chapel about what paintings I should do next, and the Litany popped up. Immediately I pulled out my sketchbook, put down the titles with little thumbnail boxes, and started thinking through ideas.
Initially I was inspired to link various apparitions and famous paintings of Mary to the closest title in the Litany. There is a post walking through this sketchbook should you decide to become a Patron, so I won't go into depth here. Suffice it to say I was worried about it becoming confusing, calling, for instance, Our Lady of Grace, Mother of Divine Grace, so I began to look for wisdom of the Church and past artists who have undertaken painting the Litany.
There are exactly four (4) artists who have done drawings of the Litany over the years. Perhaps there are more that I have not found, but there are four. Three are simply compilations of drawings with no deeper reflections on the titles, but one set is explained in a book.
This book, along with another that simply explains the titles (why is Mary called the Tower of Ivory or the Mirror of Justice and HOW do I depict that gives you an idea why I needed more research) are my main sources of inspiration.
Since finding these books, I began the journey of learning figurative art. Perhaps the most shocking aspect of this undertaking is the fact that I was inspired to it before I even felt comfortable painting the human figure. In fact, I thought I was trash at painting people and had thus far completely avoided it at all cost.
So began painting the Portraits of the Saints series (which you can find on my website 
here
), which led to taking a portrait painting workshop, which led to the Master Copies series (on my website soon), and finally to straight up sketching off photos.
This is where the journey picks up today!
The next step is compiling my research, making sure each title will be unique, and beginning the sketching process. Then will be finding or making reference photos and painting 5x7 color studies to work through possible pitfalls and problems. And finally onto a large canvas!
This will either take me just a few years, or it will take the rest of my life. Depends on the inspirations of the Holy Spirit, ya know. But the end goal is to have a series of paintings that individually are complete thoughts, rich in symbolism and Church teaching; and together form a cohesive unit suitable for meditation while praying the Litany.
Thank you so much for your support! I'm excited for you to be on this journey with me!
Become a patron to
Get discounts to an online store
Connect via private message
Recent posts by Outpouring of Trust - Monica Skrzypczak
How it works
Get started in 2 minutes