Owl Basket
is creating the Realm of Owls webcomic
Select a membership level
Hootling (⦿⧫⦿)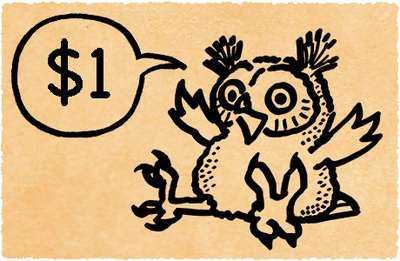 You want to help out and maybe talk to us (~vO)
⋇ Early access illustrations.
⋇ Access to a Patrons-only Discord channel.

Includes Discord benefits
About
What is this?
We make comics.
Well, we make a comic.
It's called
Realm of Owls
.
Maybe you've heard of it?
Anyway, much like most other jollyhoots in this line of work, we want to make this a full-time job.
To do that, we need a tiny army.
Or maybe an army of tiny things?
We need a tiny army of tiny things.
Wanna join? (OvO)??
The only requirement is that you gotta be tiny.
Or not. That doesn't really matter either.
Feel free to press the
"Become a Patron"
button to start!
Ouluf's Journey
We also have this silly dude called Ouluf here.
You can see him on the left over there.
(You may also have to scroll a bit up.)
(Or down, if you're using a squishy screen.)
(Look for a black-feathered fellow with a charming "hi do I know you?" thousand yard stare.)
As our monthly Patreon amount grows, so will Ouluf towards becoming a LEGEND.
AND if we get enough, then other random things will also happen after certain goals are met.
Like
advertisements disappearing
from the Realm of Owls website.
And our potted plants
stop dying from lack of water
.
And birds start
singing outside
.
Well, that last one seems to happen randomly anyway.
Anyway, stuff happens. So exciting! \(OvO)/
Long-time Member Perks
(OvO(OvO)OvO) we are watching you (OvO(OvO)OvO)
Err, sorry, that came out a bit wrong.
More specifically, we are watching how much you've contributed to us over the months and years.
Because we want to
reward people who stick with us
.
(OvO(OvO)OvO) we want to reward you (OvO(OvO)OvO)
...
I guess that didn't sound much better… (ÓvÒ)
Anyway, don't go anywhere, okay? \(OvO)/

Status: Hobo
Has: Nothing
Next: Shirt

The Realm of Owls website is now ad-free! Huzzah!

Every reached goal gives us more insurance about creating Realm of Owls (and brings Ouluf closer to becoming a legend)!
3 of 7
Become a patron to
Unlock 12 exclusive posts
Connect via private message
Recent posts by Owl Basket