Pablo Greene
is creating sexy superhero photos and published novels
Select a membership level
Queero Tier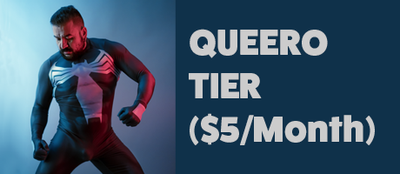 This tier gets you involved in my creative process!
For 5$ a month you get:
-Access to my full archive more than 450 superhero photos and videos! The images are of a PG-13, but they are sexy, queer, and full of spandex and bulges. I post new photos weekly.
-Access to to my Discord server. I love this perk! My Discord server is a place where you can interact with more than fifty other folks who are obsessed with spandex, superheroes and queerness like you! No other cosplay artist or author offers you a community like this one. It's a great alternative or supplement to gay dating apps, and way more intimate!
-A subscription to Muscle and Spandex, my weekly newsletter
-Access to the ad-free audiobook of How to Kill a Superhero: A Gay Bondage Manual
Mega-Photo Tier
This tier is for fans who want an added touch of danger and bondage with their superheroes. It's also for true fans of high-end photography.
For $10 a month you get:
-Access to everything in the previous tier!
-A 4"x6" autographed cosplay photo print mailed to you every month! That means in one year, you'll get 12 different cosplay prints that you can frame and collect.
-Bonus bondage photos featuring Pablo in his cosplays in peril. These sexy bonuses usually release each time I publish a new photo set.
Supervillain Tier
For $50 a month you get:
-Access to the benefits in previous tiers
-Access to a VIP channel on my Discord server where you can ask for coaching and advice throughout the month
-An autographed set of the How to Kill a Superhero book series dedicated just for you!
-Your name used as a character in the next Pablo Greene book!
About
I am Pablo Greene. I write the How to Kill a Superhero book series, which has become a cult phenomenon with readers who have wanted to see a queer and gay superhero who has a real sexuality. The series is dark, but also erotic.
My Patreon has many exclusives for subscribers, including acesss to my cosplay photos and short films, posters, art photographs, video exclusives and sneak peeks at audiobooks and new novels in my series.
Queer cosplay and superhero literature also tie into my efforts to build community. I love bringing LGBTQ folks together over the love of queerness, cosplay and superheroes.
Here's the easiest ways to read my books:
Download to your Kindle
Listen to the audiobook of Book 1 in the series for FREE as a podcast here.
I am also very active on digital channels. You can interact with me at:
When I reach 100 subscribers, I will hire a production assistant to help me with my photo shoots and my films.

1 of 1
Recent posts by Pablo Greene
By becoming a patron, you'll instantly unlock access to 503 exclusive posts
By becoming a patron, you'll instantly unlock access to 503 exclusive posts