Paige Zaferiou
is creating The Star Trek Tarot and Original Watercolor Works
Select a membership level
Crewmember
You get everything.

Everything may include:

★ Weekly image + text updates on the Star Trek Tarot and other projects
★ Polls on what else you'd like to see, like:
★ Live streaming Star Trek episodes along with me
★ Probably silly and ridiculous reviews of Star Trek episodes
★ Divination hour where I pull cards for y'all
★ Whatever else we can think of and reasonably pull off! I'm willing and excited to listen and experiment.


About Paige Zaferiou
Hi! My name's Paige and I invite you to embark with me on a mission of art and Star Trek for all.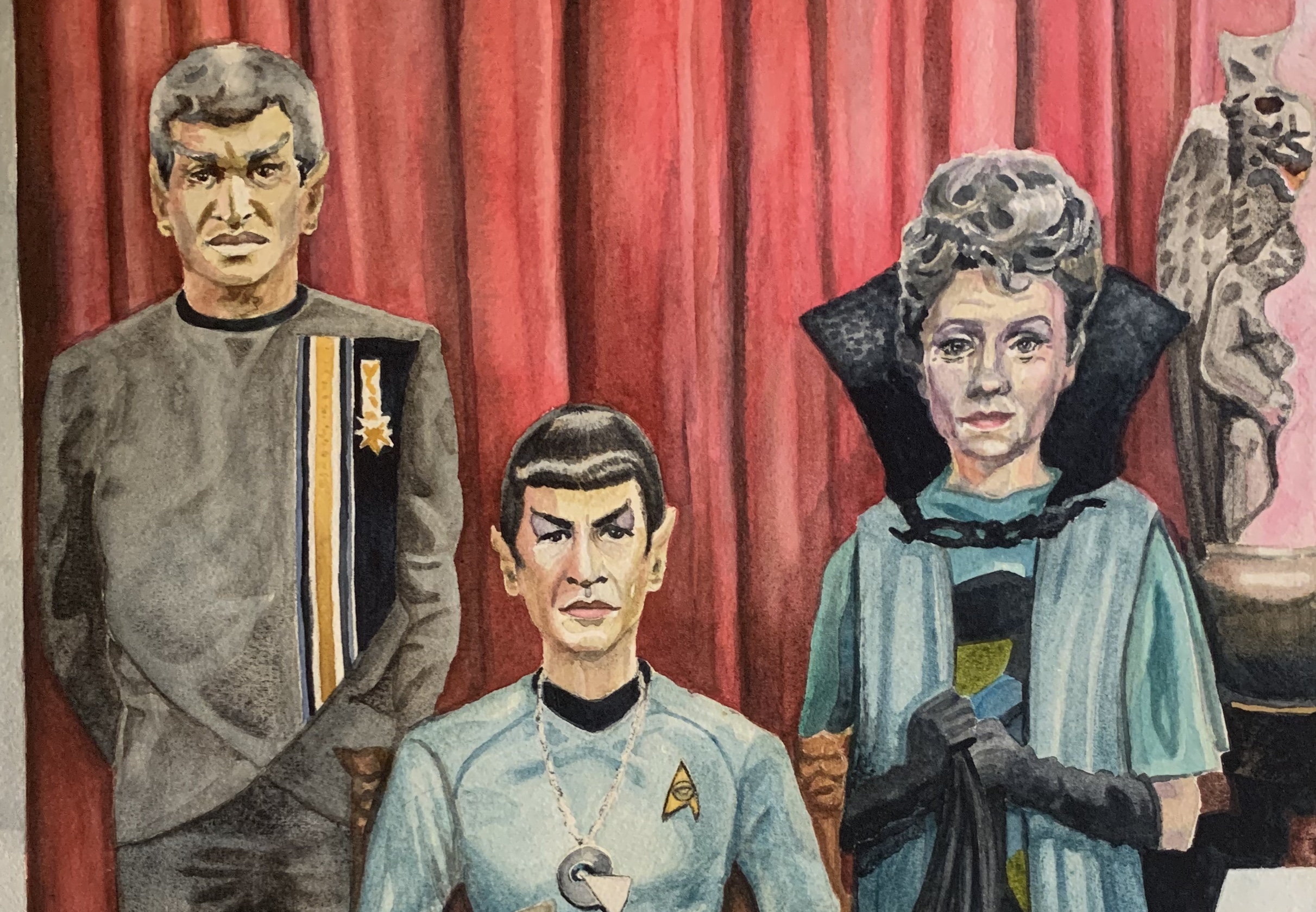 This is the home of the Star Trek Tarot, a project that I'd love to find a home for once it's complete
(if you're a publishing company with the rights hit me up, ahem cough Chronicle Books).
At the moment, it is not complete. Three complete images and a handful of studies have been languishing in my flat files for several years.
Since this project sort of came to me and asked to be made, I determined it's time to give it a proper support structure. Patrons of this good space afford me the weekly studio time necessary to make serious progress with the Star Trek Tarot.
Your patronage allows me to bring the Star Trek Tarot to completion.
Whether or not it ever sees physical publication, I intend to release hi-res files of each card for no charge so folks can print their own copies if they wish.
I'm a fan of Bread & Puppet Circus and believe firmly in their manifesto of Cheap Art For All HURRAH! so, although not all art can be cheap because artists gotta survive capitalism SOMEhow, it is my foremost goal to make it as accessible as possible wherever possible.
Because of that, ALL digital content will be available for the bottommost tier of $5/month.

Some of the other projects that I'm working on right now which will likely make appearances here, unless y'all vote something away:
An ongoing personal project called Full Moon Faces in which I make a self-portrait during every full moon,
An untitled illustrated book about my own shaman sickness and spirit-led initiation into shamanic work,
A presently rather nebulous "oracle deck" of divination cards,
A children's picture book about death called Grandma Dot in a Teapot,
and of course the current star of the show is
The Star Trek Tarot: a full 78-card tarot deck inspired by one of the most enduring pop culture mythologies of our time, painstakingly illustrated in watercolor.
I plan to pour myself with the fervor of ADHD hyperfixation (and, for you astrology nerds, the dedication of Mars in Taurus) into this Patreon project. Allowing everyone access to everything I create, rather than worrying about who gets what, frees up my creative and social brain so I can focus on creating, sharing, and listening to you.
My hope is to facilitate true crewmembership and community here.
May this be a place where you can come and share your dreams, signs and omens, insights and questions. And where I can hold space for true connection and growth.
If you don't know me already: I'm Paige Zaferiou (zah-FAIRY-oo), an eclectic shamanic artist. You can find my main website at
paigezaferiou.com
. My work centers around guiding people through weird transitions and death. I read tarot and astrology and I'm a spirit medium, but really I am a guide for those in the midst of transition, change, uncertainty, and spiritual upheaval.


Lastly, land acknowledgement: I live on colonized Naumkeag land in what is now Salem Massachusetts.

I'll be able to upgrade the art supplies! A few new brushes, couple tubes of paint, and some Arches watercolor paper
1 of 1
Become a patron to
Connect via private message
Recent posts by Paige Zaferiou
How it works
Get started in 2 minutes