Pandora Blake
is creating a more safe, sane and consensual society
Select a membership level
Reader
Limited (1 of 60 remaining)
Get full access to all my private patron-only posts for only $1!
Fellow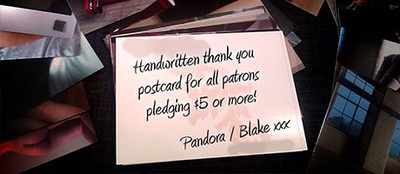 Get full access to all my private patron-only posts, including:
Exclusive behind the scenes updates
First drafts of new articles
Excerpts from my forthcoming book
New thinking
Personal blogposts
Researcher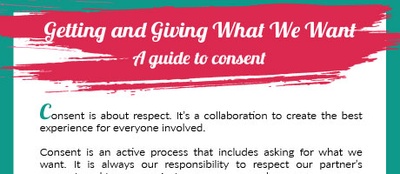 All the above, plus:
an instant PDF download of my guide to negotiating consent, "Getting and Giving What You Want"
Level up your communication skills, and learn to collaborate more effectively to make everything as lovely as possible.
About
I'm Pandora Blake, a writer, activist, filmmaker and community organiser. I'm getting my first book ready for publication, inspired by 14 years of activism and a lifetime of being true to myself. This Patreon is where I share new writing, test ideas, and listen to my readers.
Bodily autonomy

We're at a crucial moment in the discourse around bodily autonomy. While trans people and sex workers are speaking up about our rights, we're seeing a ferocious backlash from those who would rather defend their worldview than reduce harm. More than ever, we need strong voices speaking out in support of
everyone's
right to do what we want with our own bodies.
My book is about kinky fantasies, consent, boundaries and self-acceptance. It provides a toolbox for how we can step out of shame into a more conscious relationship with our sexualities - even the parts we'd never tell anyone else.
I've realised that bodily autonomy is the crucial connection between many of the most pressing causes of the present moment, from reproductive justice to prison reform and migrant rights. And consent is a powerful social technology which can improve our relationships, our politics and our laws. Mainstream media just isn't making the connection between bodily autonomy and human rights - if we want to reach a deeper understanding of these issues, we have to make it happen ourselves.
How I got here

Wondering how I started writing about all this? I've been working on sexuality, consent and human rights for fourteen years. I've delivered training to the British Board of Film Classification and lectured at the Royal Academy. I'm the Spokesperson for Backlash and on the Advisory Council of the Open Rights Group. I've consulted with Government agencies, lobbied politicians, and spearheaded successful campaigns against dangerous legislation. I've spoken up in panels, debates and interviews on mainstream media.
My activism has found a voice in my writing. On this Patreon I'm not competing for pitches or subject to the whims of editors. My research isn't constrained by an educational institution. I'm an independent blogger, scholar and author. I've written Parliamentary briefing papers and peer-reviewed academic articles, but my first love has always been blogging: expressing my ideas in a succinct and accessible way, direct from me to you. As my ideas have grown and grown, I realised the only way to really do them justice was to write a book.
All of this has been made possible by my Patreon community. The input and encouragement of my patrons is behind everything I've done so far. Making time to write and research, especially now I have a young family, would be impossible without them.
What you get

As well as powering my writing work, including my forthcoming book, you get access to:
My exclusive feed of Patreon-only posts, including previews and cut sections from the book, early drafts of new ideas, personal insights into my writing process, reflections on the impact of my activism on my writing (and vice versa), and personal journal entries. Some of this feels too private to post publicly, so it's great to have a community I can share it with.
Regular round-ups of my campaigning and political work, and the impact it's having.
Instant PDFs downloads, including resources like 'Getting and giving what you want: a guide to consent', 'BDSM fact and fiction', and even 'Feminist porn: how to find it and feel good watching it'.
Want to join our community? I'd love to welcome you.
By becoming a patron, you'll instantly unlock access to 130 exclusive posts
By becoming a patron, you'll instantly unlock access to 130 exclusive posts
Recent posts by Pandora Blake
How it works
Get started in 2 minutes