Traveling Museum of the Paranormal & Occult
Traveling Museum of the Paranormal & Occult
Creating the world's only mobile paranormal museum!
Select a membership level
Supernatural Supporter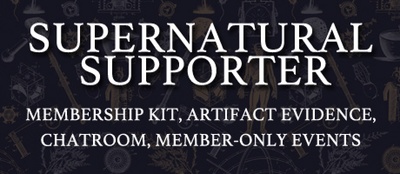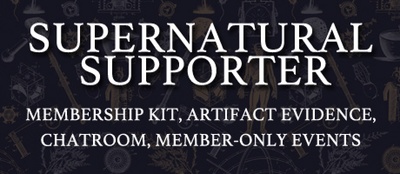 Access to members-only events, goodies, updates & more
Official Museum Membership Kit with foil-stamped card, members-only button, vinyl sticker & more! (See FAQ for details)
Get access to the private, patron-only feed, filled with videos of private research sessions with haunted artifacts, the weirdest evidence we've collected, information about museum news, upcoming events, and our eternal and undying love.
Invitations to exclusive members-only events in haunted locations across the country!
Access to the private museum Discord chatroom!
Occasional goodies in the mail
Includes Discord benefits
Friend of the Museum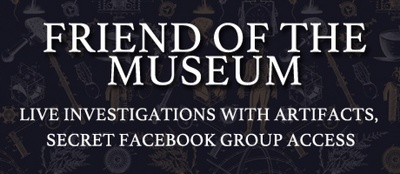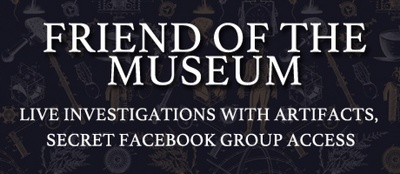 Phenomenacon and Live Streams!
We'll send you a private link to access to our super secret Facebook group where we host special live investigations, classes on magick & the occult, screenings of rare footage, & more! 
Take part in members-only events and join a huge community of like-minded weirdos.
Official Museum Membership Kit with foil-stamped card, members-only button, vinyl sticker & more! (See FAQ for details)
Plus previous rewards
Includes Discord benefits
Access to the Artifact Files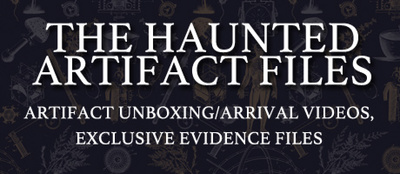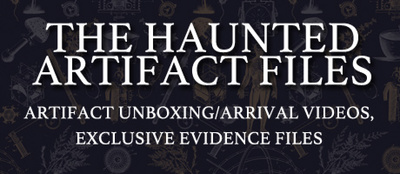 Access the Haunted Artifact Files
Access to notes, photos, and evidence of artifacts as we receive them. You'll see new pieces long before the general public - including many that will never be on display.
Watch videos of new objects being opened for the first time. We never know what to expect, so you're along for the ride. 
Official Museum Membership Kit with foil-stamped card, members-only button, vinyl sticker & more! (See FAQ for details)
Plus Previous Rewards
Includes Discord benefits
About Traveling Museum of the Paranormal & Occult
We're Greg Newkirk & Dana Newkirk, the founders and curators of the
Traveling Museum of the Paranormal & Occult
, the world's only museum of haunted, historical, and supernaturally-significant artifacts that comes to you. We've been preserving, protecting, and sharing items of interest for decades, but we need your help to continue our mission.
By becoming a member of the Traveling Museum of the Paranormal & Occult, you'll get exclusive access to incredible perks like live-streamed investigations, exclusive artifact unboxing videos, invitations to members-only events in the world's most haunted locations, loads of museum goodies in the mail, and more awesome stuff. Plus, you'll get the satisfaction of knowing you're helping make history in the process.
You might have seen us on television shows like 
Mysteries at the Museum
, 
Kindred Spirits
, 
Finding Bigfoot
, or 
Hellier
, but when we're not actively
investigating the strange and the unexplained
, we're on the road with the Traveling Museum of the Paranormal & Occult, a roving exhibition filled with incredible artifacts from the history of parapsychology, ufology, and witchcraft, as well as haunted objects from some of the most famous (and infamous) paranormal cases. 
Some key pieces include 
lab testing samples of a dress worn during Betty Hill's alien abduction
, 
artifacts from the most iconic haunted house in history: The Amityville Horror
, 
original paintings by The Conjuring's Ed and Lorraine Warren
, 
the famed "Idol of Nightmares" statue
, and the effigy known as 
the "Crone of the Catskills", a frightening and mysterious carving which has spawned internet legend
.
Since 2013, we've been sharing these pieces on 
a non-stop journey from coast to coast, bringing historically-important objects to tens-of-thousands of people
eager for the opportunity to experience and document their activity for themselves and learn the truth about paranormal research: always choose curiosity over fear.
But sharing important artifacts with the world is only part of our mission - we're also conducting groundbreaking research on paranormal phenomena. Earlier this year 
we became the first museum ever to conduct a coordinated, world-wide ritual with museum members while replicating a haunted artifact on site in the remote mountains of New York
. In 2017 we became the first museum to begin 3D scanning haunted artifacts, resulting in some incredible evidence. Five years ago we began work on THE INITIATIVE, a groundbreaking project that is poised to change the way people investigate the paranormal forever.
We're making history with the museum, but our journey is just beginning. Now you can join and support that journey by becoming a member of the museum. Your monthly museum membership will directly fund a number of projects aimed at expanding the museum's ability to educate the public about the paranormal, stimulate research into the unexplained, and preserve artifacts considered haunted, historical, or supernaturally-significant, such as:
Large-scale 3D scanning initiative and searchable database
THE INITIATIVE: groundbreaking paranormal research project
Relaunch and expansion of 24/7 artifact live stream
Physical expansion of the museum (and permanent space)
Adding more exhibitions in more cities around the country
Restoration and preservation of museum artifacts
Museum website overhaul with artifact/evidence catalogue
Additionally, funds will flow into museum expenses like vehicle maintenance (a big one for a traveling museum), web hosting fees, and general museum upgrades and upkeep.
Membership in the Traveling Museum of the Paranormal & Occult won't just help us grow, it'll get you exclusive perks available only to members! Members of all levels get access to exclusive patron-only updates, which include video evidence, photos, and museum news, but different membership levels provide even cooler perks like:
Monthly live video investigations in haunted locations
Discounted tickets to events around the country*
Access to the members-only Discord chatroom
Access to the museum evidence files
Signed pre-release copies of our upcoming books
Regular shipments of museum merchandise
The ability to join the museum's advisory board
Private museum events in haunted locations, just for you.
One of the coolest membership levels, though, is the Magic of the Month Club, where each month Dana will send you a unique, hand-made package tailored for that month's specific theme. Whether for luck, love, prosperity, or protection, her favorite crystals, hand-crafted incense, and other magical goodies will arrive at your doorstep each month with instructions for their usage. Additionally, you'll get to take part in live classes with other MOTM members!
For more about each museum membership level and all the goodies you'll get, check out the different categories on the right-hand side of this page. 
Got questions? Check the FAQ
.
With your help, The Traveling Museum of the Paranormal & Occult won't just continue to educate and fascinate people across the country, but it will grow into an even more valuable resource for those of us who are dedicated to uncovering the mysteries of the unexplained.
*where and when available, discounts offered by participating events will be announced to museum members in the Patreon feed.
THE LIBRARY

With this level of support, we'll be able to fast track our massive paranormal library undertaking, building the world's most incredible and expansive collection of books spanning the occult, the supernatural, the ufological, and the parapsychological, making them freely available to card-holding museum members upon the library's debut.
10 of 10
Become a patron to
Unlock 561 exclusive posts
Connect via private message
Recent posts by Traveling Museum of the Paranormal & Occult
How it works
Get started in 2 minutes