Parrot Time
(
www.parrottime.com
) launched in 2013 as a bimonthly online magazine about languages, linguistics, and culture. It has been open to articles from other members of the language learning community, and we are working to expand both its contributors and writers as well as its readership.
Published every two months, it has had such diverse feature articles as:
Are You Wasting Your Money on Language Classes?
Chatting in Languages Online
Why Do People Learn Languages?
Religion in Culture
Constructed Languages - Making It All Up
Rohonc Codex, the Rosetta Stone, the Voynich Manuscript
Speaking with Aliens
When Languages Meet and Conflict
As well as standard columns dealing with:
Language artefacts
Film and book reviews
Languages in peril
Celebrations from around the world
"Where are you?" monthly contest
Interviews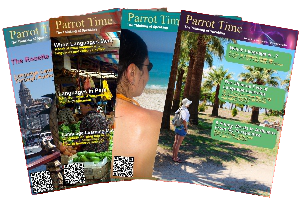 Each issue comes in
two formats
which are freely available to everyone. The web version presents all articles as web pages, allowing for easy sharing and comments. The PDF version is an entirely formatted magazine, readable online via Issuu, or available for downloading to your computer or other electronic device. There are also advertisements in the PDF version, but they correspond to the blogs, websites, and products of other members of the language community, so even those are useful to the reader who is looking for new resources and outlets.
While all of this has been free to the community
and we have managed to operate on a virtually non-existent budget, we've realized that in order to keep the magazine sustainable, new financial resources are required. The web version does have a few commercial ads, in the form of targeted ads from Google and affiliate links, they simply don't even cover the basic operating costs.
This is why we are now turning to Patreon, in the hopes that you, our regular readers or those who recently found our publication and would like to see it continue, might be willing to aid us. Your contribution helps to cover the cost of writing and formatting on dual platforms as well as allowing us to bring more and varied content to you in the future.
Please consider making a donation, let us know what you like and want to see in the future, and share us with your friends!
The dollar amounts listed for rewards are the minimum monthly payment necessary to receive that reward.
Questions?
If you still have any questions, please feel free to contact us at
[email protected]
.com or by our
Facebook page.
Thank you
for readership, time, consideration, and support!