Partly Robot Industries
is creating Science fiction adventure stories and wackiness.
Select a membership level
CTCA Time Cadet
Cross-Time Coordinating Agency Cadets are the honored backbone of this patronage scheme. Tier benefits include:
Access to new chapters as they are released
Access to old chapters
Special discounts on other Partly Robot Industries merchandise
Emotional leverage to guilt trip me into releasing new chapters on time (2 a month!)
Sasquatch Defender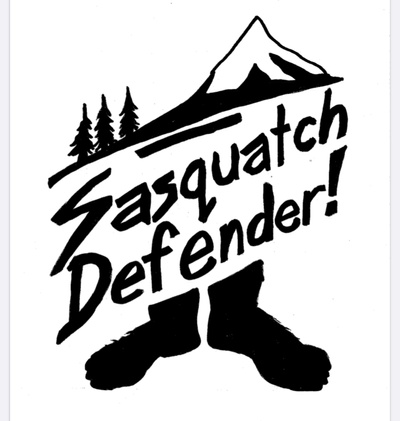 Patrons at the Sasquatch Defender tier will be glad to know that 25% of their contributions will be directed to organizations that work to preserve Sasquatch habitats across North America. Tier benefits include:
All benefits of CTCA Time Cadet tier
Early access to Sasquatch Defender swag as it becomes available
Opportunities to suggest other cryptozoological species to receive protection from the Sasquatch Defenders
Taco Lord
Who doesn't want to be a Taco Lord?
Seriously, though, if you are pledging at the Taco Lord level, I am going to offer you opportunities to make story-line requests via polls and surveys. You are also entitled to use the hashtag #TacoLord in any social media posts regarding Larry and the Beast Beyond Time. Beware of false Taco Lords.
About
This page is the first row seat to the further adventures of Larry the Horrible Time Traveler, among other high weirdness. The first Larry the Horrible Time Traveler serialized novel was featured on the now defunct website JukePopSerials from 2012 to 2014. A paperback version made a small release in 2015. The first story was a high energy, low attention span romp across the entirety of human existence culminating in doomsday showdown between robots and dinosaurs. Pretty frickin' cool, right?

Ever since wrapping up the first story the fandom has been demanding more. And the fandom keeps growing. The only problem was, since the demise of JukePop, I didn't have a  platform to showcase it.

I was grumbling about this problem to my friend, Evan. He said, "dude, why not check out Patreon?" 

So I did.

And here we are.

The further adventures of Larry and Ishmael in a haphazard follow-up sequel I've been calling "The Beast Beyond Time." I promise subscribers two online installments a month and access to the edited for typos, and slightly expanded version of the ebook of the previous novel.
By becoming a patron, you'll instantly unlock access to 2 exclusive posts
By becoming a patron, you'll instantly unlock access to 2 exclusive posts
Recent posts by Partly Robot Industries