Paseo Farmers Market
is creating access to local food during the COVID-19 crisis.
Select a membership level
Friend of the Market
Every little bit helps, and we truly appreciate you giving to help support the continued growth of the Paseo Farmers Market.
Community Sponsor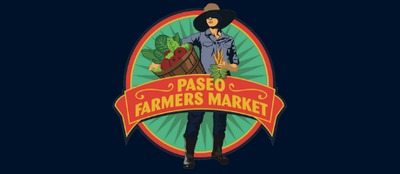 Your continued support will help us achieve great new heights!  We appreciate your support so much.
Local Food Superstar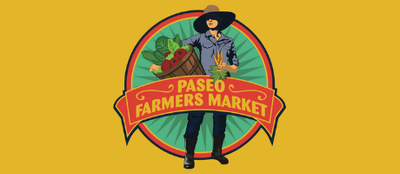 Dawn your shirt with pride, you are really making things happen for the Paseo Farmers Market, and we value your support!
About
Paseo Farmers Market Community,
We are reaching out asking you to join us in our attempts to supply our community with safe, accessible local foods during this COVID-19. We feel especially lucky to have a market located in a neighborhood that has taken great strides forward in support of local food, and we want to do our best to continue to provide opportunities for as many local food vendors of quality and quantity as we can!
During this time of necessary social distancing, we will operate our market as an Online Marketplace only. Where patrons will shop our vendors inventory in one online store, with one central checkout. Customers will have the opportunity to place pre-orders Monday - Thursday evening. No-contact pick up or delivery will be available on Saturday mornings.
To execute this system in compliance with COVID-19 sanitary standards, we will need to purchase some necessary supplies to keep our team, and our patrons safe. For example, gloves, masks, sanitizer, boxes, tables, delivery costs, etc.
It is for this reason we have set up this Patreon account, in hopes that if you love this market and want to see us fulfill this need, you will consider making a monthly donation, however small.
Due to the many hats all of us wear who are working to run this market, our own farms and businesses, along with other part-time jobs, we will not be able to maintain this Patreon account in its most traditional sense. We will have several levels of giving available, and can commit to getting anyone who pledges at the $20 level or higher (!) a free Paseo Farmers Market t-shirt, and any other swag we may have available. Beyond that, we will only be able to promise periodical detailed updates so you know exactly what your money is going towards!
That being said, we are always open to talk about finances or any other thoughts, ideas, or connections, you may have for our marketplace, so please feel free to email us at
[email protected]
anytime.
We want to close by thanking each and every one of you for all the support you have already given this market by shopping here, and we thoroughly appreciate any consideration for further monetary support, at any level. We are committed to building a just and equitable local food system, and are grateful to be in a position to step up during this time, and have the ability to adapt to this challenging situation. We're thankful you have joined us in taking the first steps on this unexpected journey!