Pastor Isaac Scott, Artist and Activist
is creating Multimedia Art
Select a membership level
Friend or Advocate Supporter
Limited (20 remaining)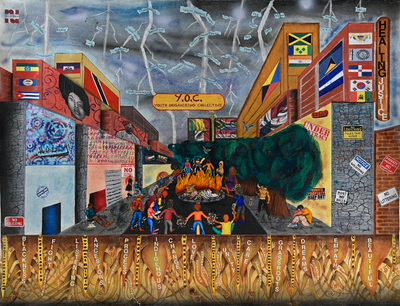 I am a self-taught multimedia artist. My skills include:
· Fine Art
· Graphic Design 
· Photography
· Videography
· Filmmaking
I'm offering my personal artistic services in exchange for your support. With help from the artists I lead, I can produce creative content at different levels for your work. Please keep in mind that I will be the artist personally producing your benefits am because I am a Pastor I'm not at liberty to work on projects if the content is rude or offensive. My goal is to continue to promote love, equality, healing, health, and honesty. 
THIS NOTE APPLIES TO ALL TIERS
About
I am a formerly incarcerated artist and activist. As the Program Director for The Confined Arts, I am a leader in promoting justice reform and prison abolition through the transformative power of the arts. Since returning to society in 2013, I've combined fine art and graphic design with my passion for the arts to accomplish goals that could not have been achieved without such a socially valued means of expression. My passion for equal human rights runs deep as a result of being directly affected by the criminal justice system and its disenfranchising nature.
Today, I am the 
2018 Change Agent Award
recipient from the School of General Studies at Columbia University, where I currently study film and media as a Justice in Education Scholar. I am  also the Arts and Communications Coordinator at the Center for Justice at Columbia University. My   work there includes research, public speaking, and managing the center's public outreach. I am studying filmmaking to pursue my ambitions for producing artistic content that honestly represents the true lived narratives of stigmatized people. I believe that art, in every form, is effective in changing perceptions and conquering stigma. Through lived experience, I personally understand the need for realistic representations of individuals like myself, who've been convicted of a crime in the past. I also understand the healing power of the arts; it's influential enough to transform both the artist and the audience. I am bless to now be in a position to assist those artists following behind me and to use my creativity in many ways to continue educating and promoting change. 
Click here to read my full bio.
In 2014 I created an artists collective called The Confined Arts (TCA). TCA is a platform to illustrate and showcase the talents and creative voices of currently and formerly incarcerated artists. This platform provides an outlet for artists to express their voices through the visual and performing arts, poetry, and music as a means to abolish the inhumane narratives and socially degrading stigmas that are used to describe the past experiences and limit the futures of individuals impacted by incarceration. The TCA platform is also open to those artists who work in or around jails and prisons, as well as those who have been impacted by mass incarceration through a friend or family member.
TCA has a 2-part mission:
Change the narrative that is commonly associated with individuals who are formerly incarcerated as well as those currently in prison;
Create a consistent stream of public education that amplifies the creative voices of people affected by incarceration.
FROM THE INSIDE OUT
Through TCA I am currently working on a 24-month long artistic response to the misperceptions of people in prison fostered through stereotypical mainstream media representations of prison life and the people who experience incarceration. 
Click here to read full project description. 
From the Inside Out
is an interdisciplinary artistic response to the existing narratives of people in prison and those formerly incarcerated. In the United States, pejorative media depictions have dehumanized incarceratedpopulations, contributing to the public's desensitization to abusive penal policies and its dehumanization ofindividuals within the system.

The goal of From the Inside Out is to collaboratively deconstruct these degrading and inaccurate narratives by showcasing the perspectives of directly impacted artists and creative voices. By providing a platform for these individuals to express themselves, we hope to dispel public misrepresentations and reframe the conversations surrounding people in prison and our present carceral state. If the public is better able to understand the malpractices of the prison system and view the incarcerated as people rather than criminals, these individuals will have an easier time reentering society and working towards personal development.

To undertake this ambitious project, I am personally calling on visionary patrons to financially contribute at a variety of levels. Please refer to our tiers to see how you can help me and other impacted artists create artistic content that will positively impact the lives of millions of people under correctional control today.
When I reach 10 patrons, I'll be able to pay for the art materials and media supplies for the youth engagement workshops. 

The Confined Arts will include the artistries of young people from diverse backgrounds by connecting teaching artists with community youth leadership groups. Collaborative workshops and art activities will be offered and designed to guide youth participants in addressing their own misperceptions of incarcerated people and misperceptions others may have that can lead to youth incarceration.
1 of 3
Recent posts by Pastor Isaac Scott, Artist and Activist