Penny Thoughts
is creating Publications and Podcasts
Select a membership level
Digital Tier
If you like what we do you can help us sustain it with a small donation, in return you will receive a full scanned copy of each issue in PDF form as and when they are released. 
Proud Patron Tier
Wear your support for Penny Thoughts! We'll send you a badge and you will get a digital copy of the issue as soon as its out. 
Gettin' Generous Tier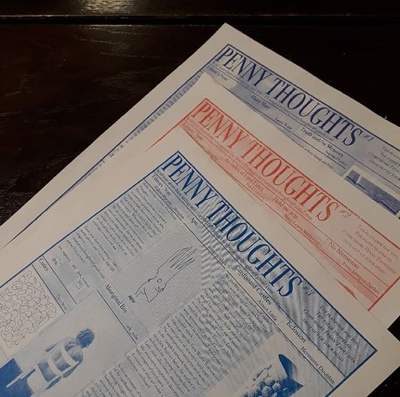 You will receive a digital copy of each issue as they come out. We will also send you the 5 latest issues at time of sign up, plus a badge all sealed with a kiss from each of us. 
About

Hello! Rory, Jack and Eva here. Let us tell you about what we do...

We make Penny Thoughts, a free publication printed on a single A4 sheet of recycled paper featuring artwork and writing submitted by you lot! We like to describe Penny Thoughts as a platform for creative ephemera; a place for drafts, sketches, half-baked plans as well as fully-fledged ideas and artworks. Currently we distribute it for free around Manchester, leaving issues in pubs, bars, shops, on buses, even street corners to maximise exposure to a wider range of people with varying abilities, skills and creative habits.

It's free because we believe in making artwork and art publications accessible to the wider public, as an extension of what art and higher education institutions attempt to do. We want to encourage people to share their work without sacrificing the essential quality of playfulness, of experimentation which often exists in the margins or foetal stages of any creative project.

We have also recently dipped our toes in the podcasting world with Penny Drops; with a format similar to the publication but allowing for audio artworks that cannot be displayed in print. It hosts  spoken word poetry, music of all descriptions, interviews and more.

We hope to further promote the art-experiencing public's own work, by placing encouragement front and centre. This means larger print runs, more visibility, more widespread dissemination of the publication to ensure it is not only picked up, enjoyed and discussed, but is also a broadly available invitation to participate.

We want to continue to set an example by our contributors, to our readers of just how wide a range of work is valid for publication. We aim to continue providing the opportunity for our contributors' work to be read by as wide an audience as we can, and prove that the printed word and image still has power in the internet age.

Any funds we receive for Penny Thoughts would firstly sustain what we are already doing, as at the moment everything is out of our own pockets. We also want to expand by getting our publication into different cities, further diversify our content in print and podcast, host more community events; the list goes on. We have so many ideas about where Penny Thoughts can go and any help you can offer will be very much appreciated.

Thank you in advance!
              Rory, Jack and Eva

Keep Penny Thoughts alive and well in its current form!
1 of 2
Recent posts by Penny Thoughts