Pentaquin
is creating Computer Games
Select a membership level
Favor of the Tero'zar (Bronze)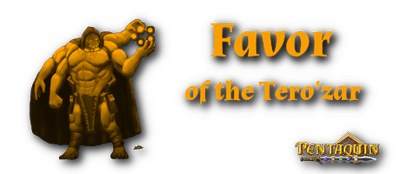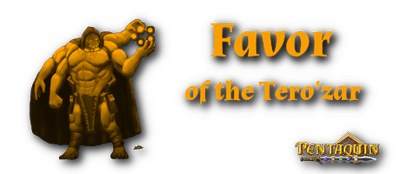 🥉 Bronze Discord Role: You will receive the Discord rank "Favor of the Tero'zar - Supporter"
✍🏽️ Credits: We can list your name on our credit page for supporters, if you want to.
🤗 Thank You: You'll of course receive a big "thank you" from our developer team for supporting us as well! 
Includes Discord benefits
Goodwill of the Tero'zar (Silver)
🥈 Silver Discord Role: You will receive the Discord Rank "Goodwill of the Tero'zar - Supporter"
🎁 Download Area: In addition to our thank you and the possibility to get listed on our credit page of supporters, you'll get access to an exclusive page where you can download special material from Pentaquin. (eg. wallpapers and soundtracks).
🏆 Credits: If you want to, we can list your name in the endgame credits in addition to our website (like in the Bronze tier) as well.
Includes Discord benefits
Honor of the Tero'zar (Gold)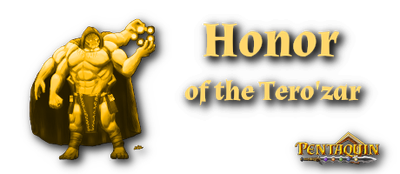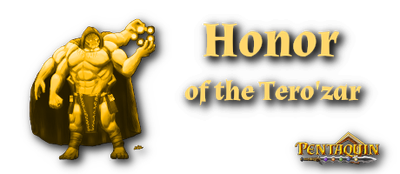 🥇 Gold Discord Role: This Rank gives you access to a private channel, where you can hang around and talk to the team.
🔐 Early Access: You will receive access to private demo builds and will have the possibility of voicing your opinion in a second private Discord channel only for supporters of this tier. 
📅 Earlybird Demo: You will receive access to public demo builds around one week earlier
🔑 Full Version: If you support us with this tier for 12 months you will receive a key for the finished Game as soon as it launches.
✔️ All other benefits: You will receive all benefits of the previous tiers.
Includes Discord benefits
About Pentaquin
🎮 Creating computer games is our passion.
Pentaquin is a small group of young people from all over Germany and Austria, creating the 
"Pentaquin" computer game franchise
.
We're currently working on our first 
2D-Platformer Game "Pentaquin - Deeds of Twilight"
.
❤️ Why we love creating games
Video games have been fascinating most of our teammates since their early childhood.
Playing and creating games open up new ways to
express our imagination
, explore and train our
individual talents
and socialize with a team of people who
share the same passion
.
The founders of Terovania themselves grew up in a generation where the computer games industry was developing rapidly and had a
strong impact on their education
.
Even as children, their dream was to be able to create their own games and fictional worlds together with other enthusiasts and eventually
turn their ideas into reality
.
👪🏽 Who we are
At the moment Pentaquin is a
fully voluntary project
that is
dependent on the unpaid work
of our team members. 
Our development team is an
aspiring indie game studio
 called
'
Terovania'
which we run completely 
during our free time
and in parallel to our main occupations. 
In the long term we want to become a team of 
financially independent, full-time game developers
with the help of our 'Pentaquin' games.
Until that will be the case, 
we still have a rocky path ahead of us.
One that we can only go along through monetary support from our members and external supporters.
🤝🏽 We are happy to receive your support!
Currently
we don't have any income
with Pentaquin. It is quite the opposite:
We run the project in our free time
and try to invest as much of our private earnings as possible.
That's because the project already has
running costs
. This means: server costs, domains, software licenses, fiscal consulting, hardware... the list continues.
So in order to be able to realize our vision of the Pentaquin games
we still have to rely on financial support
.
We are thankful for every kind of support. Even if it is just 1$!
Reasons to support us
🤗 You'll enable passionate people to do what they love: Your pledge enables us to spend more time doing what we really enjoy:Creating awesome games! The more we earn with our game development hobby, the less we depend on other, time-consuming and exhausting jobs in order to earn our living and pay our bills and rents.
📦 Our games will be delivered earlier: The more time we can spend on development, the more efficient and faster we can work on bringing the game of our dreams to life!
✍🏽️ Special mentions: Yor help is appreciated: Even €1 per month will save you a special mention on our credits page, and for higher pledges you will also be mentioned within our ingame credits! All Patrons will also receive a special supporter-role for our Discord!  
🎁 Exclusive Content: Depending on the tier you choose, you'll receive access to our Download Area with exclusive content (including Wallpapers and Music) only for Patrons.
🔑 Early Access: For the highest pledge, you'll also receive early access to our games in development and exclusive chats with our development team!
📈 How much of the game is done yet?
We are currently working on the first Demo version of the 2D Platformer "Pentaquin: Deeds Of Twilight". Building upon the powerful Unity game engine, we have already implemented most of the
core gameplay systems
, like the player controller, skill systems and enemy AI.
We have also created many
beautiful graphic assets
 that already form our
first three levels
. We're also working on
animations
for the player, his skills and the several enemies that you'll meet during your journey through the magnificient worlds of Pentaquin.  
It's important for us that most of the game will be
completely hand-crafted
. Besides some strong technical foundations like the Unity game engine or the FMOD sound engine, we try to give the game a very personal and individual note. Graphics and music will be designed by our team, giving the game it's
unique, hand-drawn
character.
You can find the first screenshots of our ingame graphics on Imgur and Instagram:
You can already listen to the first demo songs of the eventual Pentaquin soundtrack:
🤑 What will I receive in return for support?
🥉 Beginning from the first 1 € tier on, you'll be
named on our website
for being a loyal supporter of our idea. We can of course also
link your name
to your personal portfolio or corporate website. You will also receive a
supporter rank
for our public Discord server!
🥈 You can
download the full Pentaquin soundtrack
along with some beautiful
desktop wallpapers
if you decide to support us with at least 5 € per month here on Patreon! Your name will also be mentioned within the
ingame credits
of our 2D platformer "Pentaquin: Deeds Of Twilight" if if you opt for this tier!
🥇 By paying 9 € per month, you'll also receive an even
more exclusive Discord supporter rank
and you'll also be able to join a private Discord channel, where you can
chat directly with our development team
in order to voice your opinion on the game and participate in shaping it to become a nice experience for every player! With this tier, you'll also receive
access to updated demo releases
a little bit earlier than everyone else. If you decide to support us for 12 months with 9€ each, you'll also receive the
full-version of the game
as soon as it launches!
We are looking forward to your support! Make sure to follow our project so that you won't miss any updates! Thanks for your help!

🎮 More about the Game: https://pentaqu.in/dot
🔧 Follow us on Steam: https://pentaqu.in/steam
📢 Join our Discord channel: https://pentaqu.in/discord
📷 Follow us on Instagram: https://pentaqu.in/instagram
🐦 Follow us on Twitter: https://pentaqu.in/twitter
📘 Follow us on Facebook: https://pentaqu.in/facebook
🎶 Listen to our music: https://pentaqu.in/soundcloud
👪 Become our teammate: https://pentaqu.in/join-us (🇩🇪)
© 2021 Pentaquin by
Terovania GbR
| 
Privacy
| 
Imprint
🌍 For €5 per month we can cover our domain costs for running the Pentaquin website.
1 of 5
Become a patron to
Connect via private message
Recent posts by Pentaquin
How it works
Get started in 2 minutes