Peppermint Lines
is creating Enchanted Art
Select a membership level
Valerian Tonic
Thank you so much! Your adventure begins here.
In your tonic;
Advance notice for restocks and new pieces.
Eligibility for surprise gifts selected at random to be mailed out. The bigger our family, the more gifts!
An invite to participate in all community events including Draw This, reinvention competitions, collaborations, Draw With Me, colouring contests and more.
Leaves of Three
Your contribution helps the magic grow, many thanks your way!
Among the leaves;
Access behind the veil, to see all exclusive first glimpses, step-by-step illustrations, processes and progress of my art.
Polls to help me decide what's next or what you'd like to see in future; give your voice and thoughts, and help shape the wonders.
And of course,
Advance notice, eligibility for surprise gifts & community events. 
Blackberry Brambles
Now we're cooking with fire and delight, thank you x infinity for joining the fun!
Inside your slice of blackberry pie;
Download a new, never before released colouring page each month - and please share your finished pieces; let's build a community gallery!
Read my thoughts in a monthly journal; constructive annotations of a recent work, insight into starting and running a business, or upcoming events, fundraising and community work.
Tutorials to give a better insight into creative processes and the how-to - in both digital & traditional mediums.
Inspiration & practice pages for some of the most-loved elements of my art, to help you break that creative block, improve your skills, challenge yourself or introduce new techniques and components to your own work.
And of course,
Advance notice, eligibility for surprise gifts & community events, polls and a pass behind the veil. 
About
☽ 
Hello, wonderful souls!


I am Mint, and this is my wonderland. I welcome you to
join me in this little corner of the universe
, creating the wildest of dreams from our imagination; inspired by Mother Earth and the workings of the inner mind.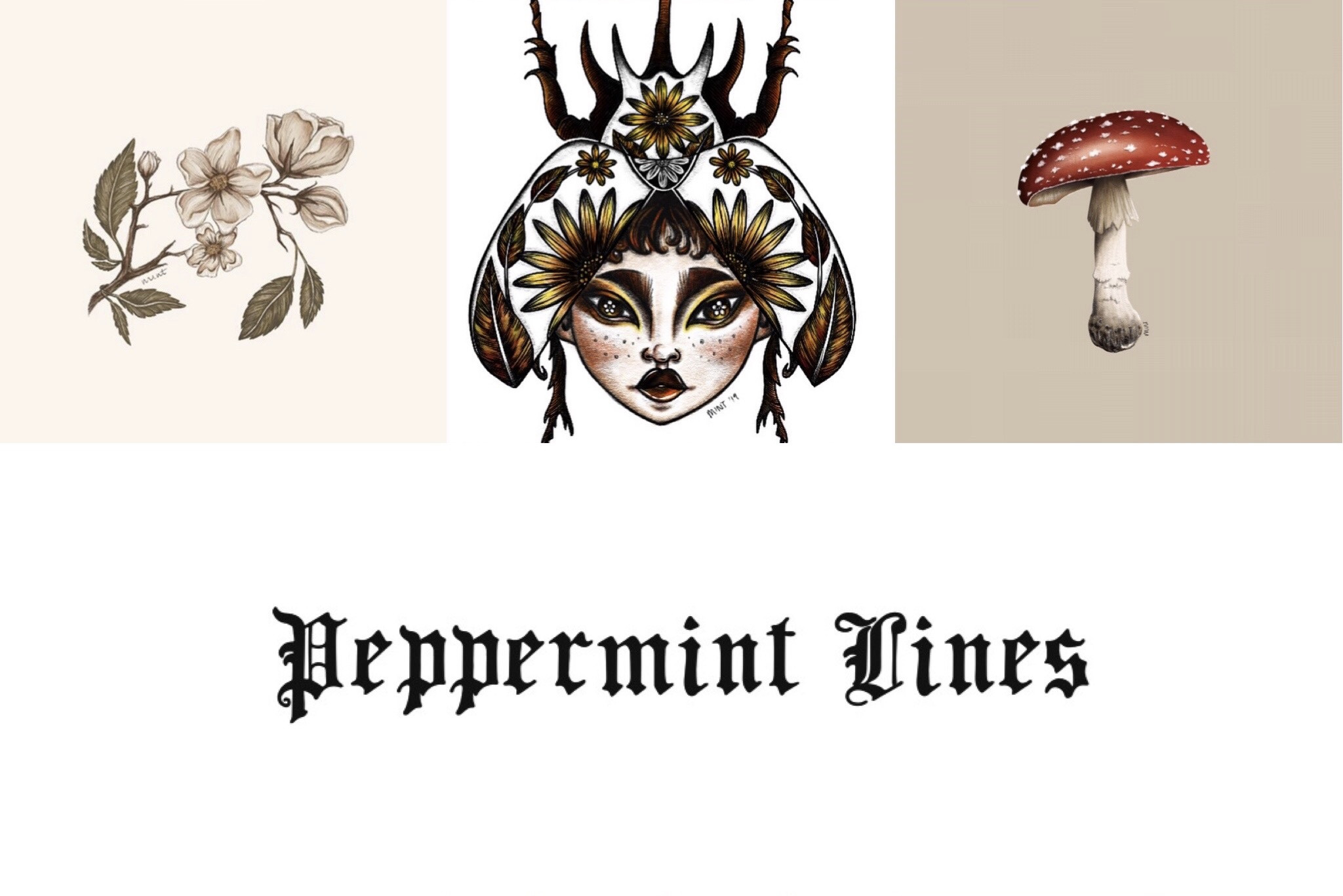 Peppermint Lines:
(n.) A combination of peppermint tea & drawing lines; the two things which best help soothe my anxiety and return me to a head-space of gratitude and joy; a small business combining art with activism, self-care and eco-conscious practices.
☽
The ultimate goal is to
 change lives with art
, focusing on contributing back to society and the environment; giving with all I receive, thus creating a
harmonious circle of positive energy
which will only grow with our community. Meanwhile, our core is rooted in the belief of "
leave no trace
", minimising environmental impact.
☽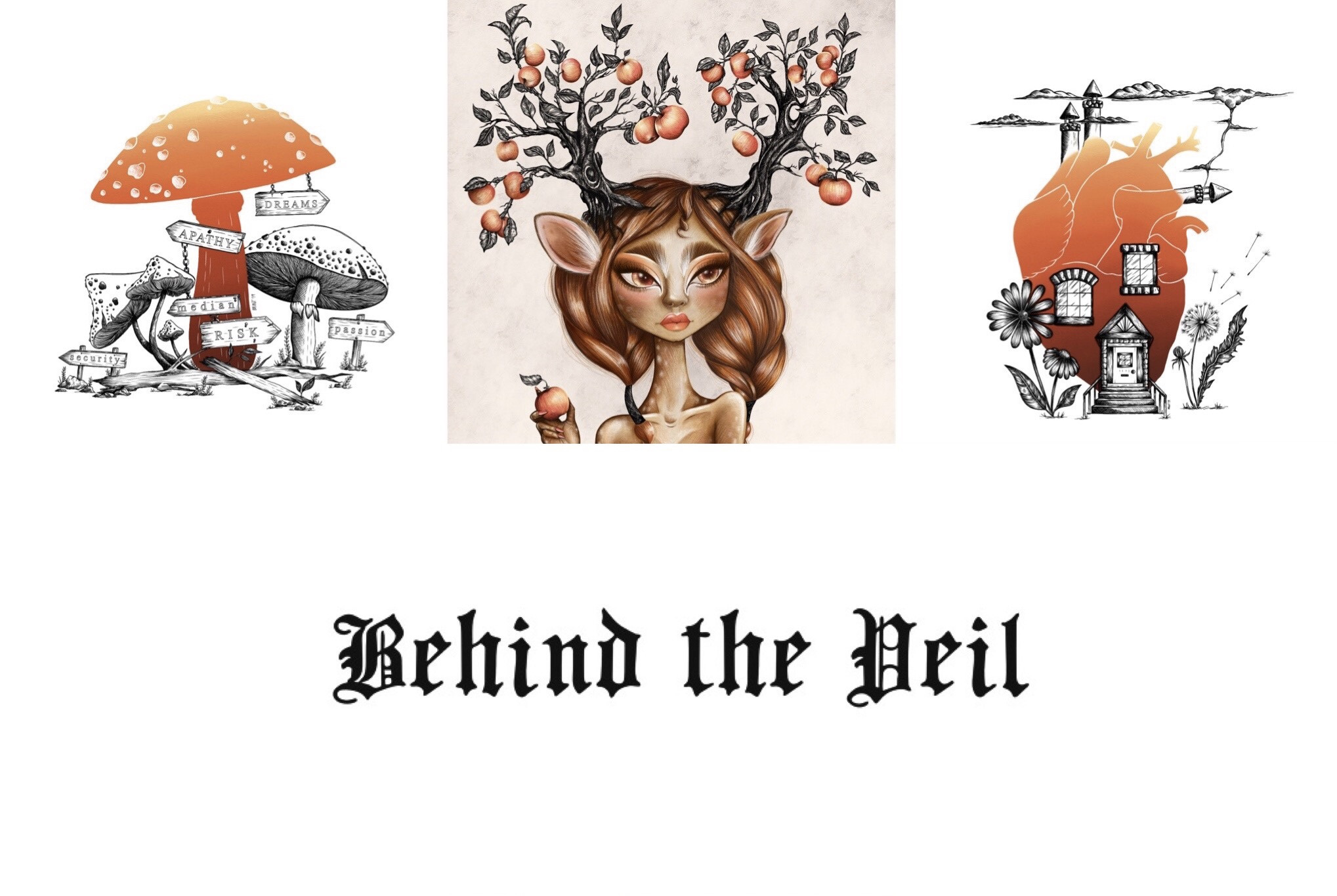 A glimpse into what lies beyond; from the
draft to final
 creation process to ideas in formation which remain otherwise unseen. It has been a delight to share so far, and I am very excited to continue to do so - art, passion, inspiration and magic.
Behind the veil:
♙ | access step-by-step walkthroughs & tutorials on individual pieces of my own creations - or by requests from you.
♖ | view initial drafts, & watch the refinement process unfold as I illustrate pieces from start to finish. 
♘ | learn as I do; the processes of drawing new elements, & experimenting with techniques. 
♗ | vote in polls; see a collection of sketches and ideas not yet in formation, & help choose what you'd like to see come to life.
♕ | create with me through community challenges, classes and competitions.
♔ | find colouring sheets, gain early notice of store updates, and entry into special patron giveaways.
☽
Alongside, take a peek into my heart and mind through raw journal entries documenting headspace and how it influences my art, ambition and Peppermint Lines' growth.
This is just a beginning, a new adventure. Nobody truly knows what the future might hold and how it will shift the tides but if there is anything you wish to see on this list, do feel open to messaging me! I create for myself, yes, but I create for you too.
☽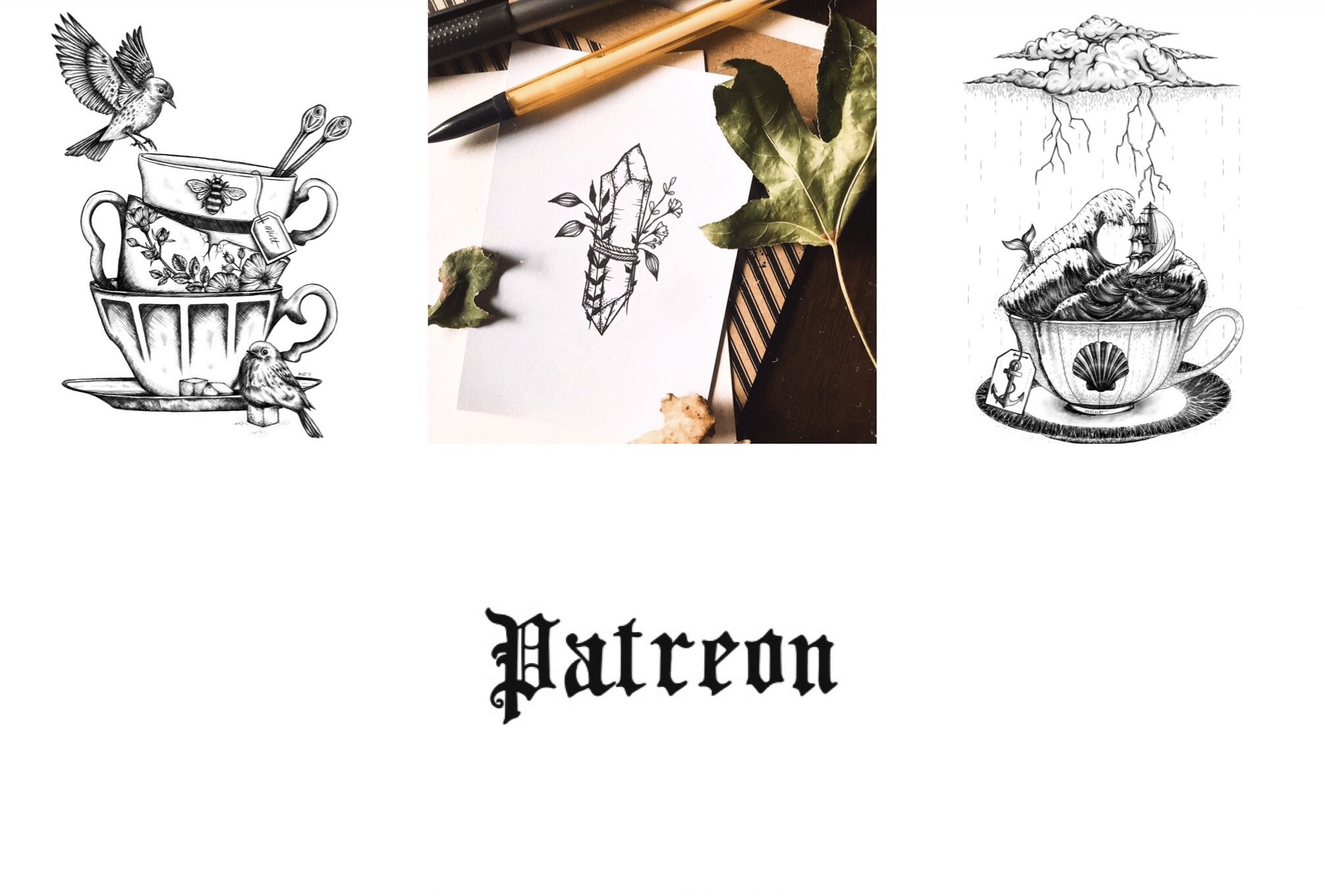 What is it?
Patreon is an additional way to support artists who inspire and delight you, in return for a closer and more personal insight into their work - and if I inspire or delight you, I would be honoured and most grateful to have your support.
This is a platform which allows me to share all additional aspects of my art that do not get posted on Instagram, and create extra content just for you in depth without restriction.
Think of it as tossing a coin into a wishing well in my garden, or treating me to a pot of peppermint tea once a month.
☽
Don't be anxious, you can upgrade, downgrade or cancel as you please without difficulty; no iron chains.
But I wouldn't say no to a monthly pot of peppermint tea.
Or seven.
☽
I look forward to seeing you on the other side.
Magic awaits.
♥
Triple numbers beneath the theme of "vital energy" and to celebrate this momentous occasion I will find a way to hold my first full charity art auction with 100% of proceeds donated.

3 of 3
By becoming a patron, you'll instantly unlock access to 4 exclusive posts
By becoming a patron, you'll instantly unlock access to 4 exclusive posts
Recent posts by Peppermint Lines