Perchance Music & Digital Media (SM)
is creating The Soundtrack Of Now (TM) syndicated audio program
Select a membership level
Mermaid
Mermaids are magical, mysterious, and music loving...just like you. Your support at this level means more than you might think.
 Kindly accept in return: 
My sincere gratitude and appreciation for your support.
Early access to podcast episodes.
Access to private posts on Patreon.
Basho
Your support of me
yields seventeen syllables
of wisdom and more.
Kindly accept in return: 
My sincere gratitude and appreciation for your support.
Early access to podcast episodes.
Access to private posts on Patreon. 
RECEIVE AN ORIGINAL HAIKU written by the host and e-mailed to you each month.
Momento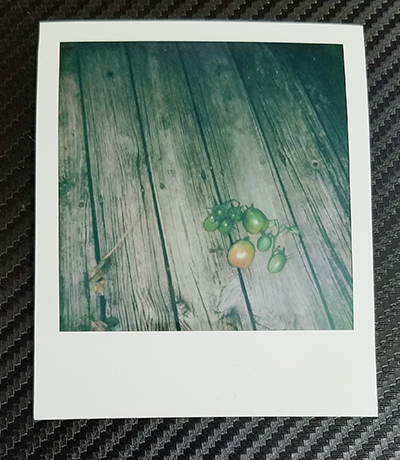 (Polaroid photograph shown is a sample by Christine Bush, signed as Jonatha Chance.)
You are an agent of change. We need more people like you. Each month a glimpse of infinite wonder captured and given to you alone. (This is all Patti Smith's fault --- thank you, Patti.)
Kindly accept in return:  
My sincere gratitude and appreciation for your support.
Early access to podcast episodes.
Access to private posts on Patreon.
RECEIVE A SIGNED ORIGINAL POLAROID PHOTOGRAPH taken by the host each month.
About
Let us listen to
Howls, echoes, chaotic thoughts:
the soundtrack of now.

Haiku by Jonatha Chance
Welcome
I'm
Christine Bush
, Creative Services Director and owner of
Perchance Music and Digital Media (SM)
. Thanks for visiting the Patreon community for my primary project:
The Soundtrack of Now: A Sojourn In Sound (TM)
.
The Soundtrack of Now (TM)
is a twice monthly offering in which we will investigate the emergence of thought from the experience of listening with a focus on sound art, sound studies, and the process of creating original works of sound and music.
Listening Community
I hope that
The Soundtrack of Now: A Sojourn In Sound
(TM) will be a stimulating and engaging listening experience for anyone.
I extend an explicit invitation to musicians, composers, sound artists...podcasters, multimedia producers, audiophiles...philosophers of sound studies, poets, and artists.
We are each engaged with the same drive to express and, in so doing, to better understand expression.
Core Values
As a patron you will have the opportunity to read posts and listen to ideas that explore some of the core values that inform this project. These include:
I promise to strive for high production values and the production of a listening experience with Quality.
The fundamental principle that any sound has the potential for the conveyance or emergence of meaning, including: noise, silence (the absence of sound), music (tonal or atonal sounds), words (written or spoken), or vibrations.
Fearless, unapologetic intellectual curiosity motivated by a postmodern perspective that (sound) art and music are texts that enrich cultural discourse by de-centering and commenting upon cultural structures.
Celebration of diversity and the avoidance of monolithic categorization of musical genres, cultures, or persons.
A recurring interest in the nexus of words, sound, music, and meaning.
A tendency to direct our focus towards avant garde and experimental projects where innovation and divergence from tradition is more typical.
Advocacy for the Creative Commons.
A commitment to the citation of the best available primary and secondary sources when sharing research.
Full recognition of the fact of climate change and a commitment to contribute through this project to documenting and spotlighting climate change as a human-induced crisis. For more, please see: https://www.musicdeclares.net/.
The Subject Matter
The program presents an ongoing series of paired
chapters
in an innovative hybrid format. The first chapter of each pair will be a soundscape-driven essay investigating the intersection of philosophy, literature, and sound studies. For example, a chapter might explore:
Kenny Werner and the experience of finding "the space" in music.
The experience of "deep listening" as developed by Pauline Oliveros.
Whale song, bird song, or the listening habits of plants and trees.
The myth of deafness and the revelations of Evelyn Glennie.
Other topics might require several chapters:
The interplay of time and sound.
The power of musical metaphors.
The phenomenology of silence.
The advent of creativity by artificially intelligent agents and the rise of generative art.
The second chapter of each pair will briefly review main concepts from the first chapter and re-imagine them as an original composition or sound sculpture. In this way listeners will have the opportunity to explore sound studies and participate in the praxis of listening. I will strive to inform, to provoke, to surprise, to inspire.
My goal is two produce chapters per month.
Distribution
The distribution model is radically simple. Every chapter will be published into the Creative Commons and be
freely available on multiple platforms
for
subscription
or ad hoc enjoyment.
Becoming a member of the
The Soundtrack of Now(TM)
community here on Patreon is a chance to contribute financially towards
the means of production
. In return all patrons will enjoy: early access to each chapter and private posts with insights into and resources from the production of each chapter. Perhaps just as significantly, patrons collectively provide me with a context for, and accompaniment in, doing work that is otherwise performed in solitude. Your financial support also provides for
what Virginia Woolf called "a room of one's own"
in which to do it. My gratitude knows no bounds.
Levels of Support
I have prepared a variety of incentives for your consideration. I have tried to imbue most of my incentives with some aspect of my personality. Please keep in mind that the return on your investment are the freely available chapters themselves, not the incentives that I offer as a way of documenting and celebrating your support.
Full Disclosure
You may notice that my tiers are not tidy round numbers. I try to be a shrewd but ethical business person. Both e-commerce and Patreon are tremendously empowering tools. Like most online transactions, however, there are costs to use them. In accordance with legal requirements, therefore, these costs are included into mine. I could round up, but I have chosen not do so. I don't want to ask for a penny more than you might be comfortable contributing.
Thank You
In closing,
thank you
for taking a few moments to learn more about
The Soundtrack of Now: A Sojourn Into Sound with Christine Bush (TM)
. I invite you to listen, subscribe, and if you feel that meaning emerges from this project: consider taking the next step and supporting its production.
Script v1.12 published 2020/01/04
by Christine Bush
(CC-BY-SA 4.0)



When I reach 10 patrons, I will release a milestone track of original music available for purchase.

1 of 5
Become a patron to
Connect via private message
Recent posts by Perchance Music & Digital Media (SM)