Perestrello
is creating Adult Games
Select a membership level
$1
Thanks to you and Patreon, different game developers, musicians, artists, bloggers are getting all the support they need… thanks to you, there are so many different stuff coming out every day!
Version 0.2.5 of the game
 – You will get the latest information on the work progress and you will see some artwork that will get into the next version of the game (we will try to do it a few times a week).
– You'll get the version 0.2.5 of the game on  August 20.
– This is your way of saying thank you to the development team for their work — for all the fun time you had playing this game. 
Version 0.2.5 of the game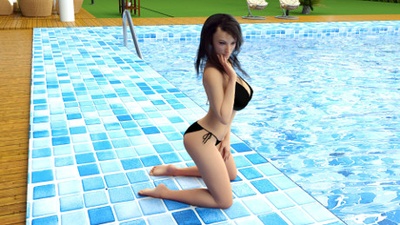 – You'll get the version 0.2.5 of the game on August 5.
– We really appreciate your help in pushing the development of this game. 
About
Version 0.2.5.
mega
google
yandex
In this version we added 11 new events with Angelica. Events with Gina will be added in the next version – we want to improve them.
Following players' wishes, we remade the development of events with Angelica, making their completion easier. Now, in order to seduce Angelica or to start teaching her modeling, you don't need to get to the second level of the game. The completion depends only on the correct choice on forks (if you make an incorrect choice, the scene repeats in three days).
After the first photo shoot, events with Angelica are divided into two different plot threads.
Adventures with Angelica start in the very beginning of the game, and you can complete all of the adventures without diverting your attention to other characters.
If our players like that the game is so easy to complete, we'll change the course of events with all of the other characters of the game in the same manner.
Well, who doesn't know Pedro Perestrello? Once upon a time, when he was a young boy, he was just Ivanov, but then he became a very famous model and he was one of the top 10 the most handsome men on the planet. It's all in the past now. Today, he has a big family, today, he is Pedro Morgan, he even made a video about his family and uploaded it to the YouTube recently:
Pedro loves his family, sometimes he does it even a little bit too much… everything was so good… until Lola came to their lives… Acting on the order of the most powerful mobster in the town, Lola quickly managed to bend all the Morgans to submission and now it only depends on Pedro how far this dangerous situation will go…
Will Pedro manage to get rid of Lola's really hypnotic influence on his family? Maybe, he will even manage to use this influence for his own profit? Or he's just a wimp and he won't be able to do anything but helplessly watch the most famous villains of America — the Adams family little by little taking total control of his family?
It all depends on the player, but even if you can't protect Pedro's family, there is still a little hope: Pedro's son will make a stand for his family: he's still too young (he just learned to walk) but he's very dangerous already — Dexter Morgan…
This game is completely fictional with no connection to the real world, all the characters in this game are above 18 years of age.
You know, we're very proud of our work! When so much time and effort was put and we ourselves love the result so much… it's just impossible not to show our work off.
We are first to make so many things in this game. That's why it took us over a year to make it.
This is the first game of this genre with such a high-resolution and high-quality images (all the images in the game are made in 4K resolution, however a higher resolution can also be selected) with high detalization. All the characters in this game are made looking like famous porn stars and we also tried to make them more beautiful then they are in real life, we tried to eliminate their disadvantages and to emphasize their advantages. We also made all the locations in the game by ourselves, we tried to make them as real as possible. That's why it took our artists so long to finish the job…
The house for the game, all of its rooms were made by us from scratch. All the items in the game were either made or bought. However all the items that we bought were developed in different software and our artists had to practically redo them all over again (coloring etc…)
You can interact with some items in this game, you can take an item with you and you can use it to go further in the game plot, you can turn around 180 degrees while moving inside the house, you can open doors, enter different rooms…
Our game will have a high-quality animation. We just started working on the animation for the game, and if we have enough of support from you we'll be able to animate the game entirely — in the future, we'll put the animation instead of all the images. We could also hire professional voice over artists to add voices to this game.
Afterword. We want to create a multifaceted high-quality game for you and we hope for your help. When we started developing this game we overestimated ourselves: the development of such a game takes a lot of time and a great amount of money. We're ready to devote our time to it, but we're getting short of money and we won't make it without your help for sure.
You'll be able to immerse yourself into the world of this game very soon. You'll live in a beautiful house, you'll get to know your family and other characters, and we're sure that they won't leave you indifferent.
We're planning on adding three more male characters to the game: two neighbors and Angelica's boyfriend — just like in the Pedro 1 game, but its plot will be completely different and it will be even more lecherous…
We created and described a lot of extraordinary exciting sexual situations, we just need to make 3D artwork for them. It's hard for our artists to work with such a high-quality images — that's why they're working slowly than usual, but we're solving this problem little by little.
The game is not linear. It has a lot of events that you'll discover for the first time while playing the game for the second or the third time…
The game will have over four completely different ways of completing it. Depending on your choice you'll see over four completely different sets of adventures of characters.
Right now the game has two different plotlines: you can decide yourself what your character will become: a cuckold or he will create erotic events in his life himself. For now, you won't be able to see a lot of new events when you get to the second level of the game, but we'll fix it soon.
Some images may have small processing imperfections, we will add new images to some places in the game later. In the long thread of events you may notice logical inconsistencies. If our patrons want we will devote our time to bring it all to perfection.
Please note that some content… … will be available only for VIP patrons (who support us with 60 USD) only on our official website. Those patrons will have the possibility to work in our team: they'll be able to create erotic adventures for the main character and those plotlines that the most part of our patrons will like we will make partially animated.
All the new scenes created by you will be added to the VIP version each month and then we will develop them over time… and we will add it all to the main game only after the final version of the game is out.
If you donate as a VIP patron on our Patreon page you'll be automatically registered to our website (using your email and username from Patreon).
You can find the latest information about the game on our Patreon page or on our official website:
http://perestrello.com/
If you have any questions about the game walkthrough, please contact us by email:
[email protected]
Time schedule for the receipt of versions of the game by patrons.
For those who became a patron before August 1:
(5 USD)– 0.2.5 – August 20.
(20 USD)– 0.2.5 – August 5.
(40 USD)– 0.3    – August 20.
(60 USD)– 0.3 + VIP scenes – August 20.
Hello, everybody! With your help and support we want to make this the game so worth it that you would want to replay it again and again!
Your money will go towards hiring more people to work on the game full-time, so we could speed up the releases of the next versions of Family Life.
1 of 1
By becoming a patron, you'll instantly unlock access to 14 exclusive posts
By becoming a patron, you'll instantly unlock access to 14 exclusive posts
Recent posts by Perestrello