Peri Pendrake
is creating illustrations
Select a membership level
Salamander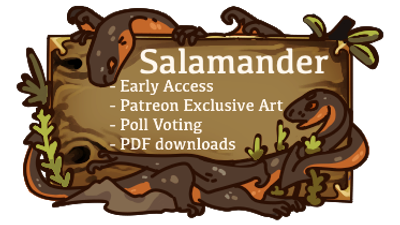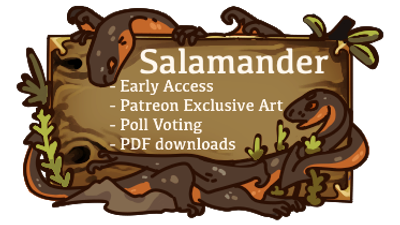 Thanks for the support!
At the Salamander tier you will find....

Early access art, exclusive art, poll voting for Expansion Requests and other features + PDF downloads of Zines or art collections (or PSD's).
Cockatrice
Thanks for the support!
At the Cockatrice tier amongst feather and scale you will find...

• Salamander Tier Rewards
• Access to Tutorials and Walkthroughs a semi-monthly update with tutorials and walkthroughs featuring watercolor tutorials, how to build a beast, step-by-step processes', anatomical breakdowns, and more.

Wyrm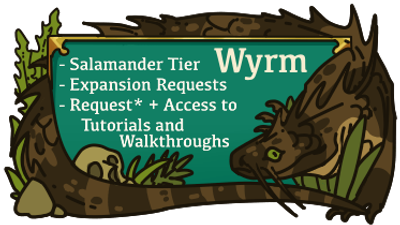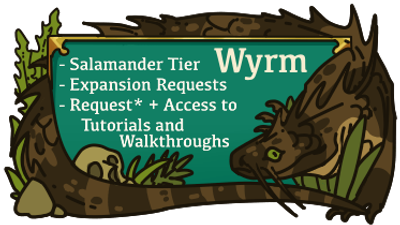 Thanks for the support!
At the Wyrm tier in sand and amongst bones you will find....

Request + Access to Tutorials and Walkthroughs a semi-monthly update with tutorials and walkthroughs featuring watercolor tutorials, how to build a beast, step-by-step processes', anatomical breakdowns, and more. This time, you get to request what you would like to see me make. Requests will be made for the following month

Expansion Requests are an illustrated and written tier request. Request the expansion of a subject of any flora, fauna, weaponry, history, clothing, culinary, architecture, folklore, etc. of Calibreon.
About Peri Pendrake
Who are you, and why Patreon?

My name is Peri Azren-Pendrake and I'm an illustrator in Pennsylvania managing three different jobs, hoping to make art my sole job in the future! The more support I get here, the more time I'll have to make great content for you and the closer I get to my goals such as physical perk tiers, being able to table at conventions, and shifting to making art my full time focus.
Patreon is the best platform for me to be able to run request polls, fulfill rewards, and post art and world building information to smoothly share it with all of my current and future Patrons!
Haven't seen my stuff before, and not sure if you want to pledge? No problem! You can check out my work 
here
and 
here
!
What do I get from pledging, and why the Charge Up Front?

I currently have four tiers named
Salamander
, 
Cockatrice
,
Wyrm
, and
Wyvren
- the last of which has custom-drawing perk rewards. When you pledge you'll be charged immediately for your pledge regardless of tier, then after the 1st of every month. I charge up front so if you want to get a custom drawing that month, you won't have to wait until the next! You can hop in, and already get your reward, and check out a number of posts exclusive just to you.
Speaking of rewards, what will you find here?
For starters, every month I'll be posting exclusive Calibreon developments like my Species Spotlight- an information page of speculative biology for my headword Calibreon. You may notice these posts on social media- but did you know Patrons get 1-2 extra exclusive posts about them? Here's a peek!
Outside of my species spotlight you can see updates for my comics such as
Stonefelled
,
The Wolf of Deepwell
, and
Swansong
as I work on their concepts, visuals, and scripts. I also post free downloads of Zine PDFs, exclusive Patreon-Only artwork, and on the first of every month I run a request form for
Wyrm
and
Drake
tiers to suggest something for me to draw, and then on the 15th there's a vote to see which one you'd like to see drawn to completion!
What's planned for the future?
In the future I would love to add physical tiers- something that's not currently financially or situationally possible. These would include three new tiers that would consist of a Sticker tier, Print tier, and a final tier that would be a combination of both. If plausible, I would like to look into a fourth tier which would include unique physical perks like pins, patches, risograph zines, pins, custom art, or more!
Nervous about supporting, but still interested in my work?
No worries! You can find 
my current physical goods on my store
, and you can follow me on my 
other social media sites
until you're ready!
Thank you already for all of the support! This is so much more than it seems, and helps me with a ton! If we blast through this goal, here's some of the new things I'll be able to do for you!


Patreon-Exclusive livestream where you can request what I draw in stream! From fan art to tutorials, it'll be streamed exclusively for Patreon!

Another Patreon-Exclusive livestream? Yes! However this livestream will be me working on the Patreon-Requested drawing of the month from start to finish. I'll record the process, and post the full video as a time-lapse for you to rewatch whenever you want!
1 of 3
By becoming a patron, you'll instantly unlock access to 102 exclusive posts
By becoming a patron, you'll instantly unlock access to 102 exclusive posts
Recent posts by Peri Pendrake
How it works
Get started in 2 minutes