Peter Moss: Ukulele Shortcuts and a whole lot more!
is creating 4 lessons p/month shared within a fun Ukulele community.
Select a membership level
Ukulele lessons with a worksheet.
Limited (35 remaining)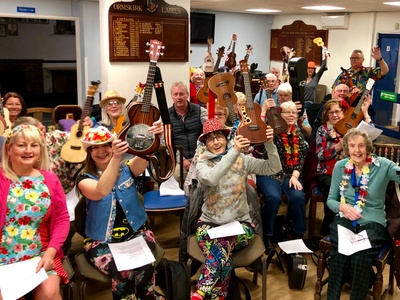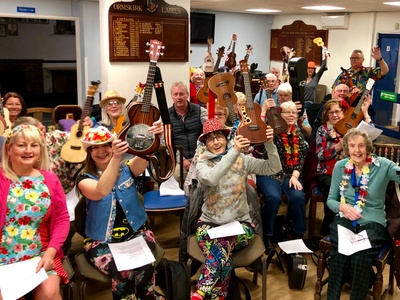 Things are progressing in 2020 and I will be running 3 tiers very shortly, The $6 a month remains which will give you access to a wide range of fun ukulele video lessons as they are made, along with a comprehensive worksheet. There will be 4 videos of around 20 minutes each uploaded a month to start building yourself a reference library to look back on for years to come. Enjoy !
Backing Tracks to all ukulele solos.
Everything from Tier 1 Plus....
Each solo I publish will have a rather special backing track. Special in the fact they are made using samples of real instruments, not MIDI files. They are recorded at a "sensible" tempo to practice along to, or even use as a live backing track as they include intros and endings. Initially I will upload 2 backing tracks per month. 
A 1-1 lesson with me for an hour.
Everything from Tier 1 and Tier 2 Plus....
A personal 1-1 video lesson with me. This can be to look deeper into things covered so far, or I can tailor it to your specific needs with a bit of notice. The frequency will be once a month and a duration of an hour. You will also receive via email a personal condensed video of the content. Some could charge $25 for this alone. However I am including ALL the previous tiers.

About Peter Moss: Ukulele Shortcuts and a whole lot more!
So, you have owned a ukulele for a couple of years or more? maybe joined a club or two and doing the
same old things
over and over? are you "stuck in a rut"?
Well if you feel you have lost that original mojo and seeking a
new direction
, please read on.
I have been associated with the ukulele for
50 years
and believe I have a lot to offer in educating and motivating others, having provided for a number of years 1-1 lessons via Skype and FaceTime and also ukulele workshops of up to a 100 people. Please see the testimonials below.
My aim on Patreon is to set up a
ukulele community online
, developing a fun program called "Ukulele shortcuts". It will comprise of tweaks and tricks I have amassed over a number of years, condensing that content into a few years rather than decades. Although you will be learning individually, I hope the new found ukulele community will all pull together so you won't feel isolated. I sincerely believe that a community spirit will drive
you
to practice and achieve personal goals. The site is interactive and 
Patrons
 can demonstrate (if they so wish) to show others what
they/you
 have accomplished.
I want it to be a 
fun
and place where you
feel comfortable to hang out
, checking in regularly for updates and see how others are doing.
You maybe wondering what level you need to be to get the most out of it? I like to use the word
intermediate
but then again that can be so misinterpreted. To put it simply, if you have literally picked up a ukulele yesterday, they're maybe other people that can assist. However, if you have played a Uke for a year or so and have a dozen (or more) chords under your belt, you will fit in just perfectly.
Will you need any prior knowledge of music theory? No.
I aim to get people playing the instrument first and having fun in the process. Theory can follow in due course if some wish to pursue that route.
My worksheets are written published in full colour for easier reading and in a very user friendly format that doesn't involve reading music notation or even TAB.
Initially, I kept it
to 1 Tier of $6
. That is US Dollars. However
any
currency can be used internationally and converted. For the UK that is currently around
 £6 UK Pounds per month.
That gives you access to all videos and also the aforementioned worksheets. My aim is to
create
4 new videos per month, that will last a duration of about 20 minutes per session,
and created
specifically for the Patreon site
and
not
available elsewhere
.

Tier 2 $12 includes all from Tier 1 adds on a professional backing track to the ukulele solos I create and publish. These are also great too practise too.

Tier 3 $25 adds on a personal 1-1 lesson for 1 hour with me via live video. This will be on a frequency of 1 per month. Please note that Tier 3 includes both Tiers 1 and 2. If you have researched online you could be spending around $25 just for a 30 minute live tuition. 
Each one of my video tutorials are created from scratch, identifying needs, exploring shortcuts, and sharing my knowledge accumulated in my 50 years associated with the instrument.
You're feedback is really important and my aim is to
respond to everyone
individually if you have taken the trouble to write to me, either requesting more detail, or providing feedback.
Periodically, I will do a poll to all Patrons, checking that what I am providing is of use and I am always open to any new suggestions. 
So
the adventure continues into 2020 
and lets see together, where it goes.......
A bit about Myself
I have been playing the ukulele since my 8th birthday. After mastering the basics, my late father Dennis Moss introduced me to my mentor, the late great Ray Bernard, from whom I first learned solo chord melody. From that moment on, I became focused on this style. I was also influenced by the recordings of Roy Smeck from the USA and this is evident in my concert material today.
I was the first person to perform the William Tell Overture, at the wee age of 12, winning a national competition against seasoned players! A proud moment for my late father.
I spent 30 years exploring other instruments as well and contributing to various recording projects.
Returning exclusively to my first instrument, around about 2012, my own abilities and audiences grew exponentially! With my ukulele, I have been very fortunate to have toured around America and Canada, Australia and New Zealand, throughout Europe and of course good old Blighty! Added to that, I have appeared on BBC television and radio on numerous occasions.
I like to think my concerts are engaging, offering a wide range of material from different genres including laid back tunes, intense material and everything in between. I am passionate about what I do. 
Testimonials
"
Hey Pete, I want to give your workshops a huge recommendation to all uke clubs around the world. We've booked you for two of our festivals over the last few years and I can honestly say you do the best workshops out of all artists I have seen. Brilliant! Sunshine Coast Ukulele Festival, Australia. Lynne W."

"I attended Peter's workshop and concert in Florida, and also had taken private lessons via Skype with him. Peter is a wonderful teacher/performer. His brilliant teaching methods make us want to learn and also have fun at the same time! Thank you for sharing your amazing talents with all of us! Anela K."

"I met Peter last year at the ukulele retreat in the Forest of Dean and immediately felt I could learn and improve my playing from his workshop and teaching. One soon realises how much more a uke can give. His energy and enthusiasm are infectious and his style of playing legendary. Cherylene DB." 

"We get a full house every time you come to do a workshop here, and only top quality reviews from the attendees! We look forward to the next time. Ukulele Place Jeff H. in Nokomis, Florida" 
To date through Patreon, I have purchased a 2 video camera recording system, with one camera especially for close ups. Recently I purchased a professional Condenser Microphone for better sound. Next is to purchase some tripods and led lighting system. All together, this will give you a more professional experience. Peter.
1 of 1
Become a patron to
Unlock 230 exclusive posts
Connect via private message
Recent posts by Peter Moss: Ukulele Shortcuts and a whole lot more!
How it works
Get started in 2 minutes