Sam D'Amico
is creating The Photographer's Forum - A community for photographers.
Select a membership level
The Critique and Discussion Group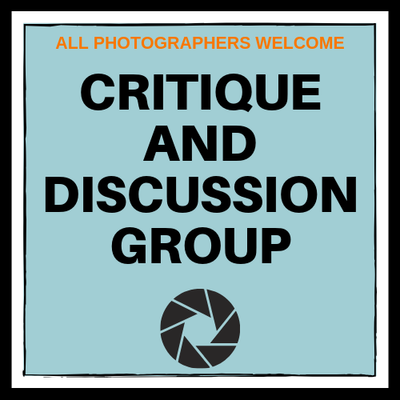 --The Photographer's Critique and Discussion Group is a place for photographers to give and get useful critiques.  And, through the process of giving and getting critiques, become better photographers.   
--By providing critiques that are meant to offer useful guidance, not baseless opinions, all photographers involved become better photographers  by participating in the group. 
--The The Critique and Discussion Group has rules that create an atmosphere that is supportive and is meant to improve our photography skills and practice.  
--Both the photographer asking for the critique and the photographers offering the critique are provided with guidelines to make the critique process a learning experience as well as provide a platform that will serve as a way for the participants to become better photographers.   
--All photographers are welcome regardless of experience or camera used. And yup, the camera on your phone is OK. 
Here's how it works: 
1. Photographers display a photograph that they'd like critiqued along with a brief statement about the work.  
2. Photographers offering the critique follow specific guidelines that will provide a critique meant to be a discussion based on the statement made by the photographer looking for the critique (see #1).   
Benefits of membership in The Critique and Discussion Group
-- The Critique and Discussion Group is a learning experience through critiques based on discussions rather than a critique based on a non-informative "like" or "dislike".
--The process provided in the group is intended to hone our photography skills and practice through the observation and discussion of our work. 
Founding Members
Limited (100 remaining)
Become a Founding Member and lock into the Founding Members low price.  As a Founding Member you'll get access to the Critique and Discussion Group as well as access to current and future content in the Study and Practice groups. 

One thing to note, this group will be limited in terms of the number of members. And once that limit is reached the "Founding Members" membership tier will no longer appear as a membership level, but all content that is available to the founding members group will always be available to the "Foundng Members".  If you cancel your membership and then try to come back you will not be able to re-join for this price - so to cancel is to give up "Founder Membership" pricing. 
About
Welcome to
The Photographer's Forum.
An online learning community for photographers
created by a photographer/photography teacher.
Come on in and study and practice photography
with Sam D'Amico
Hi, I'm Sam.
Some of you may know me from working with me in one of my photography classes in Washington, DC.
In fact, many of you that I've worked with in Washington, DC have encouraged me to create an online place where we can continue to work with each other.
So, here's the place. 

Thank you for the encouragement.
If you've never taken a class with me, it's no big deal.
Because as long as you're a photographer who's looking for some guidance and support on how to be the best photographer you can be, this place is here for you too.
Tiers Of Membership/Patronage
You'll find tiers of access to paid, "member/patron only", content to the left or below if you're on a mobile device.
Recent posts by Sam D'Amico
By becoming a patron, you'll instantly unlock access to 2 exclusive posts
By becoming a patron, you'll instantly unlock access to 2 exclusive posts