PlayGrounds Channel
is creating online acting courses
Select a membership level
Beginner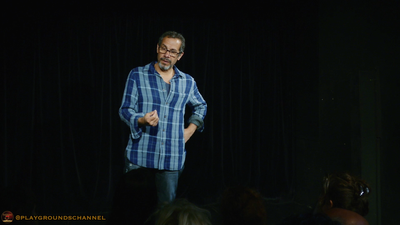 "Act before you think"...
... was one of Meisner's favorite mantras. Follow your impulse and just click here if you feel like supporting us.
Official patron status. This means you will get access to our live Q&As and support groups we will set up to help you out with what you need most.
Intermediate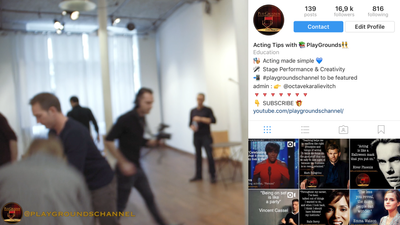 "The Actor's Gift"...
... is a direct link between creative imagination and the body, according to Peter Brook.
Here you'll get access to the "Acting Secrets" book for FREE as soon as it is ready ! Which is the result of more than a decade of researches in different fields relating to acting (in the form of an ebook).
You will also benefit from our previous reward, and get access to our live Q&As and support groups we will set up to help you out with what you need most.
Advanced
"Burning inside with an outer ease"...
... is Michael Chekhov's description of the state an actor should be in.
Here is where you get access to our EXTENSIVE VIDEO PROGRAMS.
Those programs are the complete deal ; and will always be completed by new things. Applicable acting exercises, easy steps to follow to create your own social media accounts, demo reel and communication tools as an actor, SmartPhone Filmmaking and Festival Submissions, rituals you can apply to keep training on your own and be independent with the work, casting preparation, and many other things !
This program won't be free for anyone else. And it will get much more expensive as it develops. By having been one of the first to  support our growth and staying an active patron here on this channel, you will never have to pay more than your monthly Patreon support to the Youtube Channel to get the full updates of that program, whatever price it ends up being at.
You will also get the previous rewards :
- get access to the "Acting Secrets" book for FREE as soon as it is ready ! Which is the result of more than a decade of researches in different fields relating to acting (in the form of an ebook).
- get access to our live Q&As and support groups we will set up to help you out with what you need most.
About
PlayGrounds Channel is a Youtube Channel
created by
Octave Karalievitch.
It is a
free online resource for actors and artists around the world
, to provide them with the tools and opportunities that are available today. To clarify their history and functions and simplify their practical applications.
I am a French
director
,
actor
and
acting school director and teacher 
(I run 
Paris Meisner Studio
).
After studying for a
Master's degree in Cognitive Science
in Paris to research
creativity, education and therapy
, I decided to focus on my artistic career and work on my music album.
Getting back into acting class to work on my stage performance, I then organized the classes myself with teachers coming from the US, in order to keep training for free. That project became an acting school :
Paris Meisner Studio
. And the production company
PlayGrounds
, with which I started to create projects and document the work.
I am also a certified
Master Practitioner
in
NLP
and
Ericksonian hypnosis
, and trained in different
meditation techniques
 (
Transcendental
and
Vipassana
mostly). I integrated those tools to the
acting research and development program
I started to teach, after having learned about the history and different approaches of the Meisner technique for 8 years.
As I was trying to get back into acting and looking for the best possible techniques and teachers, I was astonished by the lack of online resources about this subject.
If you want to learn almost anything else on Youtube like photography, editing, music instruments… there are quite a lot of good quality videos that you can use to practice, and those fields are pretty clearly researched. For the craft of acting however, there is an esoteric atmosphere around it that makes it seem like you cannot learn anything online, and the techniques themselves are pretty unclear.
I would take
different acting classes for years
, only to realize retrospectively that the teachers didn't always know what they were teaching, or how to adapt it to the students. Having trained in different fields, theoretical and practical, around psychology and our human experience,
I was very sensitive to the fact that most of what was taught was quite unhealthy and couldn't be reproduced consistently in professional conditions.
Back to Paris after a hypnosis course in the South of France, I had on that same day my first
Meisner Workshop
 experience. I immediately fell in love with that technique. There was something about it that was unlike anything else I had seen. It was fun, it felt
not only healthy but liberating
, and the results I would see in terms of acting were beyond what I would have imagined acting could be, consistently.
Long story short, after reimbursing everything I owed for that first Workshop that I had to pay in instalments,
I started to organize the next ones myself so I could keep training for free
. It was the beginning of a long journey of entrepreneurship that wasn't without its sacrifices. To this day, almost ten years after I stepped into that first Meisner Workshop, I am still not paying myself and reinvesting every benefit the company makes into more classes, hiring qualified teachers, and research.
I discovered quite quickly that the Meisner technique itself was extraordinarily diverse
, and since Meisner was reluctant to document the work as he was developing it, finding the answers to the questions that kept showing up in the work, from the students or myself, felt like the work of a detective.
I felt there was something in all these approaches that should be essentially the same, and that clarifying that would make them complementary, and not contradictory.
After all this time trying to build the ideal school I wanted to have had for myself, having almost no time left to participate in the classes anymore, making links with other fields of study that I was trained in, in order to help solve the problems I encountered, I had a few cristal clear epiphanies about the system that worked for me, and for the many students I had been helping over the years.
That research and development has led to a program that I have recently started teaching in Paris, called
"Meisner and systemic coaching"
. I have worked with
countless Meisner teachers from all around the world, as well as therapists and coaches, including the director of research of the biggest hypnosis school in Europe
. I have started to make sense of the fundamental links between
acting
,
storytelling and scriptwriting
,
marketing
,
meditation techniques
, as well as many psychological tools (mostly
Ericksonian Hypnosis and NLP
), in a way that is simpler and easier to learn that I could have fathomed when I first started all this. It has the taste of what I was looking for when I first dropped my Cognitive Science Masters to get back on open mics and composition as a rock'n'roll singer and guitarist. And it all feels like the most beautiful moments in movies I had watched or books I had read that made me want to pursue an artistic career.
I have documented quite a lot of that journey, and am in the process of
writing a very comprehensive book on this system
as well as
recording an extensive video program
to make all that research public and available to everyone, so we can all start discussing those things with a common vocabulary.
As you can see on PlayGrounds Channel on Youtube,
I have only edited 10 videos in almost 3 years and a half...

One of the main reasons for this is that I have been literally drowning in ensuring the survival of the business, in a country where people are used to free education (that in the field of acting, has become quite academic and unsatisfying) and where, for that exact reason, taxes on businesses and employment are some of the highest in the world.
Since I wasn't born in a family of entrepreneurs, I had to learn all this on my own, online and by trial and errors. I had to learn
editing, filmmaking, marketing
, administration and accountancy,
management and production
by myself and sometimes with the help of the people I was lucky enough to work with along the way.
I also integrated those tools to my vision of what actors can do with the technology that exists today when it comes to marketing themselves and creating their own opportunities
. So it was all useful, in the end.
But as I am starting to teach my own program at 
Paris Meisner Studio
, to direct and produce movies and plays in order to show and promote all this work, I still find myself burdened by the tasks at hand and too busy to really edit all this additional content for
PlayGrounds Channel.


I am very encouraged by the comments and messages of people who find the few videos I managed to put online useful, and excited by everything that is to come, because it is way beyond anything else I have done until now
.
But I need to
hire editors
in order to really publish content FAST. And by that, I mean publishing high quality videos weekly.
This Youtube Channel will always stay free.
And you can follow and support us in many other ways, without having to pay anything if you cannot afford it. This is just for people who have the ability and the desire to support this channel with a tip, which will definitely change everything in terms of what we can achieve. As you can.
There are rewards for every step that are indicated on this page, so feel free to check them out !
I already thank you for your interest, and hope we will get a chance to discuss acting one of those days.
Take care,
Octave Karalievitch


"An actor has to learn to do consciously what everybody else does unconsciously" Sanford Meisner

"(Actors) should be in constant training, and they should work, as do other artists, to maintain their fitness for their art. Let someone explain to me why the violinist who plays in an orchestra on the 10th violin must daily perform hour long exercises or lose his power to play? Why does the dancer work daily over every muscle in his body? Why do the painter, the sculptor, the writer practice their art each day and count that day lost when they do not work? And why may the dramatic artist do nothing, spend his day in coffeehouses and hope for the gift of (inspiration) in the evening?" Konstantin Stanislavsky

"If someone is teaching you something and you have no idea what they're talking about, neither do they!" Sanford Meisner
Producing high quality videos much more frequently (hiring editors)
1 of 1
By becoming a patron, you'll instantly unlock access to 1 exclusive post
By becoming a patron, you'll instantly unlock access to 1 exclusive post
Recent posts by PlayGrounds Channel
How it works
Get started in 2 minutes