Providence Leftist Radio Podcast
is creating Podcast, Community Support, Entertainment, News, Information.
Select a membership level
Ally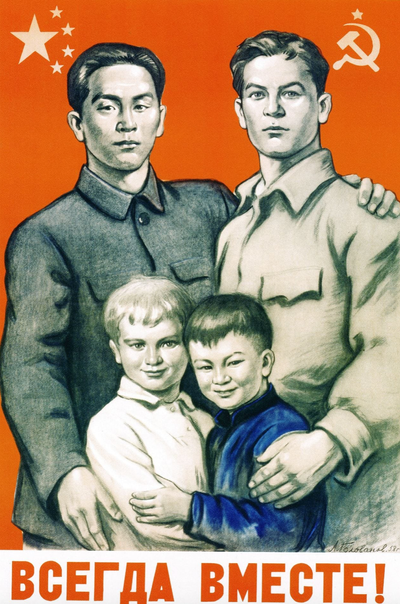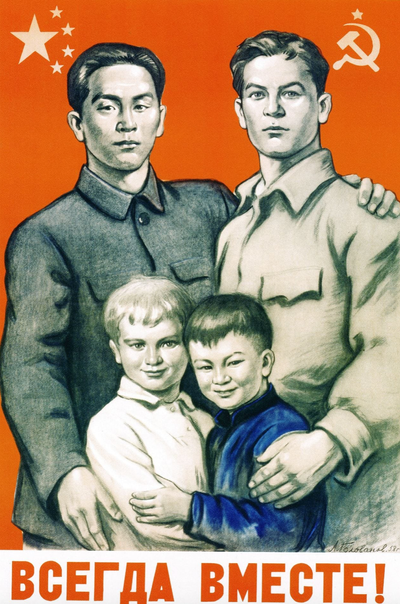 This level of contributor will put you on our mailing list, in which we will send out notifications for new episodes. You also have access to bonus episodes, which will be uploaded directly on to Patreon.

We can also send you a sticker or a patch!
Zines!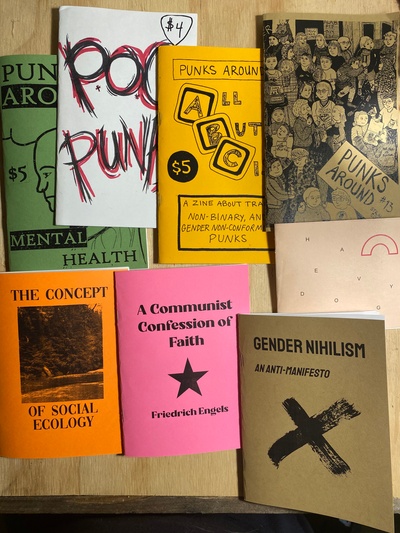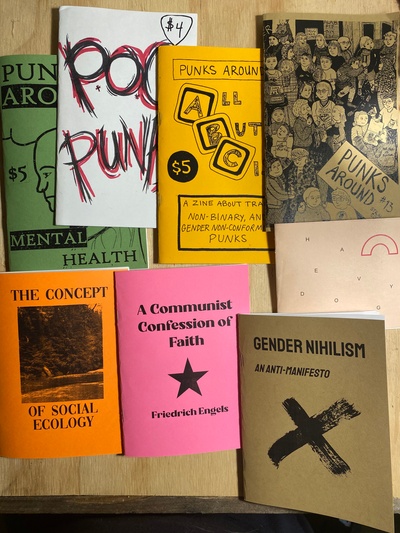 Choose a zine! 
Punks Around #14 Mental Health
Punks Around #13 Straight Edge
Punks Around #12 ABC Punks
Punks Around #11 POC Punks 
Heavy Dog
or
Choose a zine from Radical Reprints archive and we will print it for you! (Open this drive link).
https://drive.google.com/drive/folders/17-e8uVtRNn...
Indicate which zine you'd like. If you don't let us know, we'll send you a random one!
We will also send you EITHER a sticker, button, patch, or koozie, or some combination. Feel free to let us know which you prefer. 
Book, Zine, Swag, and Bonus Content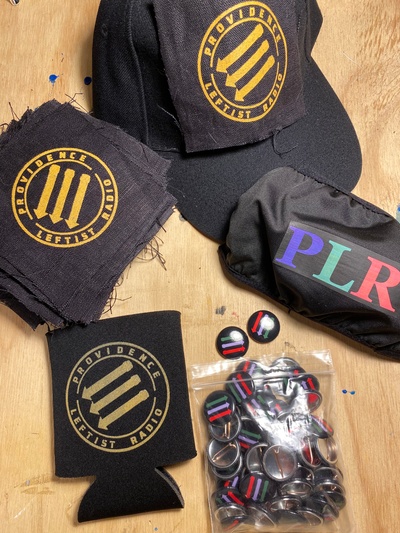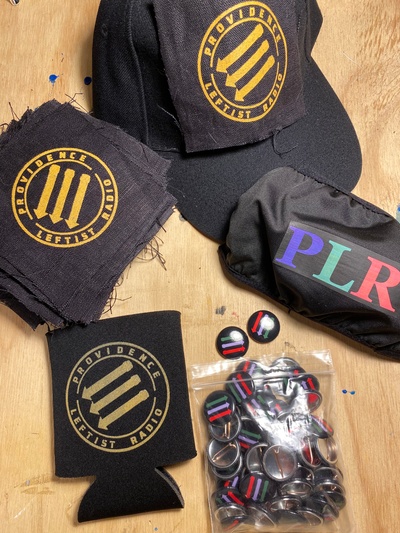 We have a lot of books here at PLR, from history, to sociology, anthropology, politics, mental health, and everything in between. 
For this level, we will chose a random book to send you, as well as the swag pictured. Of course, you also get access to the bonus content!
You also have the option of choosing a book from the Radical Reprints library for us to print and send to you. Follow the link to their drive: 
https://drive.google.com/drive/folders/17-e8uVtRNnDxMJwWHDxdXA2_F0hxE8bS
About Providence Leftist Radio Podcast
Welcome to the Patreon for the Providence Leftist Radio Podcast
where we seek to build a network of leftists in the state of Rhode Island so that some day we can win local power. 

In today's fast-pace world of podcasts and streaming content, we recognize that we are competing for your attention with other high-quality producers who can produce faster than we can. But how many of those content producers are catering to your specific community? Our focus is the state of Rhode Island, and our goal is to develop a broad community-based understanding of how Rhode Island politics works, who the important figures are, and how to stay informed. 

We don't want to compete with your favorite podcasts. Nor do we dare ask you for an enormous sum of money. We do, however, want to continue providing useful community-based content in an entertaining way, and that does, unfortunately, come with some financial burdens. 

All three of us work and have been spending our own money on microphones, transportation, cables, and other technical "must-haves" so that we can deliver clear content. But a lot more goes in to making sure the episodes are as informative and worthy of your time as possible. Below is a list of some of the more frequent expenditures. 


1. Podcasting technology (microphones, cables, mic stands, and interface).

2. The time to research, read, and create. As leftists, we believe that all labor deserves fair compensation. A lot of the show preparation we do requires shifting through local news outlets and identifying worthy stories. 

3. In the case of half-episodes, labor time is also a major factor. Whether its Alex's reading and distillation of a leftist text for you, Evan's pop culture analysis, or Andy's interpretation of a philosophical text, a lot of mental labor goes in to creating something listenable. For example, Alex recorded the first half episode 3 times before getting it right.

4. When we have guests on we like to accommodate them as much as possible. That might mean providing their favorite beverage and some snacks, or picking them up and dropping them off. If a guest comes in via zoom, then we have to pay for a zoom account to have them on over 45 minutes. 

5. Each full episode has a local music sample at the end, and we want to be able to send those musicians some money. Again, as leftists we believe all labor is worthy of compensation, even artistic labor like the music we are using. 

6. Social media monitoring and reaching out to potential guests also takes a lot of time and effort away from our jobs and families. It's not easy to convince people right away to guest spot on an explicitly leftist podcast. Some people are uneasy, uncomfortable, or not entirely sure, so we have to spend some time talking to them and guaranteeing their anonymity. 

7. Finally, we want to be able to give extra money to the community that we support. As the podcasts' mission is to create a network of leftists to win local power, we want to be able to donate money from the community back to initiatives within the community that need it, whether in the form of bail funds, outreach support, labor initiatives, or leftists out of employment.
We hope that you consider contributing at least a dollar a month toward what we're doing, and we promise to continue creating new and engaging content and getting better at podcasting. 

Become a patron to
Unlock 15 exclusive posts
Connect via private message
Recent posts by Providence Leftist Radio Podcast
How it works
Get started in 2 minutes