+Aziz
is creating music with Kuwaisiana
Select a membership level
Goodie Bag - Members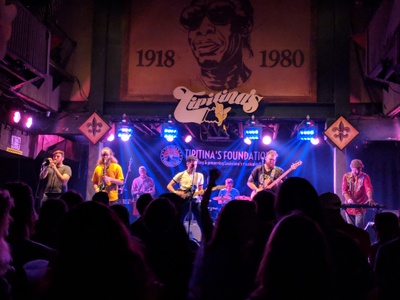 We're humbled by your support.
Every dollar helps.
Get a goodie bag in the mail after 3 months of continued support (i.e. after you support us with $6). Gain access to patron-only stream (studio tour, bandmate updates, what we're listening to). 
Receive annual goodie bags for every 12 months of continuous support. Goodie bags include music in customized formats, a letter, findings and drawings.
+ Optional We'll add you to our mailing list where you'll be the first to see our updates.
+ Optional call-ins to check on progress and catch up!
Audio Candy - Supporters
Do you love listening to content? This is the perfect package for audio-centric patrons who appreciate sound as a medium for creative expression. Follow along the Kuwaisiana journey through songs, riff ideas and rants as we work through demo recordings, rough mixes, acoustic versions & outtakes from rehearsals.
You'll have the opportunity to weigh in but you'll also gain access to exclusive (oftentimes raw) audio.
Be the first to receive our vinyl
Receive at least 3 audio files a month
Hear tracks mid-way through the mixing phase (before they are sent off for mastering) and weigh in with comments.
I'll send you cassette mixtapes if you have a way to play it!
Enjoy livestreams and seasonal playlists we put together on Soundcloud and Spotify.
Receive a signed copy of our debut CD and a sticker after you've remained a subscriber for 3 months.
The Enterprising Sneak Peakers
Limited (10 remaining)
If you're giving us $25, you're pretty much an investor.
At this tier, I will send you a goodie bag with a signed copy of our debut CD and a sticker in the first week you subscribe to our Patreon channel.
Ideally, I would like to immerse you in our progress on various tentacles of our experience but it's your choice how deep you would like to go! This includes sharing song content, networking experiences, tour plans, music videos and receving merch/music in the mail.
+ Optional, receive personal voicenotes on Facebook or Whatsapp. Updates are customized to our history and based on the rapport we establish.
+ Optional receive audio assets and learn more about Kuwaisiana behind-the-scenes
About
I'm a Kuwaiti musician who developed and is leading a one-of-a-kind band in New Orleans.

KUWAISIANA
is a group producing a danceable big band sound with a world music influence; we debuted 
our album
Chapter 1 with Universal Music Middle East (out of Dubai) and are charting new territory. With your help, we will shape our second chapter & grow to becoming a full-fledged, sustainable touring act.
4 Reasons to Give :
Let's tackle widespread misunderstandings of Arab, Persian, Desi and MENA cultures (i.e. foster cross-cultural understanding).
Amplify 3rd culture music! Let's build cultural bridges by promoting the multi-dimensionality of Arab identity to the world. My identity is comprised of being a native Middle Eastern artist with American roots so I'm highly collaborative and constantly seek to work with other communities and artists.
Help Kuwaisiana cover expenses until we can cover them ourselves! Your support will help us cover production costs, practice space rental, etc. In return, you'll get thoughtful rewards, my eternal gratitude & a highly personalized experience of what goes on behind the scenes.
Pre-Order our First Vinyl Run & enjoy the unique merchandising that comes along with it.
My Patreon dollars go towards supporting my bandmates & the production engine of Kuwaisiana.
If you believe in my voice & my ability to foster cross-cultural understanding, please support me on Patreon!
Spending more time in studio: booking studio time, paying musicians, each song costs an estimate of $300 to track and mix. Add an additional $125 for mastering. $850 a month would allow me to record 2 songs monthly.
1 of 2
By becoming a patron, you'll instantly unlock access to 27 exclusive posts
By becoming a patron, you'll instantly unlock access to 27 exclusive posts