Pocket Vinyl
is creating comics, music, videos, graphic novels, and live shows
Select a membership level
Smoking Goats
At this pledge, you will receive:
-Exclusive access to Elizabeth's graphic novel pages months/years before it gets released
-Access to all exclusive patreon blog posts, early access to videos we make, and some free stuff we find and put up every so often
-2 exclusive song downloads found nowhere else
-access to buying Pocket Vinyl t-shirts online (they are normally exclusive to live show merch tables)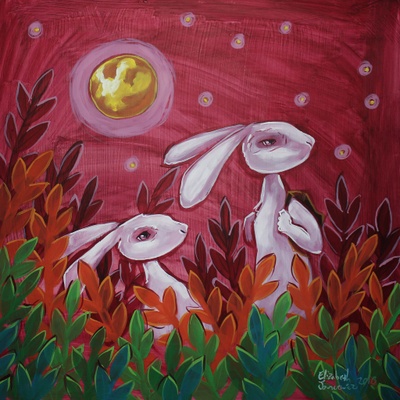 Adventuring Rabbits
 At this pledge, you will receive:
-Everything in the previous pledge
-PLUS, the Patreon-exclusive Pocket Vinyl album "Old Sun" to download
-PLUS, 25% off nearly everything in Elizabeth's art store 
-PLUS, a secret album thing that will be shared when available
Knitting Lamb
At this pledge you'll receive:
-Everything in the previous pledges
-PLUS a free download of our fantastic 2018 album "Uncomfortably Unsure"
-PLUS we'll send you a postcard next time we're on tour from some stop along the way, personalized to you or someone you love if you're an awesome friend like that.  
About Pocket Vinyl
We are Pocket Vinyl.  We're two people who like to do a lot of artistic things.  Eric (myself) does music stuff.  Elizabeth does visual art stuff.  Our main things are:
-
Pocket Vinyl
, our touring "piano slamming mixed with live painting" act
-
The Touring Test
, the semi-autobiographical comic Elizabeth makes about being in a band, living as a full time artist, and cats 
We've played over 900 concerts, released 6 Pocket Vinyl albums, drawn over 200 Touring Test comic strips, and even filmed/edited/created a 
full length feature film
about what it's like to live as small full time touring musicians.  
REWARDS
-a PATREON-EXCLUSIVE Pocket Vinyl album "Old Sun" found nowhere else online (AVAILABLE ON JUNE 1st!)
-monthly art prints mailed to your door
-a 25% discount on Elizabeth's online art store
-extra Pocket Vinyl songs (in addition to "Old Sun") you can't find anywhere else
-and a whole lot more. Check out the column to the right for all those descriptions.
GOALS FOR THE COMING YEAR (June 2019 - June 2020)
1. Continue strongly with our webcomic The Touring Test, putting out 2 strips a week, throughout its second year in existence
2. Release a Touring Test physical book, featuring additional comics and long form strips not found online - COMPLETED!!!! 
3. Make a choreographed dance music video for our song "
Pretending To Be Angry At The One You Love For Reasons You Can't Quite Discern
"
4. Make 12 "
painting videos
" for several songs from throughout our discography
5. Finish work on a new Legacy-style board game Eric has been designing for 3+ years and try to find a manufacturer for it
6. Consistently work on and update you all on the graphic novel we're working on, written by Eric and illustrated by Elizabeth, called "Amy"
7. Make 5 "album videos" where Elizabeth paints in real time a painting for each album, with perhaps some riff on the cover.  This is for if anyone wants to listen to our album on youtube for whatever reason.
8. Make another MP (which is short for "mini-play", which means when you put a bunch of very short 1 minute-ish songs on a 7" record)
9. Make a secret album that we won't mention again
10. Make the next proper full length album based on the voting results of the polls from the previous year, which included themes about "Defiant Hope"
11. Play at least 80 shows nation-wide
As of June 2018, we're starting year 2 of our Patreon campaign.  Here's what we completed with our supporters help in year 1
:
-Made a single-shot music video for our song "Sexuality And My Decisions Concerning Sexuality (Both Good And Bad)"
Watch it here

-Set the world record for "Fastest to Play a Concert in Each of the 50 States".  We completed it in 44 days, 13 hours, and 50 minutes
-Performed over 90 shows all over the USA (in literally every state)
-Released over 40 pages of our graphic novel "Amy"
-Released over 100 Touring Test comics online
-Had people vote on what kind of album we should make next
We hope you'll be able to come along for this adventure.
Now let's make something great together. 
-Eric & Elizabeth
At this goal, all our groceries, car insurance, internet, cat food/litter, a good bit of gas, and art supply bills should be covered for the month.  THANK YOU.  To celebrate, Eric will make a personal, sincere thank you video for each and every patron.  These videos will be about 30 seconds, where Eric will give you an emotional and overly-serious declaration of thanks.  Each will be unique in some way to each person.
2 of 4
Recent posts by Pocket Vinyl
By becoming a patron, you'll instantly unlock access to 69 exclusive posts
By becoming a patron, you'll instantly unlock access to 69 exclusive posts