Select a membership level
Premium ProFans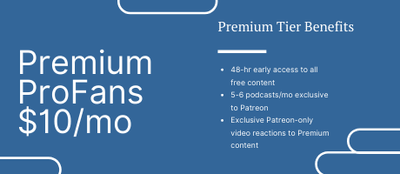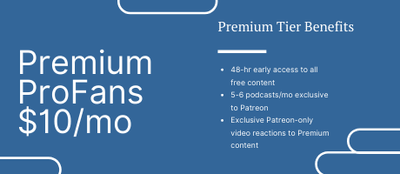 A $10 monthly pledge gets you access to the Premium content:
48-hr early access to all podcasts we provide for free
5-6 podcasts per month covering content exclusive to Patreon (Westworld, Disney+ original series, House of the Dragon, Attack on Titan, and more.)
Exclusive Patreon-only video reactions to Premium content
Time Travel ProFans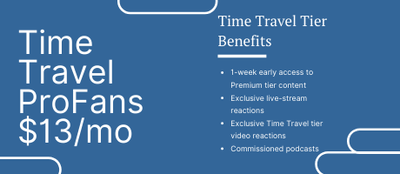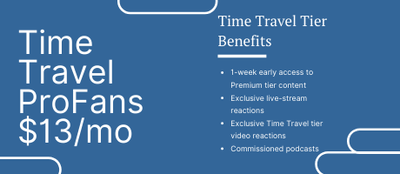 A $13 monthly pledge gets you access to the Premium content:

1-week early access to Premium podcasts
Exclusive live-stream reactions
Exclusive to Time Travel tier video reactions
Special podcast requests (TBD Fall 2021)
Friends & Family ProFans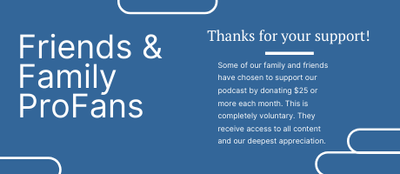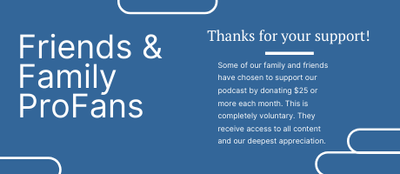 Some of our friends and family have chosen to support the podcast and site with monthly donations of $25 of more. This is completely voluntary, but deeply appreciated. This gives access to all our content at the other tiers, plus helps pay the costs associated with podcasting fees and site maintenance. Thank you! 
About Podcast Fandom Premium
In 2013, 
Project Fandom
was launched and delivered quality pop culture entertainment in the form of reviews, recaps, and interviews. Their weekly podcast,
Podcast Fandom
, has covered some of the best (and maybe not-so-best) TV on their weekly show. The site has been on hiatus as its founder, Nina, has returned to school and makes plans to move abroad, but the podcast remains. 
Podcast Fandom
Podcast Fandom Premium
here on Patreon
gives listeners an additional 5-6 podcasts per month (10-12+ hours of content) for $10/month. This includes weekly coverage of: 
Disney+ original series:

The Mandalorian

, WandaVision, Loki, Ms. Marvel, She-Hulk, Silk, The Falcon and The Winter Soldier, Hawkeye, What If?, 

and more

HBO original series: 

Westworld

, Watchmen, Lovecraft Country, House of the Dragon,

and more

 

Netflix original series:

Stranger Things

, Ozark, Kingdom, Signal, Black Mirror, Raising Dion, Locke & Key, Sweet Tooth, Black Summer, The Umbrella Academy,

and more

Amazon original series:

The Boys, Hunters,

and more
Anime/animated series:

The Promised Neverland, Avatar: The Last Airbender, Ajin: Demi-Human, The Legend of Korra, Attack on Titan, HunterxHunter, Erased, Invasion Highrise,

 

and more

Podcast Fandom Movie Night:

pre-COVID we covered most of the Marvel cinematic releases on the premium podcast and we'll resume that coverage once things return to normal. In the meantime, we'll record the occasional podcast covering movies available for streaming.

Racism & Shade

: A conversation on some aspect of pop culture, delivered with an abundant amount of racism or shade.
Upcoming Shows (2021):

Hannibal, Battlestar Galactica
Here's how pledging works:
$10.00 per month (Premium ProFans) will get you access to each of the premium shows for the month. You will also get access to a Dropbox folder with old Premium shows (upon request). Pledges above the $10 are not required, but appreciated. Excess funds go towards maintaining the website and other podcasting fees.
$13.00 per month (Time Travel ProFans) gives you early access to free podcasts, 1-week early access to all Premium tier podcasts, access to our Discord server for live group watch and livestreams, exclusive livestreams, video reactions, and commissioned podcasts. 
Feedback:
Right before the new season of a show begins we'll post a feedback post here on Patreon. All season you can leave your feedback for specific episodes on that one post and we'll read your thoughts on the podcast. You'll know when we're going to record a specific show by consulting the 
schedule provided.
The schedule is subject to change due to life events and we do our best to alert patrons of upcoming changes as soon as possible. 
We're always open to ideas to make the premium shows the best they can be so don't hesitate to reach out!
When we hit this milestone, Nina and Donny will record 2 commissioned podcasts of the Patrons' choosing. We will watch a season of a TV show or a movie and record a podcast with our thoughts. Recording schedule will depend on the length of the shows/movies chosen. 
3 of 5
Become a patron to
Unlock 1,086 exclusive posts
Connect via private message
Recent posts by Podcast Fandom Premium
How it works
Get started in 2 minutes