The Poison Thicket
is creating incense, flying oils, ritual goods, and herbal witchery.
Select a membership level
Tier 1 - The Wicked Elixir
Tier one patrons will receive one mystery apothecary item every month in their mailbox adding up to approximately a $25-$40 in value. This could be a flying oil, an incense, a smoking blend, a smoke wand, or a variety of other items. You will also receive access to our Patron Only blog and a 20% discount in the shop!
Tier 2 - The Object Obscurum
Members of this tier recieve one mystery ritual item a month. This item could be a candle or glass etched candle holder, screenprinted altar cloth, a devotional print, or other item valued at $45-60. You will also receive access to our Patron Only blog and a 20% discount in the shop!

This tier is also for our Ancient Allies, our original patrons who have supported us from early on and have their original subscription locked in at this price.

Tier 2 - The Box of Enchantment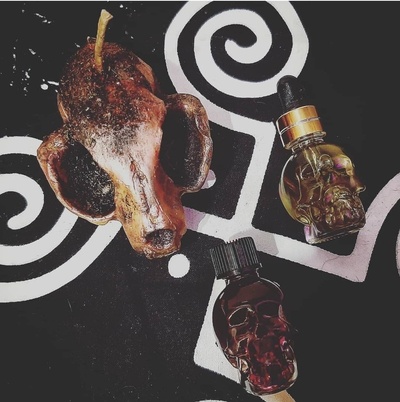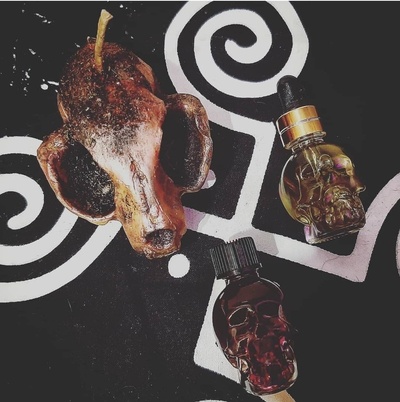 The Box of Enchantment subscription will include 2 apothecary items, one ritual item , and occassional curios and samples. 

Often times items in these categories will be patron-only exclusives that won't be available any other way. 

Items in the box are valued at $110-$130 in value. Also included with your subscription is access to our Patreon only blog and a 50% discount off our web shop.
About The Poison Thicket
Welcome to The Poison Thicket! I am an esoteric herbal practitioner, artist, and witch following the path of spirits and poison and sharing what parts of my journey I feel will most positively impact and aid the journeys of others. I have been practicing witchcraft seriously for over 20 years and grew up in a spiritually eclectic family which heavily embraced paganism, folk magic, and the occult. I have been a student of poison plants and their lore for 10 years, and actively working to create beautiful herbal potions and other sacred and magical offerings professionally for over 5 years now.

Our products can be purchased individually from us at markets and events we vend, as well as from storefronts who carry us in stock. Here at our Patreon, we are offering the opportunity to purchase a curated collection of products which will be delivered monthly to your door through our BOX OF ENCHANTMENT.

The Poison Thicket's Box of Enchantment will include an intuitively selected collection of potions, oils, incense, ritual tools, and more selected based on products individual value in accordance to three pricing tiers to fit most budgets. 


Please note many of our products contain strong herbs which are considered to be DEADLY POISONS or have MIND ALTERING EFFECTS effects such as Datura, Belladonna, Wormwood, or other plants in the Nightshade and Artemisia families. Those products are considered to be CURIOS for collection as an oddity. As such these products are not toys or for children and by purchasing this product you agree that you are over the age of 18 and these plants are uncontrolled in your state. Any orders from states with laws prohibiting the sale of Nightshades will receive alternative products.

IMPORTANT! If you are outside the US please contact us before you sign up to be sure we are able to ship to your country. Thank you!

Become a patron to
Unlock 43 exclusive posts
Get discounts to an online store
Connect via private message
Recent posts by The Poison Thicket
How it works
Get started in 2 minutes