Quick update. I have some awesome news.... I have my FIRST $10 level Patron!!! That means that starting next week, I will begin doing a Frenchy Cosplay drawing each month... I will begin posting storyboards six days each week... and I will begin doing my MONTHLY DRAWING for an autographed sketch for all of my $3 and up Patrons, which right now means my $10 per month patron is the only one qualified so he'll be getting all the goods until I get more patrons. I owe a huge THANKS to my three patrons. It won't be long before Charmy is syndicated and you can all say, "I helped that strip succeed!" - Davy
Pledge $0 or more per month
Everyone
Pledge $0.01 or more per month
Patrons Only
Level 1 - RANK - PRIVATE
$1 or more per month

∙ 3 patrons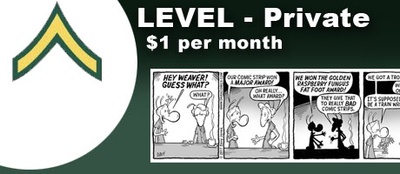 Level One - ENLISTEE

Pledge $1 per month


STRIPS POSTED EARLY
 -  Patrons will see weekly strips a few days before they are released to the public.
As I work on my strip, you will see a few behind the scenes shots of my work in progress.

Your pledge will help me finally realize my dream!

BRAGGING RIGHTS - You will also receive my gracious gratitude. Who knows, maybe one day you can say, "I knew Davy Jones when he was just a dreamer wanting to draw the next big comic strip"!
Level 2 - RANK - PRIVATE FIRST CLASS
$3 or more per month

∙ 2 patrons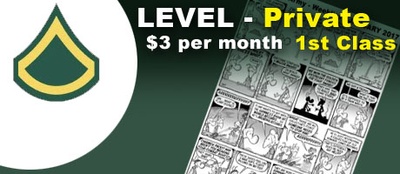 Level 2 - Private First Class

Pledge $3 per month

You get everything mentioned before in the Enlistee Ranking... PLUS you get...
EXTREMELY EARLY PREVIEWS - See all of the comic strips from the next month as soon as they are prepared. You will see my strips an entire month early AND see them all at one time!

FREE SNEAK PEEKS - See even more of my work in progress!!! You will feel like you are in the studio with me!
Level 3 - RANK - CORPORAL
$5 or more per month

∙ 0 patrons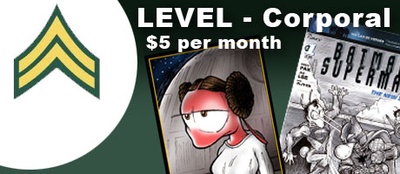 Level 3 - RANK - CORPORAL
 Pledge $5 per month
 
Get the highest-quality versions of my work.
High Res Scans of my sketch covers
High Res Posters for you to print and hang with pride
Plus all previous rewards
Level 4 - RANK - SERGEANT
$10 or more per month

∙ 1 patron
Level 4 - RANK - SERGEANT

Pledge $10 per month
 Get the ultimate inside look at my studio

Sneak peek at my storyboards! See how I write my award winning comic strip!
GET A FREE PIN BACK BUTTON EVERY MONTH!!! To be mailed every 6 months.
 Plus all previous rewards