Sombulus Character References - Dias Onda Outfits
When your big wingy sister insists on making you and your BFF look "fashionable" so you gotta get new clothes.
Pledge $0 or more per month
Everyone
Pledge $0.01 or more per month
Patrons Only
Mini Comic Requests!
$1 or more per month

∙ 10 patrons
Send me an idea/prompt and I'll make a mini comic about it! (Unless it's bad.) 
Patron Credit on sombulus.com
$3 or more per month

∙ 4 patrons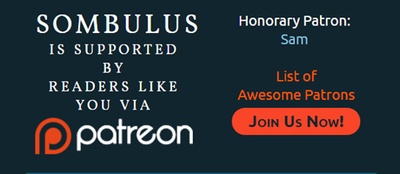 You'll be added to the Patron section of sombulus.com, along with a link to your website/blog/whatever you got.  Thanks for your support!

Quick Note: Sombulus is rated PG, and I reserve the right to say no to links to inappropriate content at my discretion. Thank you for keeping it classy.

Sombulus Fan Lounge
$6 or more per month

∙ 4 patrons
A place for Sombulus fans!
Secret Sombulus worldbuilding notes
Sombulus bonus comics
Open requests for Q&A/sketches as time allows!