Pledge $0.01 or more per month
Patrons Only
Special VIP Access
$1 or more per month

∙ 6 patrons
Gain access to patron-only content here on Patreon, including the first look at a new painting, pages from my watercolor journal & sketchbook, posts on my creative process, opinion polls, and behind-the-scenes videos. 

Plus get a 15% Discount Code on your Fine Art America order. There you can purchase a variety of items featuring my artwork, like prints, mugs, tote bags, pillows, and more!
Heartfelt Holidays
$3 or more per month

∙ 2 of 10 patrons
Get a hand-painted holiday card for Yuletide and one other holiday of your choice.

+ Plus the previous reward
Your Bright Ideas
$5 or more per month

∙ 4 of 10 patrons
Email or comment an idea, and I'll schedule it in as one of my daily drawings. It might even end up as a painting!

You'll be thanked by name, with your permission, in the post featuring the sketch.

Your participation inspires me and helps the creative process.

+ All previous rewards
Monthly Prints
$10 or more per month

∙ 1 of 10 patrons
Each month, receive 2 mini prints from that month's paintings delivered directly to your door.

+ Plus all previous rewards
Private Viewing
$15 or more per month

∙ 0 of 5 patrons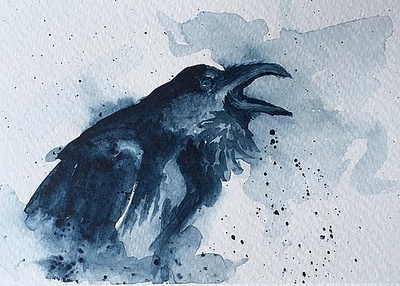 Join me for a monthly livestream or video for patrons' eyes only, including behind-the-scenes art creation and adventures of a vagabond petsitter.

+ Plus all previous rewards
Happy Birthday to You
$20 or more per month

∙ 0 of 5 patrons
In addition to the previous tiers with holiday cards and monthly prints, get a hand-painted card for your birthday every year for as long as you remain my patron at this level.

+ Plus all previous rewards 
You've Got Mail!
$25 or more per month

∙ 1 of 5 patrons
Each month you will receive a hand-painted postcard mailed to you from wherever I'm currently living as a digital nomad and vagabond petsitter.   

The postcard will depict an animal or scene from my travels, and each postcard will be a one-of-a-kind, original watercolor painting. 

+ Plus all previous rewards
Original Watercolor
$30 or more per month

∙ 0 of 5 patrons
An original painting with the subject of your choice. This could be a pet portrait, your favorite cityscape, a serene landscape, or anything you fancy, mailed directly to you every month you remain my patron at this level. 

+ Plus all previous rewards