"CONTENT CLUB" - Weekly bonus shows & our full back catalogue.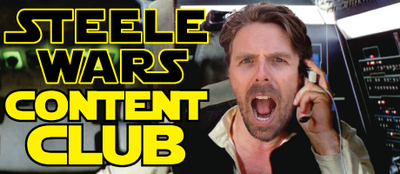 So much sweet sweet content. Enjoy all our bonus shows and full back catalogue direct to the podcast player or app of your choice while ensuring the continuing production of the Steele Wars Star Wars podcast.
Bonus content shows include Making Steele Wars, Steele Wars Live Movie Commentaries, Live Call In Bonus Show, Patreon Q&A Show, full legnth insert free versions of all Steele Wars episodes and Gonk & Steele's Trash Compactor (when Gonk isn't so busy).
Includes
2 new Making Steele Wars episodes a month with Jason Ward.
A new Gonk & Steele's Trash Compactor episode every month.
All of the goal achievement related shows.
CONTENT delivered to your podcast app of choice on private feed.
LA PodFest LIVE w/ Maude Garrett, Jason Ward & Randy Lo Gudice.
Patreon exclusive Q&A show twice a month.
The full length episode of EVERY REGULAR Steele Wars EVER
Weekly 30min to 60min Steele Wars Live Call In Show bonus show.
With all the rewards from the previous tier.