"SORRY ABOUT THE MESS" - Tip Steele Wars 10 cents an episode.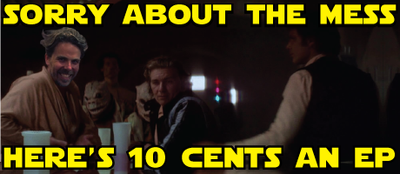 If you think each episode of Steele Wars is better than about 9 or 10 cents and you'd just like to help ensure the continuing production of the Steele Wars Star Wars podcast.
If every listener did this the podcast would be in a very healthy place.
$12 A YEAR for 130 to 150 HOURS of listening is a pretty good deal.
Includes
Call in fast-pass on the Steele Wars Live Call In Show.
My sincere thanks for helping to continue the show.
The warm glow you're supporting the content you enjoy each week.