Suggested Pledge $5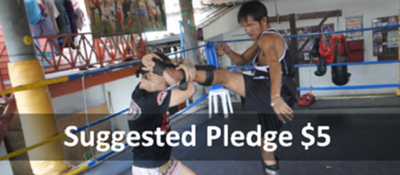 $5
is the suggested pledge amount, going to support the documentation of the techniques of legends in the Preserve the Legacy project documenting the great men and techniques of Thailand,
read about that here
.
A $5 pledge gives you access to the last 15 published sessions in the Library, and also gives you access to bonus session material, long form sessions not included in the Muay Thai Library. This totals over 20 hours of commentary documentary video.
It also gives access to my new Muay Thai Burnout fitness videos.  
Know that you are also actively supporting me as a fighter as I pursue an unheard of 450 fights in Thailand, and all my work as a writer at 8limbs.us.
All lower pledge rewards included.