My twitter giveaway is now live!  All you need to do to enter is to follow me on twitter and RT the giveaway post, easy peasy!  The contest will run for 2 weeks and the winner chosen by the end of the day on October 2nd.  You must also be 18 or older to win the Food Porn anthology book.  If you are not 18 or older you may still enter but you just will not receive the Food Porn book. ;)
Pledge $0 or more per month
Everyone
Pledge $0.01 or more per month
Patrons Only
The Tip Jar
$1 or more per month

∙ 5 patrons
Welcome to the club, you now have access to the private discord for the length of your patronage.
The ol' Razzle Dazzle
$2 or more per month

∙ 7 patrons
 Welcome friend, you get early access to my current webcomic! Read next week's pages today!
Even better you also get access to extra side comics, like my diary comics, as well as a monthly sketchdump where I share everything I sketched during the previous month.
You also get access to the special patreon only discord channel and any wallpapers I whip up.
The Uptown
$5 or more per month

∙ 3 patrons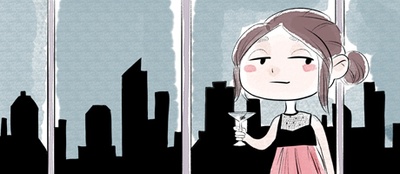 Well hello, you get everything the aforementioned tiers get: early access, private discord, wallpapers, bonus comics and sketchdumps.
But at this level you also get access to PDF downloads of my single issue comics (does not include GNs)
Knights of the Round
$10 or more per month

∙ 2 patrons
Access to my Patreon backers only activity stream! In the activity stream I will share fun comic related character sketches as well as general sketchbook dumps.
A special wallpaper download, which will also be available through the activity stream.
See the comic pages early through posting of thumbnails, raw inks, and other progress shots.
Receive discount codes to be used in my comics shop to buy prints, books and more.
Free PDF ebook downloads of my currently updating comic when they become available.