Dwarf Fortress coming to Steam and itch.io, free version always updated and available
Hey everybody!  We mentioned a big announcement on the development log, and here it is:  Dwarf Fortress is coming to Steam and itch with a new tile set, and generally enhanced graphics and audio.  We'll continue updating and releasing the free ASCII version on the Bay 12 web page as Dwarf Fortress Classic.
We don't talk about this much, but for many years, Zach has been on expensive medication, which has fortunately been covered by his healthcare.  It's a source of constant concern, as the plan has changed a few times and as the political environment has shifted.  We have other family health risks, and as we get older, the precariousness of our situation increases; after Zach's latest cancer scare, we determined that with my healthcare plan's copay etc., I'd be wiped out if I had to undergo the same procedures.  That said, crowdfunding is by far our main source of income and the reason we're still here.  Your support is still crucial, as the Steam release may or may not bring us the added stability we're seeking now and it's some months away.
We're going to finish the villain release first and get it stabilized before I complete the coding required to support the new graphics.  But the artists are already hard at work!
Here's a (very short) trailer, including some in-game footage with new art, transparency, and some other goodies: Trailer 
And here's more of the tile art (this image is 1920x1080 so you might have to zoom in, not in-game):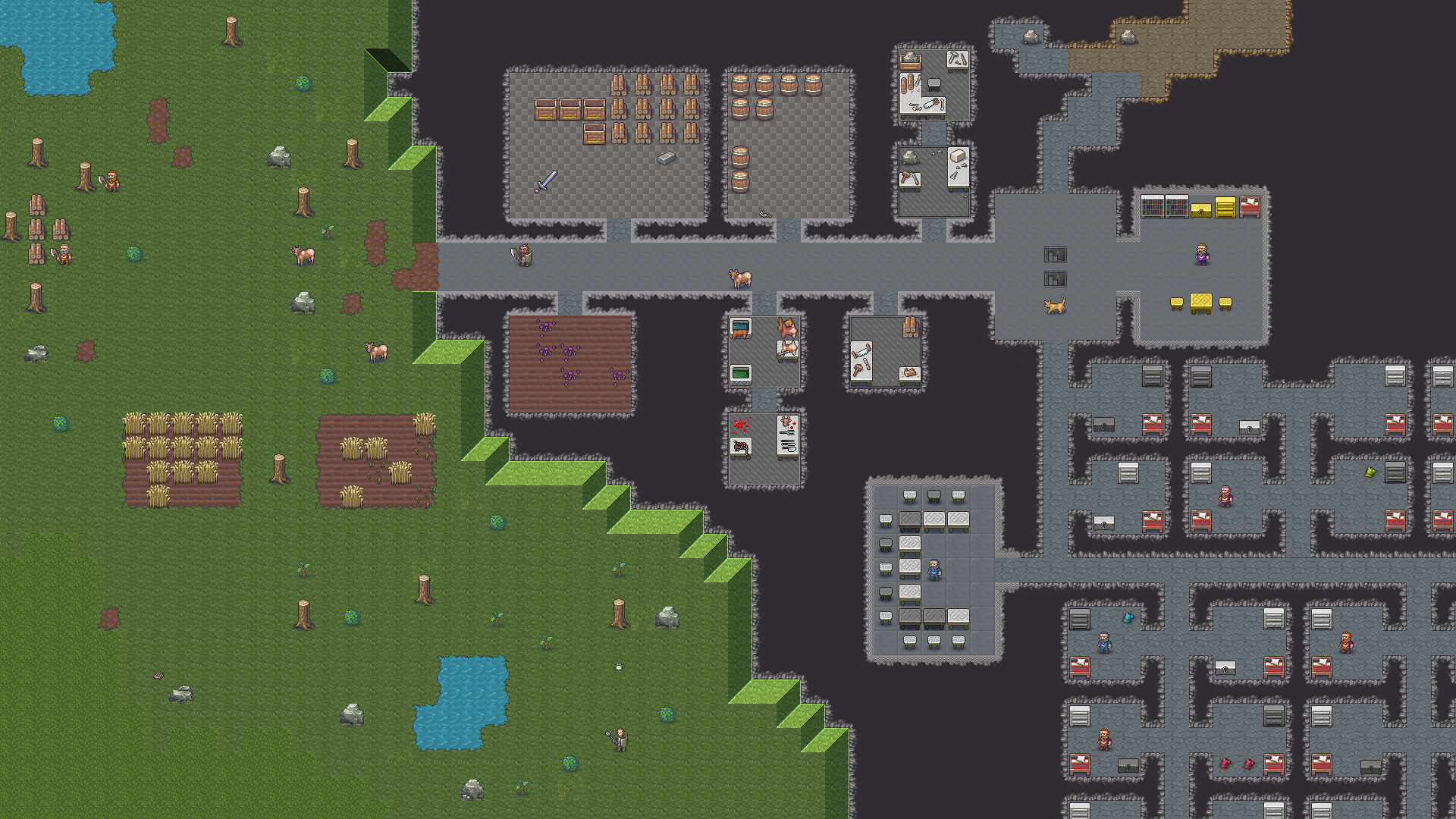 There are a few more examples over on the store pages:  Steam, itch.io 
The graphics are being made possible by Kitfox Games and Tanya X. Short (we co-edited a few books together, I've known her for years, and we can count on her to do an awesome job.)  She's contracted Mike Mayday and Meph, who've both been with the modding community for many years.  Zach and I are working closely with them as they create a tile set that fits the game and meshes well with our underlying code.  Tanya has also brought on a talented composer and SFX designer, Dabu, who has already created several musical tracks and some sound effects.  Even though this change was brought about by uncertainty and concern, now that we're on this path, we're determined to make an excellent go of it with underlying changes in accessibility and modding which redound to everybody, no matter which version they play.
When the Steam version is released, people that choose to pick it up will get the new graphical tiles, new music and audio, as well as Steam Workshop integration.  The people that stick with Dwarf Fortress Classic will still get all of the upcoming Dwarf Fortress features as we add them, and modders will also be able to utilize the new graphical capabilities you can see above in their own creations.
Thanks to all of you who've been with us through the years.  It's always going to be important to us to bring you a free Dwarf Fortress that anybody can just download and play, and we're only able to do that because of your support.  The addition of this new version should be pretty cool as well, and we're looking forward to having a future together!