Unlock the full post by becoming a patron
#441: Celtic Top 20 for 2019
A couple quick bits of news for you. First, I'm not gonna have a Song Henge Profile this week. Just swamped with the holiday. Second, I also decided I'm gonna end next year's Celtic Top 20 votes at the end of November. That should give me more time to compile the votes and feel less stressed around Christmas. 
Yes. You'll still get weekly episodes. But I might dig more into the archives come December. 
Thank you again for an AWESOME YEAR!
I hope you love this incredibly long episode of YOUR favorite songs.
Merry Christmas, Happy New Year and have a wonderful holiday season!
----
It's time for the Celtic Top 20, where I feature your votes for the 20 most-popular Irish & Celtic songs and tunes of 2019. Listen and subscribe today!
Molly's Revenge, Moira Smiley, Flook, Colleen Raney, Andy Law & Friends, The John Byrne Band, We Banjo 3, Ella Roberts, Rising Gael, Sharon Shannon, Melanie Gruben, Atlys, Don Gabbert, Katherine Nagy, Hot Griselda, Seamus Kennedy, The Grenaways, ChildsPlay, Journey North, Chrissy Crowley, Runa, Marc Gunn
I hope you enjoyed this week's show. If you did, please share the show with ONE friend.
The Irish & Celtic Music Podcast is here to build our community and help the incredible artists who so generously share their music with you. If you hear music you love, buy the albums, shirts, and songbooks, follow the artists on Spotify, see their shows, and drop them an email to let them know you heard them on the Irish and Celtic Music Podcast.
Remember also to Subscribe to the Celtic Music Magazine. Every week, you will get a few cool bits of Celtic music news. It's a quick and easy way to plug yourself into more great Celtic culture. Plus, you'll get 34 Celtic MP3s for Free, just for signing up today.
VOTE IN THE CELTIC TOP 20
This is our way of finding the best songs and artists each year. Just list the show number, and the name of as many bands in the episode as you like. Your vote helps me create next year's Best Celtic music of 2020 episode.  Vote Now!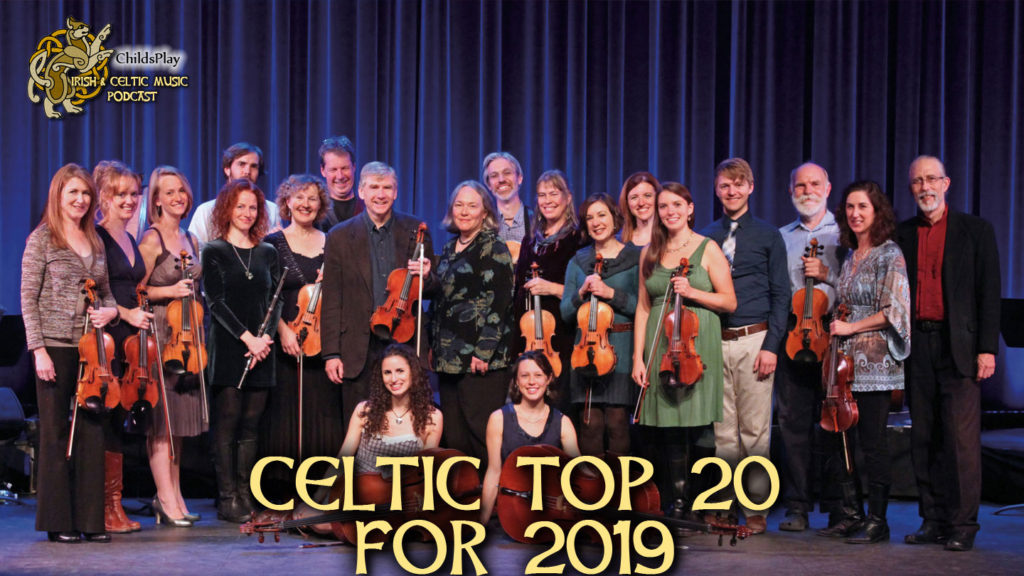 THIS WEEK IN CELTIC MUSIC
0:09 - "Emmet's Hedgehog" by Molly's Revenge With Moira Smiley from The Western Shore
4:50 - WELCOME
6:21 - "Turquoise Girl / The Tree Climber / Twelve Weeks and a Day / Rounding Malin Head" by Flook from Ancora
12:13 - "The Collier's Daughter" by Colleen Raney from Standing in Doorways
15:46 - "An Diberdhyans / Dons Bewnans" by Andy Law & Friends from The Long and the Short of It
20:93 - "To Patsy" by The John Byrne Band from The Immigrant and the Orphan
25:46 - "The Bunch of Green Rushes/Salt Creek" by We Banjo 3 from Gather the Good
29:47 - "Bonnie Banks of Loch Lomond" by Ella Roberts from North Wind
34:44 - CELTIC FEEDBACK
38:45 - "The Trooper and the Maid" by Rising Gael from Roots
42:07 - "Rusheen Bay" by Sharon Shannon from Sacred Earth
45:58 - "Irish Fire" by Melanie Gruben from Single
50:20 - "The Corrie Man" by Atlys from Atlys
55:30 - "Tejas Go Bragh" by Don Gabbert from Alone on the Porch
1:01:15 - "Lay With Me" by Katherine Nagy from Single
1:04:24 - "Your Moment to Shine" by Hot Griselda from Sunbox
1:08:48 - "Wild Rover" by Seamus Kennedy from By Popular Demand
1:14:45 - CELTIC PODCAST NEWS
1:17:50 - "Rowan" by The Grenaways from Diesel Rainbows
1:21:51 - "Maids of Galway/Jenny Picking Cockles/Epic Reel" by ChildsPlay from The Bloom of Youth
1:26:17 - "Calm Before the Storm" by Journey North from Dance Towards Tomorrow Smiling
1:33:03 - "Trundle's" by Chrissy Crowley from Last Night's Fun
1:37:17 - "Thaney" by Runa from Ten: The Errant Night
1:41:50 - CLOSING
1:43:54 - "When She Held Me In Her Arms" by Marc Gunn from Selcouth
The Irish & Celtic Music Podcast was produced by Marc Gunn, The Celtfather. To subscribe, go to Apple Podcasts or to our website where you can become a Patron of the Podcast for as little as $1 per episode. Promote Celtic culture through music at http://celticmusicpodcast.com/.
CELTIC PODCAST NEWS
* Helping you celebrate Celtic culture through music. My name is Marc Gunn. I am a Celtic musician and podcaster. This show is dedicated to the indie Celtic musicians. Please support these artists. Share the show with your friends. And find more episodes at celticmusicpodcast.com. You can also support this podcast on Patreon.
Did you know about the Irish & Celtic Music Club on Facebook. This a group where you can interact with other fans of the podcast. Share your music, videos, links and news so everyone can enjoy more Celtic culture through music.
The Irish & Celtic Music Podcast has an app. And it's free!
If you're a Celtic musician, I have an eBook, I want you to own. It's called Celtic Musicians Guide to Digital Music. I'm currently giving it away for free.
You can get the eBook and the app when you subscribe to the Celtic Music Magazine… also for Free.
And of course, you can also submit music to be played on the podcast by completing the permission form at 4Celts.com.
This podcast episode features your pick of the top 20 Celtic songs and tunes of 2019. However, I also listed my organic favorites. Some artists I end up playing more than others. I compiled a list of the Top 20 Celtic Bands of 2019 by looking at who I played the most.
I want to send out a huge shout to Stephen Conroy. He has a website called Ask Stephen where he lists every artist played in each Celtic podcast online.
TRAVEL WITH CELTIC INVASION VACATIONS
Every year, I take a small group of Celtic music fans on the relaxing adventure of a lifetime. We don't see everything. Instead, we stay in one area. We get to know the region through its culture, history, and legends. You can join us with an auditory and visual adventure through podcasts and videos. Learn more about the invasion at http://celticinvasion.com/
I still have space in 2020 for the Celtic Invasion of Italy. It's gonna be monumental. You don't want to miss it!
THANK YOU PATRONS OF THE PODCAST!
Because of Your kind and generous support, this show comes out every week. You can pledge a dollar or more per episode and cap how much you want to spend each month over on Patreon.
Your generosity funds the creation, promotion and production of the show. It allows us to attract new listeners and to help our community grow. Plus, you get to hear episodes before regular listeners. When we hit a milestone, you get an extra-long episode. We are super close to getting a two-hour instrumental special.
I want to thank our newest Patrons of the Podcast as well as though who increased their patronage donation: George K, Peter G, Metta R, Thomas C.
You can become a generous Patron of the Podcast at http://patreon.com/celticpodcast.
I WANT YOUR FEEDBACK
What are you doing today while listening to the podcast? You can send a written comment along with a picture of what you're doing while listening. Email a voicemail message to [email protected]
Katherine Horning emailed on Facebook: "Hello! I was just listening to episode #239 and the song at about 101 minutes was so great. I think it's Girl in the Street. I'm a dog walker, so that's probably why it resonated. But I tried to google it and can't find it. Please help me! Where can I find this song and artist? Thank you for your wonderful podcast. I started playing harp this year and have found your show very inspiring!"
You can find Nick Hennessey at http://nickhennessey.co.uk/. Sadly, I don't see his CD as available.
José Villanueva Music emailed: "Hi Marc!  Firstly I wanna say Congratulations!!! Your podcast is great and I listen to it as much I can. I've been looking for a song called "The Hunter Set" but I didn't find the episode where you set it. I had a tried on Youtube but they deleted the video.
Do you have the complete name or your episode? Thank you so much! Cheers from Sonora, Mexico!"
Tanya Sapien emailed: "Hey Marc, Tanya Sapien here, I re-wrote this like ten times, so sorry if it seems scatterbrained.
I've been listening to you for years, I can't remember when or where I first picked the podcast up, and I've been meaning to write in for ages but I always chickened out, always that is until now. In your last episode a trans woman wrote in and said she's had a hard time finding others like herself in the audience, so being a trans woman myself I took that as a sign it was time to speak up.
Your podcast has always brought warmth into my life from things as mundane as tending the fire pit to as exciting as my recent cross-country bus ride to meet my boyfriend face-to-face for the first time. Your chipper positivity has been a beacon of light in a dark world, and when I'm constantly surrounded by people that choose hating their enemies before loving their friends and who insist every single facet of life has to be a political statement, I'm glad I still find refuge here.
There's no left or right,
no black nor white,
No red against blue
we don't fight over hue
We're just here to play
so sing here all day
shed your dismay
in Gunn's name I say;
Have a beautiful Yule today."
---
released this post 3 days early for patrons.
Become a patron to
Unlock 610 exclusive posts
Connect via private message