Rabbit vs. Bear (Pencil-Ink-Erase Demo)
Let's walk through the PENCIL-INK-ERASE (P*I.E.) process with a demo project from the 36th National Cowboy Poetry Gathering @ Elko, Nevada: 
OUR ASSIGNMENT: 
= to draw some coloring pages for use at a kids' activity center @ the Gathering.
INSPIRATION: 
Well, I was just reading through Sunny Hancock's classic "A Bear Tale" (2002), so that seems like a fun place to start doodling.  
In the poem, Hancock tries to lasso a bear -- and gets a big surprise. 
FORMAT: 
Hmmmm... Maybe a 2-sided coloring page, featuring 2 images from the poem? 
ROUGHS (A.K.A. "THUMBNAILS"): 
In my sketchbook, I pick two quatrains (from verses 6 & 16) & doodle what each one might look like.  I just want to get a very rough idea of the composition & what might be in it.  (Note the multiple lassos & heads &c. ...): 
PENCILS:
Shifting to the final page size, I pencil out our first image (while sitting at a table in the Elko County Public Library).  It feels like maybe the selected lines from the poem could encircle the image, like a spoken border: 
Let's get in closer to the top of that page to see how loose the pencils are.  I don't erase much -- I just kinda trust in a cloud of lines to eventually strike the right pose: 
(Oh, I guess that's not entirely true -- I erased & redrew that horse's head several times.)  
INKS: 
Next, I get out my trusty felt-tip Flare pen & trace over the pencils.  I like how the inked lines really "pop" off the page: 
The light's not so great at this hotel room; let's switch to a window seat & a working lunch @ the local cafe: 
I notice that I totally disregarded my penciled bushed in favor of dotty horse-shadows (LOWER LEFT).  The pencils are just a non-binding notion of where the image is headed!  
ERASING: 
This part is pretty simple --
You just get rid of all the pencil lines.
Then you find some you missed, and you get rid of those.
Then you find more you missed, and... on and on. 
(Be careful not to shake the little cafe table & spill your water.) 
The cleaned-up page looks like this:
SCANNING: 
Next, I'll scan the page on a copier, & touch it up using GIMP on my computer. (That can be a whole other post.)  The finished digital image (so far): 
Cowboy coloring contest, anyone? 
-------------------------
Thanks to the Western Folklife Center for hosting the NCPG & bringing cartoons & comics into the mix!  
-------------------------
KNOT NOTE:
I based Rabbit's horse's alamar knot (cord around neck & in front of chest) on that worn by the horse of Elko's own Henry Harris, on the cover of the biography (by Les Sweeney):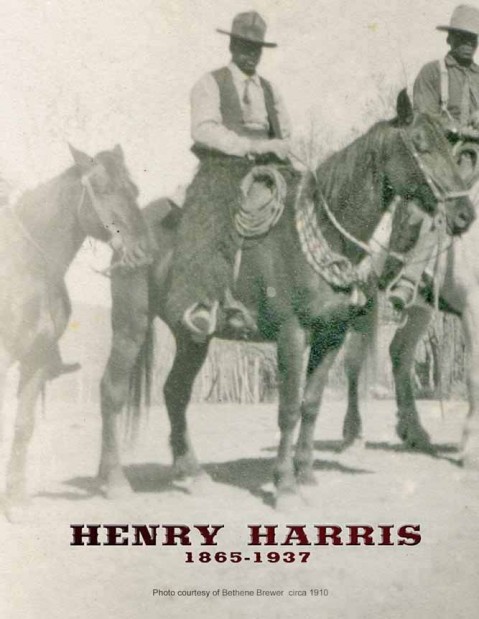 Become a patron to
Unlock 452 exclusive posts
Connect via private message