Butler Basketball: Aaron Thompson (SR) breakdown for 2020-21
Aaron Thompson is Butler's most important player for this coming season. Plain and simple. He might not be the team's top scorer, or the biggest breakout performer, or even an All-Conference selection...but my initial statement still rings true. There is nobody on the roster quite as irreplaceable as the returning senior guard. He is the team's vocal leader on both ends of the floor while acting essentially as an extension of the coaching staff. A high-IQ player with loads of experience as a Dawg, you will be hard-pressed to find many better leaders nationwide.
Thompson is now entering his fourth season as Butler's full-time starter at point guard and it is time to put a storybook ending on his career. While AT has never been a national star, he has been a consistent two-way presence for the Dawgs and will not be forgotten quickly. The 6-2 lead guard out of Glenn Dale, Maryland has earned the respect of the fanbase over the past three seasons and has also received praise from opposing coaches throughout his career.
Thompson has improved with each of his collegiate seasons and it is thus reasonable to expect another leap as a senior. Without longtime backcourt running mate Kamar Baldwin alongside him, Thompson will be tasked with shouldering a bigger burden this season. It is likely that AT will exhibit a career-high usage rate this year while flirting both with his first double-digit scoring season and the Big East lead in assists. That even goes without mentioning that he will reprise his role as one of the nation's best defenders at the point guard slot.
The talented guard missed a few games last season with a wrist injury as well as a concussion but had surgery on the former over the offseason. He could perhaps be better than ever as a result of being fully healthy perhaps for the first time since the Dawgs were ranked in the Top 5 nationally. As we look ahead to the campaign looming in just a couple of weeks, let's dive a bit deeper into Thompson's game to analyze what he can bring to the Dawgs as a senior.
------------------
First and foremost, Thompson is an elite defender. That much is evident on film, in basic stats, in advanced stats, and in on-off splits. Arriving at the conclusion that he is one of the nation's best defenders is not difficult to do. While he is positionally limited to covering fellow guards, he excels at doing exactly that. With his intelligent positioning and quick feet, Thompson is seemingly always in the right place at the right time to contest shots, take charges, or force the opposition into a different set.
Thompson, despite not being a household name nationwide, was recognized as a semifinalist for the National Defensive Player of the Year award last season. That accolade itself goes to show just how impactful he is at the point of attack for the Dawgs. With players like Quincy McKnight, Ty-Shon Alexander, and Romaro Gill all leaving the Big East this offseason, Thompson belongs near or at the top of the list of preseason favorites for the conference's DPOY for 2020-21.
Additionally, though, AT is far more than just a one-on-one defender that locks down opposing guards. As the vocal leader of Butler's defense, he is constantly calling out matchups, screens, switches, or making other adjustments. He is a coach on the floor and all of his teammates respect his defensive knowledge. He is attuned to just about everything on the floor and isn't afraid to shove a teammate into the correct position on occasion either.
Statistics via Hoop Lens.
With Thompson on the floor, the Dawgs were sensational defensively in 2020-21. With him out or on the bench, though, they were mediocre at best on that end. The chart above displays that in statistical form but it is blatantly obvious on film as well. Thompson is the quarterback of the defense and should remain the team's anchor on that end this year. His impact as a defender is undeniable.
------------------
When it comes to Thompson's offensive game, his role is already defined. A primary facilitator that sees the floor exceptionally well and makes high-level passes, Thompson projects as one of the Big East's passers leaders this season. He averaged 4.7 assists per game as a junior (fourth in the conference) and should command a higher usage rate in the absence of Kamar Baldwin alongside him in the backcourt.
When it comes to analyzing Butler's offensive sets and schemes, it is impossible to ignore that they almost exclusively start with Thompson. This isn't just because he is the point guard either. He calls plays based on what he sees on the floor, works possessions to find mismatches, and isn't afraid to take command of a timeout to show something that the opponent is giving him.
The Dawgs' stationary Spain ball screen progression (shown below) is as successful as it is as a result of Thompson's passing and ability to get downhill quickly. This set should be even better this season if we see improvements from Golden and Nze as reasonable threats to hit from beyond the arc. See the last clip in this gif as an example of how much drawing attention from the top-of-the-key can impact a possession: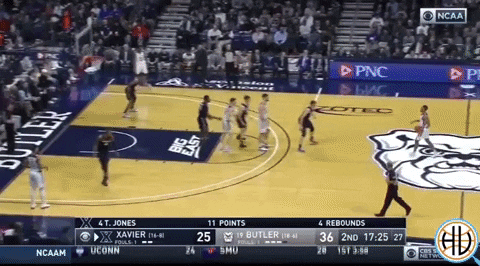 These clips were compiled by Jordan Sperber. See his tweet about this set here.
Thompson's excellent basketball IQ and passing acumen are well-documented as his best offensive skills. Also well-documented, though, are his issues as a scorer. Namely, the senior point guard is a complete non-threat as a shooter. Not only are his percentages dismal from outside of the paint, but he also stopped shooting mid-range and 3-point attempts altogether over the past couple of seasons.
Thompson attempted 13 3-pointers during his junior year and connected on only one of them. And while his rate on non-at-the-rim 2-point shots was pretty solid (17-for-42, 40.5%), these numbers are almost exclusively as a result of his strong floater game. He is a threat to beat his man off-the-dribble, but it is unlikely that he will be pulling up from mid-range with any sort of consistency. His scoring will continue to come either at-the-rim or via runners/floaters.
Unlike Bryce Nze and Bryce Golden, who I have discussed as possible floor-spacers this year, Thompson's statistical profile gives no indication of shooting improvements. Not only is he a non-threat as a standstill or pull-up shooter, but he has also shown minimal development as a free-throw shooting (in terms of percentage). He has hovered around 60% from the line throughout his career.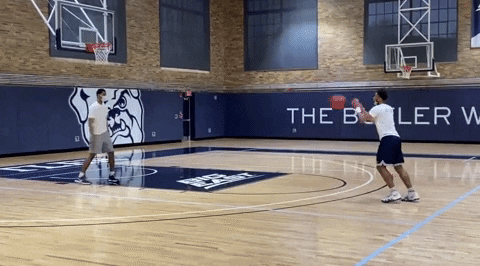 Butler posted this video of Thompson working on his mid-range game earlier this week. While I am hesitant to believe that he will be consistently attempting pull-up jumpers within the flow of the game, I would be remiss to ignore the drastic improvement in his form. This development could lead to at least better accuracy at the free-throw line, something that should not be overlooked as he exhibited the 151st-best free-throw attempt rate in the nation last season.
Regardless, shooting within the halfcourt offense will likely remain a major flaw in Thompson's game and it puts a lot of pressure on his teammates. In order for Butler to succeed, Thompson will need to be at his best and he cannot reach that ceiling without at least one elite 3-point threat alongside him. That became evident last season in minutes where Thompson played without Sean McDermott:
Statistics via Hoop Lens.
This most notably puts pressure on incoming graduate transfer Jair Bolden to thrive as Butler's main perimeter threat right away. Bolden is arriving after shooting 47-for-114 (41.2%) last season for South Carolina and he will need to maintain similar efficiency on higher volume during his final collegiate season. For reference, McDermott shot 65-for-165 (39.4%) last season and Bolden will likely have the same types of sets run for him to get looks.
It is important to note, though, that Bolden isn't alone as a possible 3-point threat. Freshman guard Myles Tate was a knockdown shooter at the high-school level in all types of situations. Despite mostly being billed as a point guard, Tate spent a lot of his senior year playing off-ball and Dorman ran him off screens on plenty of occasions. My full film breakdown of Tate's game is available on Patreon. Chuck Harris (breakdown coming soon) is also a better shooter than is given credit for, especially when allowed to operate in standstill catch-and-shoot situations.
The frontcourt should also help from the perimeter. Jakobe Coles and Bryce Golden both have smooth strokes for their positions while Bryce Nze has worked diligently on extending his range over the offseason. If those three can force closeouts, it will open up the floor for the rest of the team. Most importantly, it will give Thompson the space he needs to operate.
In addition to McDermott's 3-point shooting, his cutting and finishing will also be sorely missed. While we are still unaware of whether or not he will suit up for the Dawgs this season, Bo Hodges can help to fill that role. Hodges was one of the best finishing wings in the entire nation last season and would really help take Butler's offense up a notch. I have no current update on whether or not he will receive a waiver.
I know the end of this Thompson breakdown wandered into analyzing his teammates, but AT isn't AT without those around him. He is a potentially special player but needs to be surrounded by the right guys in order to maximize his abilities. His inability to stretch the floor is a glaring flaw that allows defenses to sag off of him and clog the lane. If there isn't spacing around him, he just isn't nearly as impactful.
If Butler can provide adequate spacing around its point guard, though, this could be an offensive unit that moves the ball exceptionally well and finds the open man more often than not. Expectations are high on the defensive end due to a strong returning core headlined by Thompson but getting stops won't mean that much if they can't score.
By becoming a patron, you'll instantly unlock access to 37 exclusive posts
By becoming a patron, you'll instantly unlock access to 37 exclusive posts