Butler Basketball: JaKobe Coles (FR) breakdown for 2020-21
Butler's frontcourt figures to be possibly its biggest positional strength this season with Bryce Nze and Bryce Golden both returning as full-time starters. Nze is a highly-efficient interior scorer and versatile defender who was named to the preseason All-Big East Second Team, while Golden appears poised for a potential breakout junior year. With those two manning the frontline, Butler should more than hold its own inside against anyone. With this said, though, Coach Jordan might find it difficult to keep freshman forward JaKobe Coles off the court.
A part of Butler's highly-regarded 2020 recruiting class, Coles is arriving in Indianapolis after an impressive high school and AAU career. He helped guide Guyer (TX) to the No. 1 ranking in the state as a junior then they went 27-5 during his senior year. He averaged 17.5 points, 8.5 rebounds, and 3.5 assists per game during that final high school season and was named to the Texas All-State Third Team for his efforts.
Coles was also a member of the vaunted Texas Titans' roster that went 17-2 on the Nike EYBL circuit during the 2019 summer. That team featured the likes of five-stars Cade Cunningham (Oklahoma State) and Greg Brown (Texas) as well. Coles is familiar with playing a secondary role on the offensive end and has proven that he impacts winning wherever he goes. This is a trait that he shares with freshmen counterparts Myles Tate and Chuck Harris.
--------------------
With regard to his playing style, Coles is an incredibly versatile forward offensively. With a sturdy 6-7 and 225-pound frame, he brings plenty of size to the frontcourt and has really improved his body over the past couple of years. He is similarly physically prepared for the college game as Harris and both figure to see sizable roles right away. Not only is he strong enough to hold his own underneath defensively, but Coles boasts excellent mobility.
He runs the floor well and is particularly adept at being able to take rebounds and start the fastbreak himself. He admittedly shared the court with two sensational highflyers in Cunningham and Brown while playing on the AAU circuit, which made some of the passes easier, but he showed excellent flashes in the open floor. He can be dangerous in transition in several ways: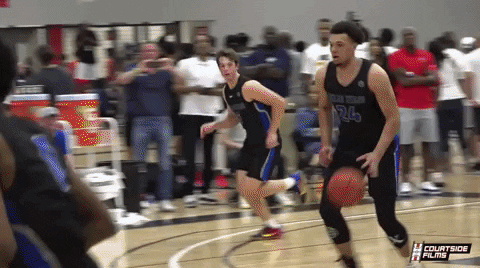 There should be no doubt about the fact that Coles handles the rock exceptionally well for a big. He is also regarded as a very solid passer. Considering how often the Dawgs used Nze and Golden as passers from the top of the key and out of the post last year, Coles feels like a perfect fit in Coach Jordan's system. His shooting ability (more on that soon) will draw defenders to guard him on the perimeter, and then he can use his passing vision to find open shooters off-screens or cutters looking to take advantage of unsuspecting defenses.
Coles surveys the court well with his eyes up in transition, as was evident in the clips above. He is similarly rock-solid as a passer in the halfcourt. Even during post-up situations designed for him to be the primary scoring threat, he is attune to the player movement around him and is willing to find an open man if he has a better opportunity. Coles doesn't thread the needle often but offers dishes with great touch and feel. His vision really is quite extraordinary even if it isn't the core part of his game.
Perhaps more than anything, in fact, Coles can really score.
Whether he gets the ball on a post-touch or in a spot-up opportunity as a shooter, Coles is someone that defenses always need to be aware of. He might not be a flamethrowing guard/wing that can drop 20+ on any given night, but he is a forward/center that will consistently give you buckets throughout an evening with his potential to be a matchup problem. If you choose to defend him with a small player, he can use his wide array of post moves and bruising frame to carve out space for buckets: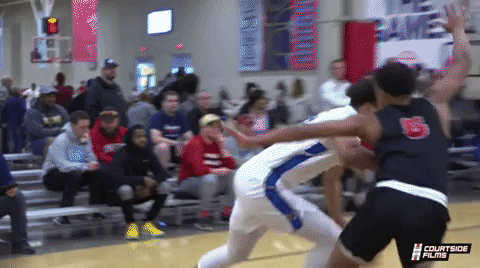 Even if he isn't able to create enough leverage to score inside, that's when his passing vision comes into play. Coles' basketball IQ is very impressive and is on display as he finds cutters out of the post at a high rate. Putting it simply, if I had to describe his game in one word, it would be "skilled". He just plays the game the right way. Coles understands he is not the fastest player on the floor and thus plays at his own pace, making positive things happen more often than not. He is one of the most polished incoming freshmen in the country, in my opinion.
Coles knows who he is, and that is a very important trait to have.
In addition to his inside scoring, Coles has a smooth jumper all the way out to 3-point range. He is a spot-up catch-and-shoot guy that can absolutely stroke it. Butler needs more spacing this season, particularly in the frontcourt, and he will be able to provide exactly that. Whether as a trailer or in pick-and-pop situations, he is not someone that should be left alone on the perimeter. Not only is his release solid but he has the confidence to let it fly.
Defenses will be forced to close-out on him due to his shooting ability, and that allows him to showcase his ball-handling once again as he can put it on the deck to score inside as well. He isn't going to be a crazy high-volume shooter because he won't get that many opportunities, but he will make the ones he does get count: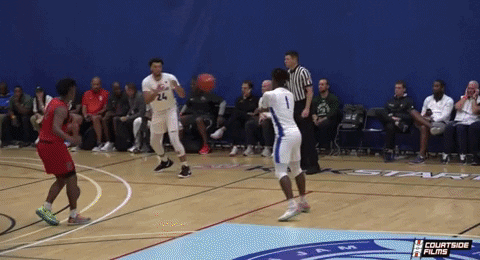 When asked about how Coles is transitioning to the college game, senior starter Bryce Nze was very complimentary: "JaKobe is very versatile. He can score the ball with ease - I feel that's super natural with him. He's got a lot of talent and I'm ready to see what he can do on the court."
--------------------
The limiting factor in Coles' game is that he is not a bouncy athlete. He runs the floor well and can get up for dunks when the opportunities present themselves, but he is mostly a ground-bound big. He isn't the type of rim-protector that is going to sky for emphatic blocks but prevents buckets with his size and positioning. Coles tracks ball-handlers and bigs well as they attack the basket and he lurks around to either block or alter attempts inside.
This is another area where Coles should fit extremely well with Butler. For reference, the Dawgs ranked 12th nationally last season in 2-point percentage allowed defensively (43.5%) while exhibiting just a middle-of-the-road block rate (7.8%). Thanks mostly to Thompson's funneling and Nze/Golden's positioning, Butler stifled opponents inside the arc and that should continue into the future thanks to Coles' ability in this area.
Bigs do not need to be shot-blockers to be strong defenders but they need to be shot-alterers. And while he will block the shots in the clips below, they show examples of how he tracks players looking to infiltrate the lane for at-the-rim attempts: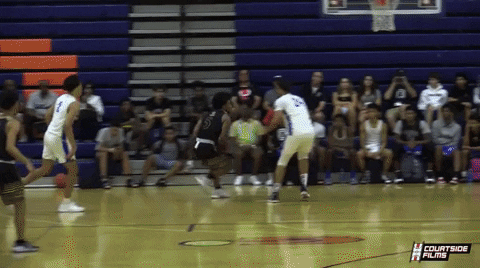 Considering his presence inside the paint on both ends, I would be remiss to ignore Coles' rebounding ability. With his big frame and strong instincts, it should come as no surprise to hear that he is an excellent rebounder. In addition to his size and strength, Coles has a long wingspan that allows him to snag boards that are considered to be "out of his area". This is something he displayed both in AAU and high school film. 
He averaged 8.1 rebounds as a HS junior, 7.4 on the Nike EYBL circuit, and 8.5 during his senior HS season. Just like every other strength in his game, Coles is consistent when it comes to contributing on the glass. He appears to relish in excelling at the fundamentals, and that includes boxing out and snagging boards on both ends.
--------------------
When it comes to his role as a freshman, Coles will have a difficult time cracking the starting lineup. Barring injury, Nze and Golden are locks to start at the 4 and 5. With that said, though, it would not come as a surprise to see Coles emerge as the first player off the bench this season (at least while Christian David remains sidelined). He is a versatile offensive player that will draw defensive attention, plus he should hold his own defensively in the Big East.
As I have referenced on several occasions so far in this preseason series, Aaron Thompson needs shooting threats around him in order to be at his best. Coles would certainly fit that bill as possibly the best frontcourt shooter that AT has played with in his collegiate career (though Golden could have a breakout junior year in this department). Additionally, Coles should thrive in receiving dump-offs for easy interior buckets from the senior point guard.
I mentioned this in the introduction, but I think Coach Jordan could have a difficult time keeping Coles off the court this year. He is extremely polished and I have heard rave reviews about how he has played since arriving on campus. I wouldn't be shocked to see him around 15-20 minutes per game, a critical role on a team featuring several upperclassmen starters.
With the overall versatility of Butler's frontcourt, the coaching staff can deploy several different lineup combinations. Coles contributes greatly to that idea and I'm eager to see how he is utilized. There aren't that many bigs that bring the total skill package to the offensive end but he does. He can run, pass, shoot, post-up, and rebound. What more can you ask for? 
Coles is offensively advanced and showing that he can defend at a solid level is all it will take for him to emerge as a major piece, in my opinion.
[Clip Source: Courtside Films]
By becoming a patron, you'll instantly unlock access to 38 exclusive posts
By becoming a patron, you'll instantly unlock access to 38 exclusive posts