Butler Basketball: Myles Wilmoth (FR) breakdown for 2020-21
Myles Wilmoth enters his collegiate career this season as perhaps Butler's biggest "mystery" in its 2020 recruiting class. While Harris, Tate, and Coles all appear to have their skill sets pretty well defined at this point, Wilmoth seems to be more of a project frontcourt piece. He has an exceptionally intriguing starting point, though, with his tantalizing combination of size and athleticism.
While his floor appears to be the lowest of Butler's freshmen, his ceiling for stardom might be the highest. Wilmoth is "raw" right now but could blossom into a big-time player as he fills out his frame and defines his role on both ends of the floor.
The 6-9 forward is coming to Butler after an impressive high school career with St. Andrew's (RI). He recorded over 1000 points and 1000 rebounds while playing under head coach Mike Hart there and was especially excellent last season. Statistics definitely back up the fact that Wilmoth has been steadily improving his offensive game as he dropped in 17 points and 11 rebounds per game as a senior.
Wilmoth also played for City Rocks (NY) on the Nike EYBL circuit over the 2019 summer. He was the team's most productive big on both ends of the floor, recording averages of 8.8 points, 6.0 rebounds, and 1.2 blocks in fewer than 23 minutes per game. While consistency is something that he needs to improve on, the flashes that he shows are incredible glimpses into what could be to come in Indianapolis.
Wilmoth has the potential to be a 6-9 perimeter player offensively that rebounds at a high rate and can use his bouncy athleticism to block shots underneath. At the very least, he provides a drastic change-of-pace to players like JaKobe Coles and John-Michael Mulloy as he is a very different type of athlete. His best-case scenario leads him to be a matchup nightmare offensively that is feared defensively inside.
Butler's coaches are betting that they can mold him into the stud that they see blossoming on film. Wilmoth has been likened to D.J. Wilson by the staff in the past.
---------------------
Defense will be non-negotiable this season for anyone looking to crack Butler's rotation. If I have said that once this offseason, then I've said it a thousand times. That is especially important to note for the incoming freshmen as they will need to prove their worth on that end before seeing significant playing time. With Wilmoth, he has a lot of the skills and athleticism needed to be a versatile stopper at the Big East level.
For starters, he is a very fluid and long athlete measuring in at 6-9. As a result, he can utilize his length and quickness to stay in front of wings when forced to switch on the perimeter. This is an increasingly valuable skill at the college level and he will have had the opportunity to learn from Bryce Nze, who does this very well, over the past couple of months. With his ability to positionally play on the wing offensively (more on that soon), defending well on the perimeter could allow Coach Jordan to trot out some "big" lineups.
Additionally, his bouncy athleticism and excellent timing make him a legitimate candidate to be a shot-blocking fiend. Wilmoth has strong instincts in this department, and while he is a bit foul-happy as most freshmen are, he might already be the best or second-best shot-blocker on the team. The most important trait for a big man in Butler's defensive scheme is to be able to alter shots if they aren't blocked. While JaKobe Coles is more of a positional defender that makes shots tougher, Wilmoth is one that can send them back at a high rate.
His 1.2 blocks per 22 minutes on the EYBL circuit were not a fluke.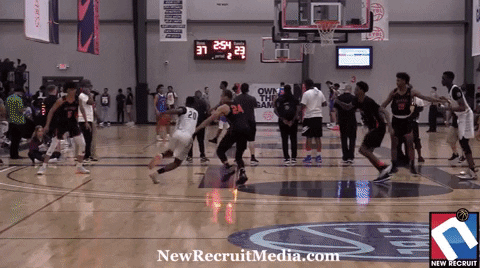 On the downside, though, Wilmoth weighs in at only 215 pounds according to Butler's roster sheet. He definitely has a skinny frame at 6-9 and might struggle against the physicality of Big East frontcourts as a result. This is perhaps the biggest reason why he was considered to be a redshirt candidate heading into the year. Even with his raw offensive game, he has the defensive skill to be impactful if he can hold his own underneath.
With the NCAA granting an extra year of eligibility to winter athletes this year, it makes no sense for Wilmoth to actually redshirt. It seems likely that he will receive spot minutes in certain situations or during blowouts in either direction. That is, of course, unless his game has progressed significantly since finishing his high school career. That is something that I am not willing to rule out as he has improved seemingly exponentially over the past couple of years.
Regardless of how he performs this season, I am high on Wilmoth's potential as a defender. His shot-blocking instincts and pogo-stick athleticism are already there for him to be a dynamic help defender. If he can add more weight and hold his own in one-on-one post matchups, then he will be set to be rock-solid on that end of the floor.
---------------------
One of the main traits that I love about Wilmoth is his motor. He appears to be always giving his all on the court while doing whatever he can to help his team win. This often allows him to win matchups against stronger opponents as well as he simply out-hustles them to loose balls or cuts to the rim. In addition to his shot-blocking, Wilmoth's other best skill is as a rebounder.
This shouldn't come as a surprise given his physical gifts. Wilmoth's long arms and quick leaping ability allow him to sky for missed shots on both ends of the floor. He averaged a double-double during his senior high school season and can provide strong rebounding to Butler as a freshman, in my opinion. Even if he gets outmuscled occasionally, he will more often than not come down with defensive rebounds. Wilmoth has the ability to rebound out of his area.
On the offensive glass, Wilmoth reads misses well and is a quick decision-maker once he comes down with boards. He is decisive in either choosing to kick the ball out or aggressively attacking the basket himself instead of allowing the defense to reset. I view this as an underrated trait of his.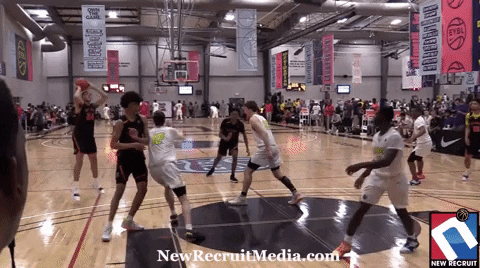 Wilmoth is an all-around tenacious competitor, and that might be best seen on the glass.
---------------------
His offensive game also oozes with versatility. A faceup forward that runs the floor exceptionally well, he figures to be a potential matchup nightmare on this end with the appropriate development. He can already pull down rebounds and run the break, but is capable of creating for himself from the perimeter as well. Wilmoth is a very fluid athlete and he makes a lot of plays look effortless. For instance, he shows flashes of mid-range jumpers off the dribble at his size that make his star potential glaringly obvious.
Additionally, that soft touch extends all the way out to the 3-point line as he can be a pick-and-pop option with continued development in that area. He needs to add some muscle to be a true post-up threat, but he has a solid little right-handed hook in his bag of tricks. The biggest keys for him are going to be adding weight, developing consistency, and picking a lane with his offensive game. He does a lot of things well right now offensively, many of which are very impressive for his height, but does not seem to excel in any one area.
Here is a quick look at some of what he was able to do during one weekend of the Nike EYBL circuit. There's no doubt that he makes some impressive moves for someone mostly projected to play the 4 of 5 at the collegiate level. He definitely has perimeter skills.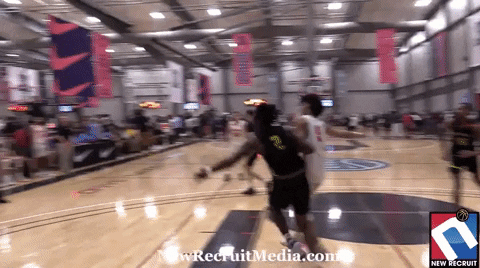 Wilmoth is oozing with potential and I am eager to see how he contributes on the offensive end this season. He plays with a ton of energy and could possibly impact the game in a number of ways. His flashes just need to turn to consistency and he could be a very good player for Butler. I think he has a difficult path to major minutes as a freshman due to Butler's positional strengths in the frontcourt, but he will be a significant part of the future after the Nze/Golden duo graduate.
He has a lot in his bag and I am eager to see how the coaching staff is looking to mold him. Do they want him to embrace being a "big wing" and play him on the perimeter offensively? Or perhaps they are going to utilize him more in post-up situations and use his shooting in pick-and-pops? I lean towards the former with his ball-handling and quickness allowing him to create for himself against slower forwards, but we will just have to wait and see.
---------------------
Wilmoth has been widely discussed as the "project" player of Butler's 2020 recruiting class, as he needs to add both strength and consistency to his game in order to see significant minutes at the Big East level. In fact, this was expected to be a redshirt year for him by many in the fanbase, and I think that it is important to remember. It's also vital to note that the Butler coaching staff believes in him and what he can bring to the program over the next few years. Trust them.
If Wilmoth emerges as a rotation piece from the opening tip, then that is great and his versatile skill set will certainly help the Dawgs. He will at least add more variety to lineups with his ability to play multiple positions. Playing big minutes this season would likely mean that he is ahead of schedule in his development. If he is not quite ready to see consistent minutes, though, that also shouldn't dissuade anyone from being excited about his potential. He will simply be on track in his development rather than ahead of the curve.
In my opinion, Wilmoth will see spot minutes this year as one of the reserve forwards either in situations where he is critically needed or in blowouts. It is during these moments that he should flash more of the same exciting playing style that he did during his high school career. He isn't particularly flashy but has the type of athleticism, size, and versatility as a shooting/rim-protecting threat that makes fans dying to see more.
Wilmoth has star potential if he continues to develop at a fast rate. We just might have to be patient.
[Clips Source: New Recruit Media.]
By becoming a patron, you'll instantly unlock access to 38 exclusive posts
By becoming a patron, you'll instantly unlock access to 38 exclusive posts