WORKSHOP: Sacrifice (Payment) in Manifestation (DOWNLOAD WORKSHEETS TO PRINT OR TYPE ATTACHED BELOW!)
DOWNLOAD WORKSHEETS (TO PRINT OR TYPE!)
Mentioned: 
--------------------------------------------------------------------------
COME CHAT WITH US ON DISCORD by CLICKING HERE , then scroll down and click the "CONNECT DISCORD" button!
Remember to download the Patreon & Discord Apps on your mobile device to make the most of your membership.
Become a patron to
Unlock 421 exclusive posts
Connect via private message
Tiers
STL Member - Standard Pricing
$32

per month

(sold out!)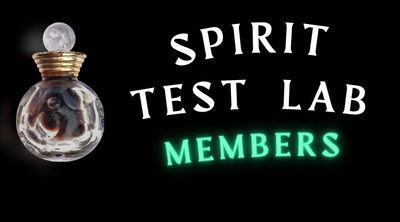 🧡 NOTE: you'll be charged as soon as you join, and then on the same date every month - until you cancel! And ... you can cancel anytime on the month-to-month membership!
If you choose to pay annually, keep in mind that you are choosing to pre-pay for a whole year, and will be billed again next year.
CLICK HERE TO READ THE INFO PAGE ABOUT THE SPIRIT TEST LAB
🏛🐊🧡⚡️ TELL ME AGAIN... WHAT DO I GET? 🏛🐊🧡⚡️
COMMUNITY:
DISCORD COMMUNITY group chat access with monthly and weekly events/challenges + our collective grimoire and our "forum friday" discussions EVERY FRIDAY!

AT LEAST 3 monthly "Spirit Work" Co-working Zoom Calls per month, at scattered times (we mute ourselves and do journaling, tarot pulls... any spiritual work together).
AUDIO:
Over 45 episodes of The Skeptical Mystic Podcast: a private pod documenting my personal Spiritual Journey + Lessons

Reading Roulette: monthly collective audio card readings
VIDEOS + WORKSHOPS:
9 mystical recorded workshop replays - ranging from Sigils to Astral Altars

Video Interviews with other Mystics

+ Assorted older videos, including an entire "Wheel of The Year" Vlog Series
PROGRAMS:
Intuition Fruition 9 Day Meditation Program,

access to The Pentacle 5 month Manifestation program,

the FULL Morning Oracles 14 Day Program to create rituals and intuitive habits for Mystical Living.
MEDITATIONS:
You get access the ENTIRE Meditation Library (over 90 tracks) with
WRITINGS & BLOGS:
Possibility Periodical writings (short musings of metaphysics, science and magic twice monthly)
PRINTABLES:
The Morning Oracles Printable Metaphysical Planner +

Printable Oracle cards and Journaling Bundles.
TO SUMMARIZE: WHAT'S ADDED EACH MONTH AS FAR AS CONTENT?
1 episode of the Skeptical Mystic Podcast

1 Reading Roulette Collective Audio Card Reading

2 Possibility Periodical Writings
TO SUMMARIZE: WHAT'S HAPPENING EACH MONTH AS FAR AS COMMUNITY?
Every Friday is "Forum Friday" on Discord. We have a set chosen topic we discuss over there throughout the day and even over that weekend.

We usually have monthly challenges or Spiritual Experiments on Discord as well. Sometimes its daily tarot pulls, affirmations, altar photos... it's fun!

We have (At least) three "Spirit Work" co-working calls every month , at scattered times. These are SUCH a beautiful space and we all feel so much better after.

More calls and events can sometimes be added, but these are the standard "every month" ones!
CLICK THIS LINK BELOW: You get access to absolutely everything, in this Control Panel: https://thepossibilitydept.com/department-patron-hub/
NOTE: you may see a few locked text posts on patreon each month. There are "secret" membership tiers beyond this one, that are no longer available to the public. If you see a patreon post that is locked, it belongs to a much older membership tier... that can no longer be joined at all.
Are you in financial distress or hardship? There are sliding scale payment options available. Email me at [email protected]
Includes Discord benefits