Neofeud 2 Production begins!
First off, thank you to all my Patrons who've helped bring Neofeud to fruition.  The good news is, Neofeud is at least meeting my baseline expectations at this point in terms of commercial and critical success.  Currently, I'm still hoping that Neofeud will get Greenlit soon, before Steam takes Greenlight down.  If you haven't already, please check out the Neofeud Greenlight page and give it your vote!  
http://steamcommunity.com/sharedfiles/filedetails/?id=894789880
Neofeud hasn't yet broken into the "Quit my dayjob and focus on Silver Spook Games 100%" level, but it is at least moving off of shelves, and many folks have been generous and willing to pay more, sometimes *twice* the base price of the game to support us.  If you haven't yet, you can still pick up the DRM-free version of Neofeud from the Itch.io store.  As a thank you for picking the game up early (I realize most people want it on Steam), you get the soundtrack and the ebook-version of Neofeud free, and a Steam key, once Neofeud is released on Steam.  
Itch.io store: https://silverspook.itch.io/neofeud
In addition to swapping my gamedev-hat for the marketing cap / Neofeud evangelist for the past month, I've also had some tumultuous, but ultimately fruitful goings-on in terms of our big move to the Big Island of Hawaii.   The wife and kids had been camping for a few weeks, and crashing with some rather fascinating characters, got stranded in a Burger King parking lot and an eternal-Burning Man commune...  But we're now inside of an actual *house* house, with four walls and a roof!  So in addition to supporting the development of Neofeud, thank you, patrons and purchasers of Neofeud for supporting a temporarily homeless homesteader family in getting started in this new land!
I have also entered the liminal phase of development, that is investigating potential projects.  With the incredible amount of work it was, making Neofeud for the most part alone, I'm considering collaborating with others for future Silver Spook Games endeavors.   There are a few possibilities on the table right now:
1.) Neofeud 2: I'm currently in the conceptual phase of this.  I may bring on an artist and/or potentially a programmer.
2.) Collaborate with a writer to turn their story into an adventure game:I've been chumming the cyberspace waters, posting in forums, Facebook, etc.  with the notion of taking a sci-fi / cyberpunk writer's story and making it into a game, which would be synergistic for both of us; I can offload the universe of narrative from my brain-space and the writer will get a visibility boost.  One cool writer-group that have expressed some interest -- they are writers and also adventure-gamers -- is a circle called "Chaos Nova".  They have some pretty interesting sci-fi writing as well, you can check them out here: http://www.chaosnova.co.uk/?page=samples
3.) Join a game development team as the writer:I met a guy who was a huge fan of both my earlier game, Terminus Machina ( http://www.moddb.com/mods/terminus-machina ) as well as Neofeud.  He happened to be presently in development of a full-3D cyberpunk game similar to Deus Ex, which, as I've mentioned, is my favorite game of all time. :)  He was interested in bringing me onto the team as a writer, which could be great as story is one of my favorite mediums of creativity.
Oh, also, the Facebook group I met the guy in?  Bruce Bethke and John Shirley also apparently hang out there from time to time!  Check out the Cyberpunk Writers Facebook Group: https://www.facebook.com/groups/874654982584725/
Ultimately, I may do several of these projects simultaneously, depending on how the cards fall, schedules align, etc..  I am certainly excited to be back in the development saddle.  I am not a master-marketeer by any means, but an indie must do one's best! :)
At any rate, I will be looking into new rewards for my gracious continued Patrons.  If you would like something in particular -- like more behind-the-scenes material or a livestream or something of the sort -- do let me know.
Until then, here's another Neofeud 2 Concept art / Artist's rendition of our new house on the volcanic Big Island of Hawaii.  (JK, we're not living on a barren lava flow, lol.  Although we did visit one. ;) )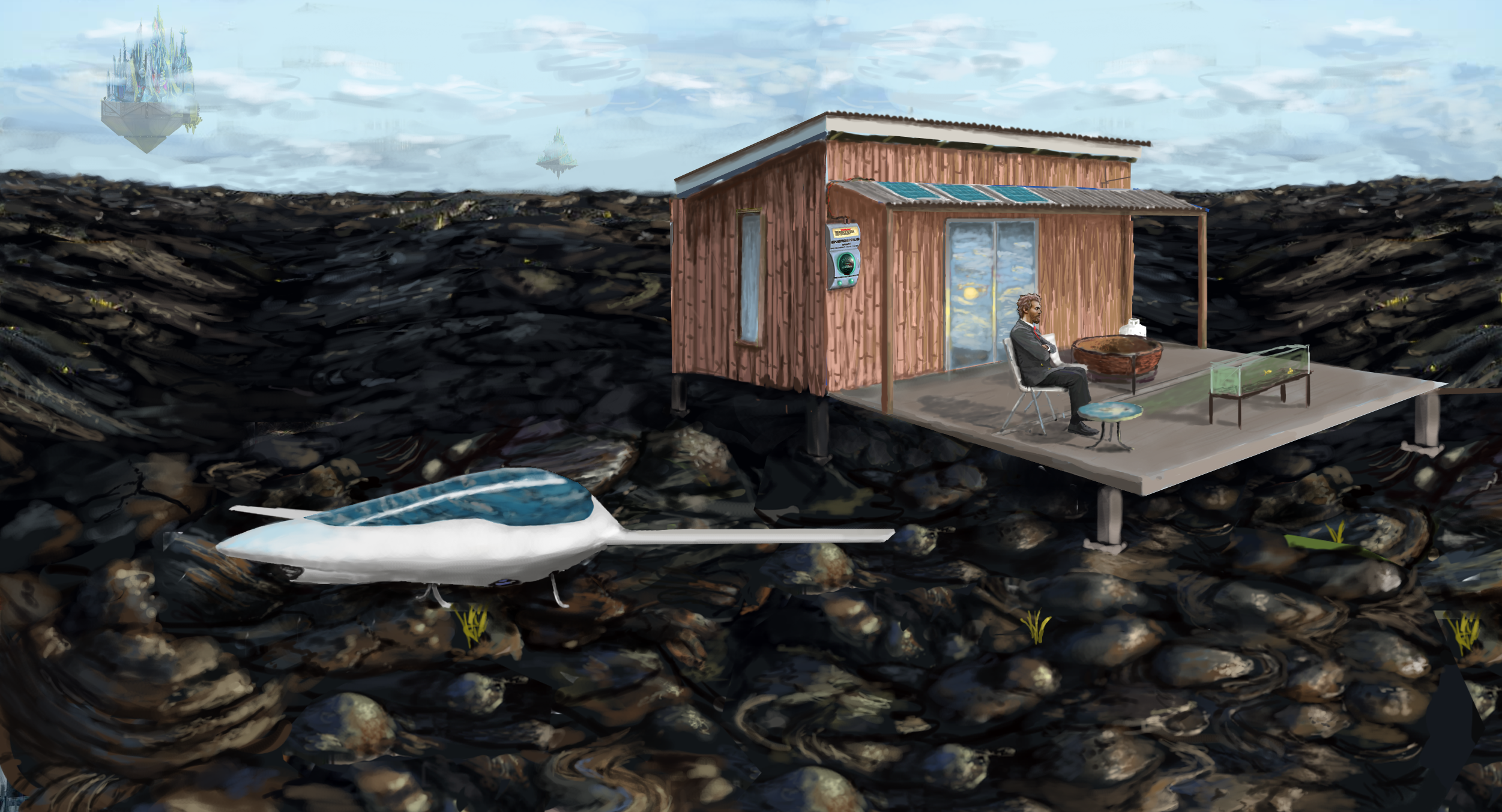 By becoming a patron, you'll instantly unlock access to 38 exclusive posts
By becoming a patron, you'll instantly unlock access to 38 exclusive posts