Hi Everyone, my aplogies for the delay in posting the next couple chapters of Our Alien Earth.  I am a contract volunteer FEMA worker and when Hurricane Harvey hit Texas, I got called up for deployment to help folks.  I was on my way home when Hurricane Irma trashed southern Florida, so I was asked to re-deploy there.  The good news is that I will be home around October 25th.  The better news is that I have already finished writing the next two chapters to post here.  The only reason they haven't been posted is that I can't paint the art for them in my hotel!  So, my apologies and I appreciate your patience.  It will be rewarded with new adventures and new amazing sights to see....
Jon
Pledge $0 or more per month
Everyone
Pledge $0.01 or more per month
Patrons Only
Economy class ticket
You'll get subscriber access to this Patreon page and will be able to download a pdf file of each place we go featuring all the photos and art of this destination. When we publish the book of our travels, there will be a first-in-line spot for you - at a special patron's discount price!  All for just one dollar....
Business class ticket
Of course you can subscribe for more than a dollar if you want.  Chuck an extra buck into the spaceship's fuel tank and in addition to the economy ticket rewards you'll get to see what it looks like to stand on the surface of every exotic place we go through the wonder of virtual reality - and the imagination of master space artist Mark Garlick!  (www.markgarlick.com)  Mark will be creating a VR surround shot of every place we visit that you can see via your Samsung gear or FaceBook 360.  I've experienced his work, and "mind-bogglingly amazing" just isn't good enough to describe it!  So, if you want to see those remote things in person, get a business class ticket....  
First class ticket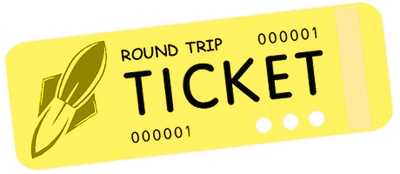 If you believe that space is humanity's ultimate destiny like the IAAA does, and feel like showing your support at $5 a month,  in addition to the economy and business class rewards,  your name will go into the "Our Alien Earth" book as a special supporter.
Private suite ticket
If your soul is as generous as it is adventurous and you subscribe with $10 a month pledge, when we get "Our Alien Earth" published you will get an autographed copy!