April 2016 patron supported
Thank you so much for the support this month!
Pledge $0 or more per month
Everyone
Pledge $0.01 or more per month
Patrons Only
Sketchbook Tier
$1 or more per month

∙ 7 patrons
See Sketchbook art! My sketchbooks will eventually be recorded and put up on youtube, but it takes me a while to fill them up so you get to see sketchbook art early, all conglomerated into one large file of what I've completed so far at the end of each month.
You get first dibs getting a commission spot next time I open.
Work In Progress Tier
$5 or more per month

∙ 5 patrons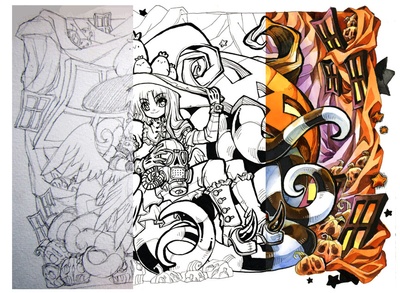 Previous Rewards and:
You get to see extra steps to all my concept projects! From my artwork thumbnail ideas to the finished image, to the detailed WIPS of my comic process! 
Weekly Vlogs! See what I'm up to in my exclusive home videos! These are strictly for my Patreon supporters eyes only.
 Comic Cameos! Next time I open up to take "filler/background" people in my comics, you can ask for one.  Availability varies so first come, first serve. Also, a character or photo reference needs to be provided.
Early Comics and Sketch-Stream Tier
$10 or more per month

∙ 5 patrons
Previous Rewards and:
Early access to my comic pages! You get to see my comic pages the moment I complete them so you don't have to wait for once-a-week, single-page uploads!
You will be mentioned in the credits of my personal-art speedpaint youtube videos.
You can request ONE sketch a month IF you make it to my livestreams! You only get sketches if you catch me for the few hours I am on! I may or may not livestream more than one day a month but I will be sure to set a date ahead of time so you can catch me. They will be drawn in my sketchbook. You will not get the original, but I can send you the large file. 
Shipped Sketch Request Tier
$20 or more per month

∙ 3 patrons
Previous Rewards and:
Get the original live-streamed sketch request from the $10 tier in the mail! This will be of whatever you've requested to be drawn but on heavy cardstock instead of being in my sketchbook. It will be approx 7"x5", A7 in size, and the medium will be whatever I choose to use in the livestreams.  If you miss the livestream, you only get a head sketch on a small trading card (2.5"x3"). The head sketch request will expire if I'm not given a reference within two days after the livestream. 
You  will get a small art print each month (7"x5", A7 size) The artwork might be a big fancy artwork or it might be a sketch I've drawn in my sketchbook. The artwork quality depends how busy I am in the month with comics and whatever other stuff has occupied me. This will be mailed to you.