Nine of my paintings, or rather eight paintings and one drawing, are up at the Lotte's Science Library on the University of Missouri's Columbia campus. 
The senior librarian really went out of her way. I've got a table near the paintings with my picture and info, a comments page for folks to leave me notes. She even artfully arranged my cards on it. And now, a brief write up on their website. Going to send her a thank you card today!
Pledge $0 or more per month
Everyone
Pledge $0.01 or more per month
Patrons Only
Graphite Guru
$1 or more per month

∙ 1 patron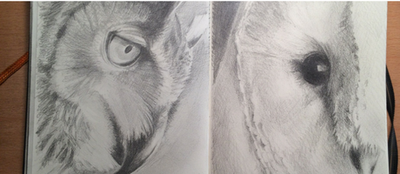 Inspire me to sketch! Knowing you are waiting to see them keeps me going.
Includes
Regular Sketchbook sneak-peeks
See videos & completed paintings first
Monthly digital download
Graphite Guru Plus
$3 or more per month

∙ 0 patrons
For the Guru who wants to give a little more! Same perks as above.
Ink Advocate
$5 or more per month

∙ 2 patrons
At this level you'll get regular video progress updates on current projects. You will also receive a monthly printable download featuring my art you can print for personal use... Fold-over cards, postcard, etc. 
Includes above rewards PLUS
Weekly studio updates
Monthly printable download
Charcoal Champion
$10 or more per month

∙ 1 patron
Each month you'll get a different download. It could be a digital poster or an envelope to go with the card. If there's a particular download you'd like to see, let me know!
 
Includes ALL above rewards PLUS
Monthly download
Yearly postcard
Media Maven
$20 or more per month

∙ 0 of 10 patrons
Each month, in the thank you and news post, you'll get a shout-out! Once a year, on your birthday if you like, I'll send you an original card in the mail!
Includes ALL above rewards PLUS
Your name in the in my video credits
Original art card in the mail
Purple pastel
$100 or more per month

∙ 0 of 3 patrons
Is there something you'd like to see me paint? Lets collaborate! See it go from sketchbook to color study to finished piece. When it's done, It's yours! It's like a payment plan for a commission. (1 per year. 11" x 14" maximum size)
Includes ALL above rewards PLUS
Collaborate on a painting or drawing
10% off original art pieces and select merchandise