I had a great time hanging out with my family in California. I got to go to the beach ... and I started the outlines and notes for book 3!
So far, I have the name of book 3, the basic conflicts, and the beginning of some brainstorming notes written down on yellow pad pages like you see above (well, that exact yellow pad you see above).

I'm still working out what Jacqui's main case is going to be, but I have a few ideas as to who's going to be giving the case to her. That part may become important.

If you were one of my $30 a month Patrons, you'd get nice clear photos of these pages! I think I'll start posting them every so often, so they'll be there when someone decides on that option.

The audiobook for book 1 (The Jacq of Spades) is on Audible and Amazon, if you're interested you can find out more here.

If you were one of my $10 Patrons, you would have gotten a code for 70% off through Gumroad for the MP3 audio files. But never fear! If you've never joined Audible, you can get The Jacq of Spades audiobook for free when you join.
Which I think is pretty cool.
So how is your summer going?

Pledge $0 or more per month
Everyone
Pledge $0.01 or more per month
Patrons Only
Chip Level
$1 or more per month

∙ 4 patrons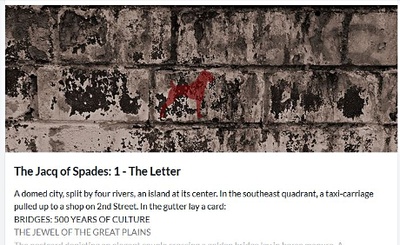 You're just starting out in the Business, but you can still help.
You get:
posting access to my Patreon feed
behind the scenes updates
a new round of the Red Dog Conspiracy each month with pictures and audio clips.
the exclusive "Tony and Roy" bonus scene from The Jacq of Spades. Discover what really happened in Tony's study ...
free digital copies of everything I create!

PLUS

All active Patrons on September 1st get special thanks in my next book!
(if you'd rather be anonymous let me know)
Ace Level
$2 or more per month

∙ 0 patrons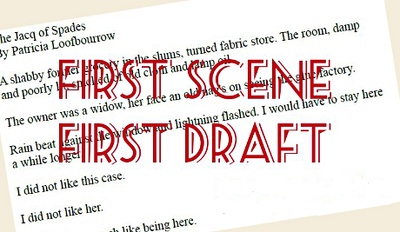 You've taken the next step up in the Business. Great things are in store for you!
Curious about how the books are written? Want to go deeper? Need more clues?

You get:

access to old drafts, deleted scenes, "the making of" stories, and more, from my already published works 
plus everything in the $1 level
Trey Leader Level
$3 or more per month

∙ 1 patron
With more power comes more responsibility
You get:
massive discounts! All Red Dog Conspiracy print books and merchandise as they're created, at my cost
Plus all the $1-$2 perks, of course!

You pay shipping.

Associate Level
$5 or more per month

∙ 4 patrons
You've pledged your support to the Family. Keep their trust, and you'll go far.

Besides
all the other cool perks
, each month we'll
discuss one character in detail
- you'll have the opportunity to ask questions, speculate, get backstories and more.
One secret about a character could be the clue that cracks the case for you!
Button Level
$10 or more per month

∙ 1 patron
As a proven Family member, you're privy to their most guarded secrets.
Don't fuck it up.
You receive:
exclusive updates on the story in progress
any item of my print books or merchandise free (with free shipping)
plus all the lower tier perks!